Green bean casserole is my all-time favorite holiday side dish. This recipe below is a keto green bean casserole that is lower in carb but doesn't skimp on flavor. If you are looking for a keto Thanksgiving side dish, give this recipe a try.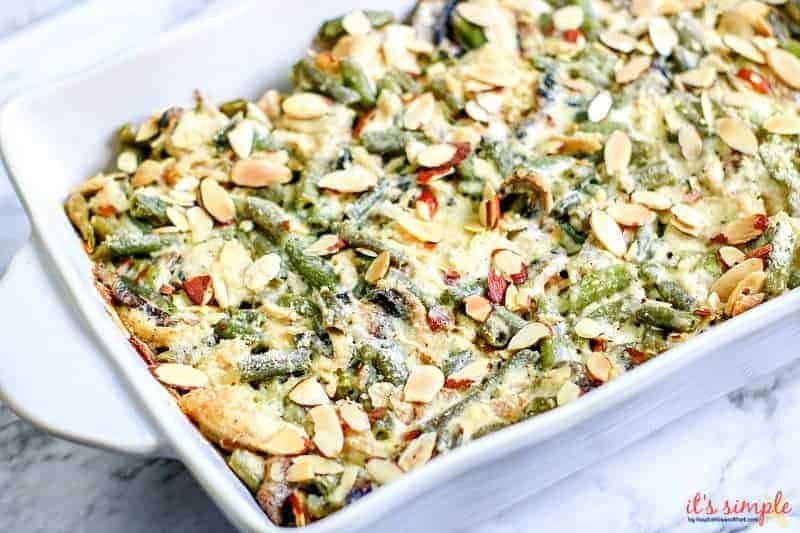 Green Bean Casserole 
Crunchy almonds on top, give a nice crunch to this low carb green bean casserole recipe. You get all the flavors, in a lighter version. Don't dread the holidays because you have to resist all the food, learn to make healthier versions that you can enjoy without feeling guilty about. 
How Do You Make Green Bean Casserole Without Canned Soup 
I used a mix of cream cheese and sour cream to whip up for a really creamy base. This is a lower carb version that you can make that still gives you that creamy texture. You add in spices and seasoning that really gives this casserole its incredible flavor.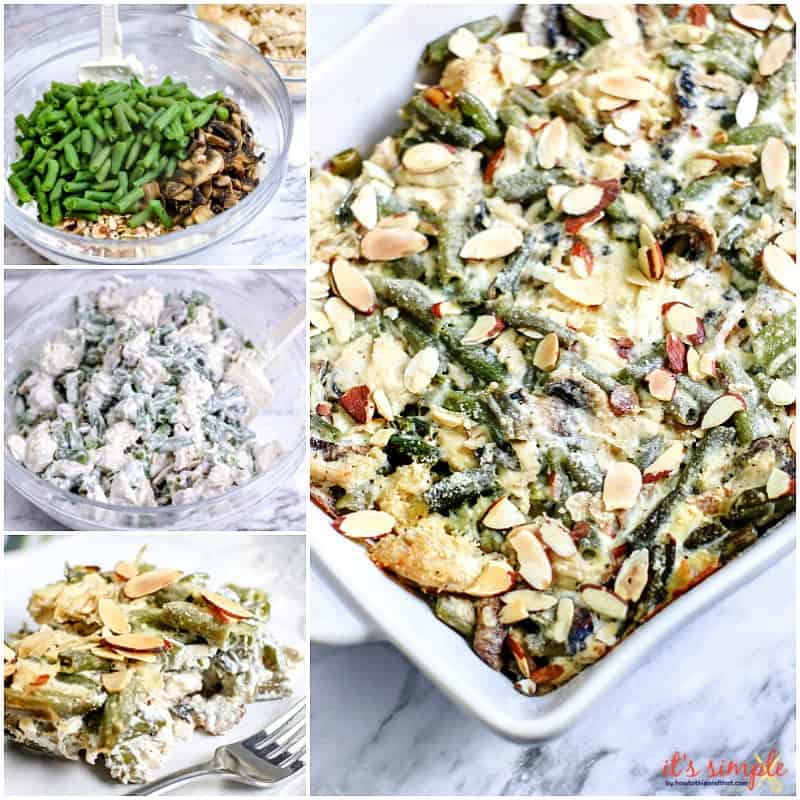 What Can I Use Instead of Almonds For Toppings 
If you don't want or like almonds you can crush up plain pork rinds and sprinkle them over the top and then bake as accordingly. The pork rinds are low in carb and will give you a nice crunch factor that you want. 
HINT- if you miss the French Fried Onions for the top simply slice a small onion VERY thinly, in small pieces, dust with almond flour and crushed pork rinds. Pan fry in a small amount of oil until crispy. 
How Do You Reheat Green Bean Casserole 
You can of course pop in the microwave for a quick reheat, or turn on the oven to 350 degrees, and place it in the oven and reheat for 30-45 minutes. Just check to see if the dish is warmed all the way through, once it is spoon up and serve.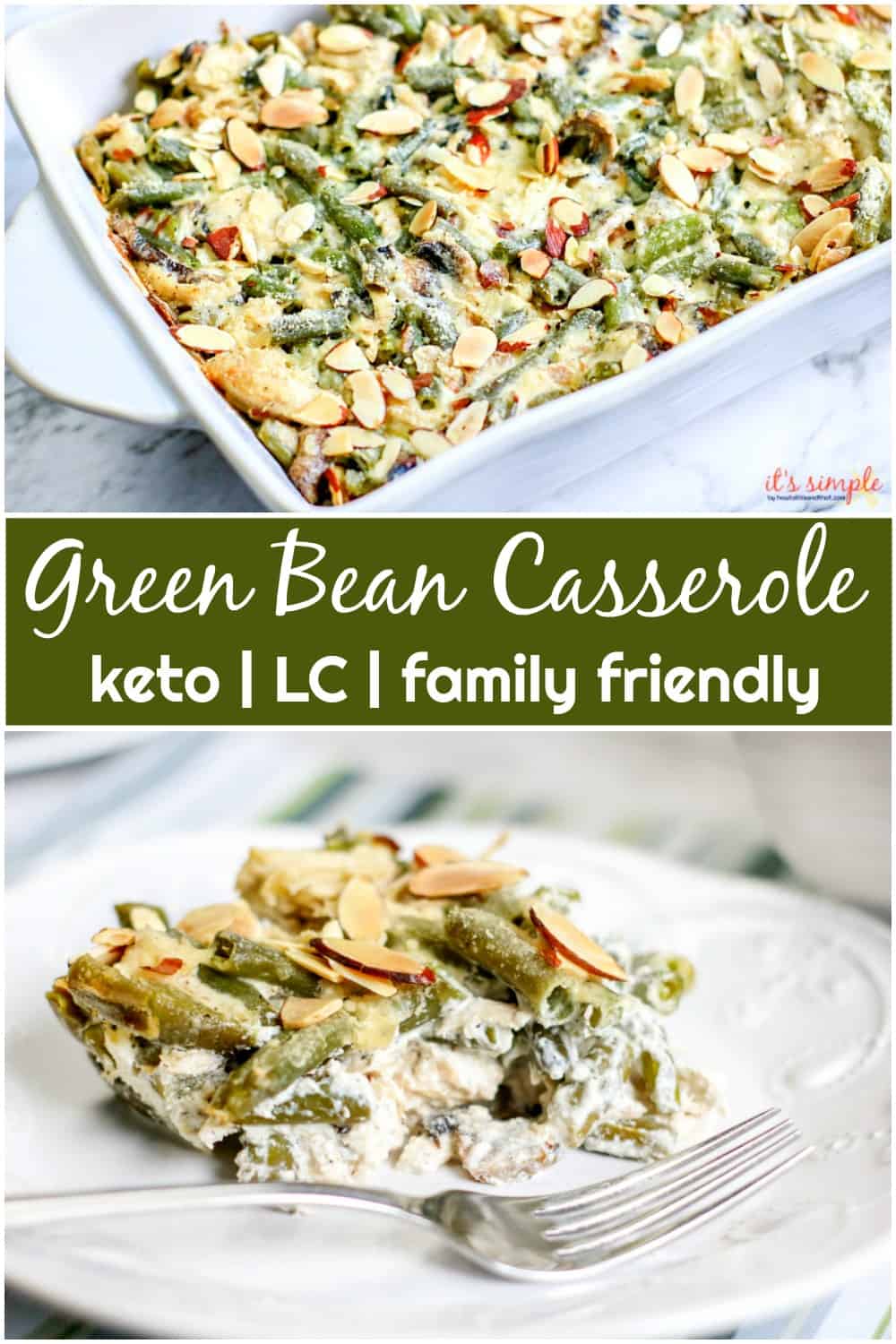 What Sides Go With Green Bean Casserole
Loaded Cauliflower Au Gratin | Another low carb option that gives you that au gratin taste, but using cauliflower in replace of potatoes. 
Garlic Ranch Roasted Turnips | Turnips are a savory dish to pair with the side. This is an amazing keto replacement to potatoes, and turnips are underrated! 
Stuffing Muffins | If you are looking for another holiday side, here is a stuffing muffins dish. This stuffing is made in muffin cups so they are bite-size side. 
How Long Can Green Bean Casserole Sit Out
You don't want your green bean casserole to sit out for more than one to two hours. If you leave your food out for a long period of time, it can reach a different temperature zone and lead to the rapid growth of bacteria. 
Can You Freeze Green Bean Casserole 
Because this green bean casserole uses sour cream and cream cheese you might find that freezing this isn't a good idea. Once you go to thaw the casserole, it could curdle in texture due to the cream cheese and sour cream. It will still taste good, it just won't offer the same texture. A lot of times when you have a lot of dairy in a dish, it is best to skip freezing.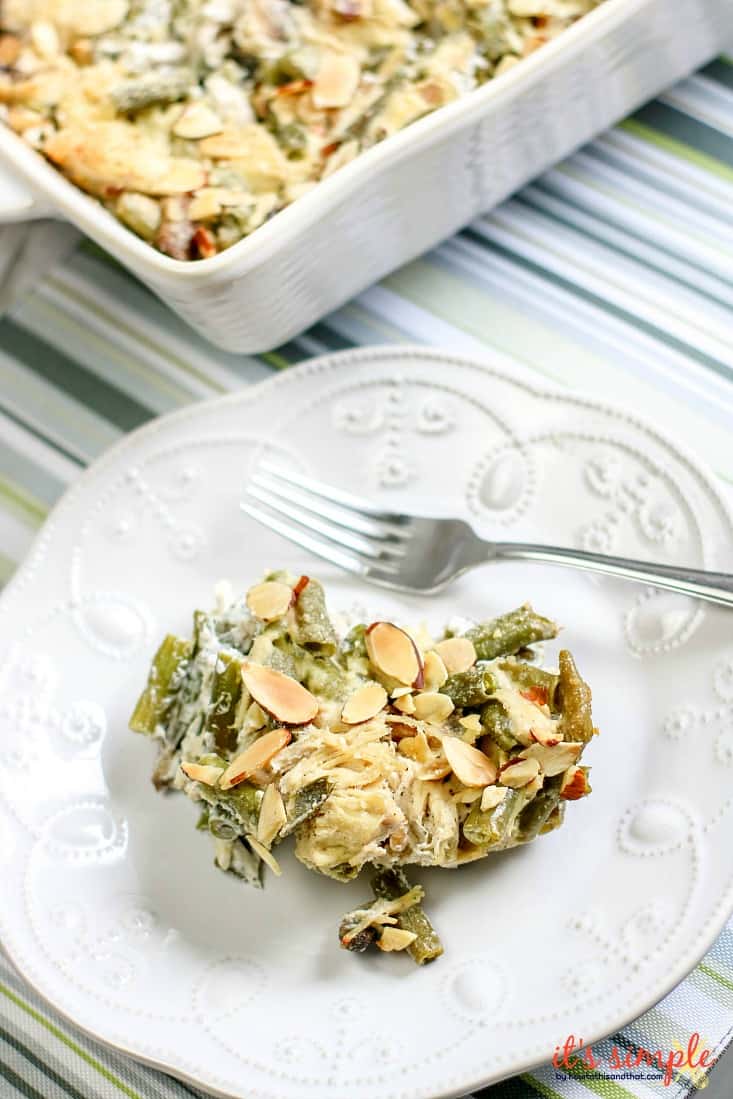 How Long Will Keto Green Bean Casserole Store In The Fridge 
You can store your keto casserole in the fridge for 3-4 days. I always recommend you to use your best judgment in terms of if your casserole is still good. If you are in question always toss it out. Better to be safe than eat expired food. 
Can I Use Fresh Green Beans In Replace Of Frozen In This Casserole 
You can use fresh in replace of thawed frozen. Just make sure that you clean and prep your green beans properly before you plan to use them.  
I find that frozen green beans are picked at their prime and then stored and frozen at their prime peak. So the frozen allow you to cut down on a little bit of prep work and speed up the process.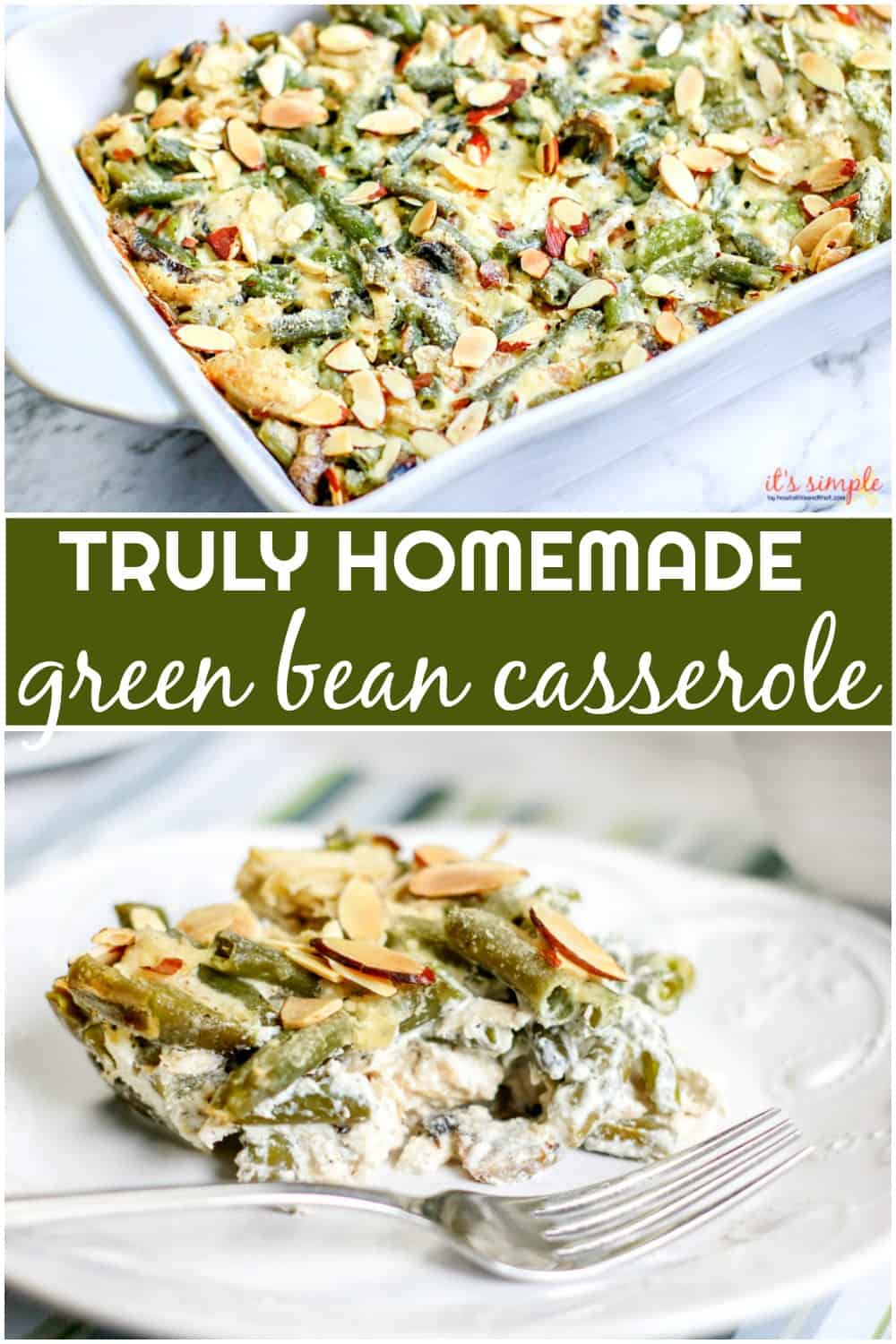 I hope you enjoy this keto green bean casserole recipe! 
Yield: 6-9 servings
Green Bean Casserole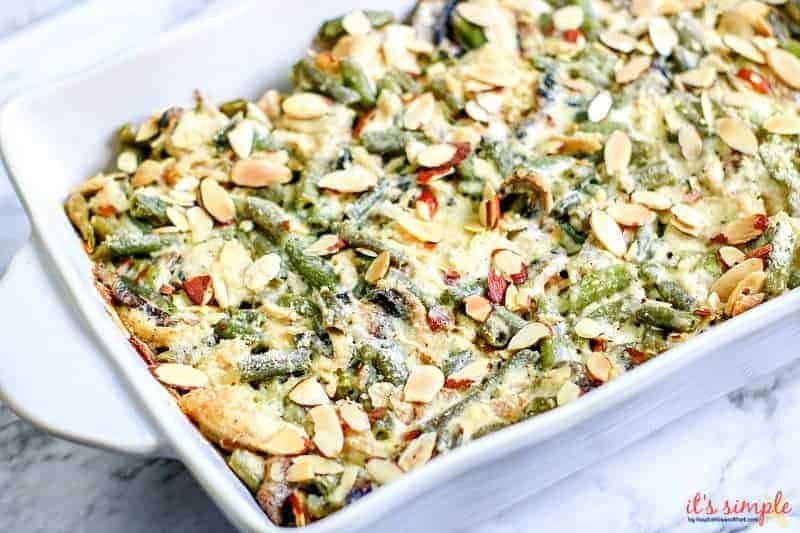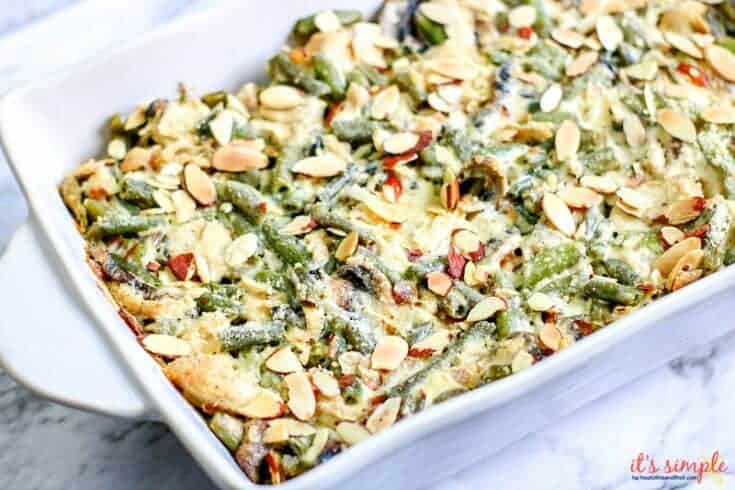 A twist on a classic to make this popular side dish keto and low carb approved naturally! No canned soup in this recipe which also doubles as a leftover dish- simply add leftover turkey, chicken or ham to make another meal!
Ingredients
2 (12 ounce) bags green beans, thawed
1 (8 ounce) container sliced mushrooms
2 teaspoon Worcestershire sauce
2 tablespoons butter
1 (8 ounce) package cream cheese, softened
½ cup sour cream
½ teaspoon onion powder
½ teaspoon garlic powder
1 teaspoon black pepper
½ teaspoon salt
¼ cup sliced almonds
¼ cup grated parmesan
Instructions
Preheat oven to 350 degrees. Prepare a 9x13 baking dish with nonstick cooking spray.

In a skillet over medium heat, melt butter, Add mushrooms and cook 2 to 3 minutes or until softened. Reduce heat to low, stir in seasonings, worcestershire sauce, cream cheese and sour cream.

Mix and Simmer until sauce is creamy and smooth.

Add the green beans to the baking dish, spread evenly.

Pour mushroom sauce mixture over the top, mix to evenly coat green beans.

Top with remaining almonds and sprinkle with parmesan cheese.

Bake for 30 minutes or until cooked through and bubbling.
Nutrition Information:
Yield:
9
Serving Size:
1
Amount Per Serving:
Calories:

92
Total Fat:

8g
Trans Fat:

0g
Carbohydrates:

3g
Net Carbohydrates:

2g
Fiber:

1g
Nutrition facts are auto- populated by the app for this recipe card, numbers may vary. For best results, input your exact brand ingredients into a recipe analyzer like Verywell or MyFitnessPal.