How To Melt Chocolate perfectly every time with this easy trick.

How To Melt Chocolate
Quick, Easy and Flawless
Does the idea of melting chocolate make you cringe? Run scared?  I use to.  I would avoid anything that called for melting chocolate.  It never seemed to matter how I did it or what I tried.  Hard. Overcooked. Not nearly melted chocolate is what I came out with every time.  I decided to start trying the microwave method.
Surprise!! That did not work for me. Why?  I thought about it a bit.  And figured out why.  (See below)
How To Melt Chocolate
I decided to start using a tiny bit of chocolate and running some tests. After everything, I came up with this technique and it is flawless. I tried it over and over again and it melts perfectly every single time. No lie. No exaggeration.
Here is how  : 
Note- I have tried this on baking chocolate, regular chocolate bars ( like Hershey's), semi sweet chocolate chips, milk chocolate chips and dark chocolate 70% Cacao.
Place your chocolate in a glass bowl or measuring cup (my  preference, you can use plastic)
Fill a small cup half way with water
Here is the trick that changes everything :  Place the cup BY ITSELF in the microwave for 1 minute BEFORE putting the bowl of chocolate in there.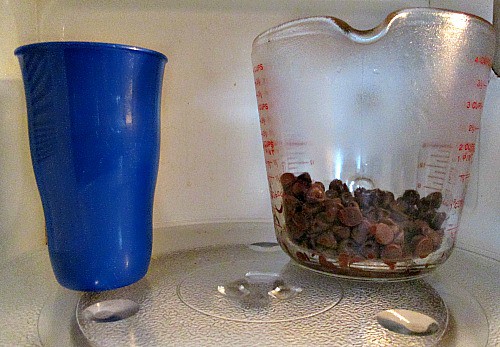 How does it work?
The whole purpose of the cup is to create steam, causing moisture and helping to keep the chocolate from cooking, ultimately creating a smoother melted chocolate.  Putting the cup in the microwave with the chocolate and cooking on sets of 30-40 seconds does not create enough steam before the chocolate starts melting.  LIGHT BULB.   Right?   I said .... put the cup in first.  Then the chocolate starts out in a humid environment ensuring it does not cook before that steam happens.  Get it ?   I know,  I am a wordy person, but you get it!
See the steam on the measuring cup in the picture above? That was after the first 35 seconds ( and after the cup of water was heated for one minute by itself)
Continuing on : 
Microwave the cup of water for 1 minute
Put the bowl of chocolate in the microwave with the cup and heat for 35 seconds
Stir
Heat again for 35 seconds
Stir
Heat again for 35 seconds
Stir ,  repeat if necessary.   My chocolate only takes 3 sets for a half bag of chocolate chips , 4 sets for baking bar pieces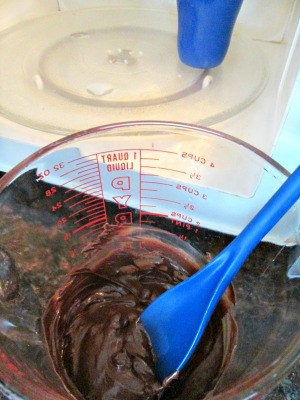 I transfer my chocolate to a stainless steel bowl because , well I just like to.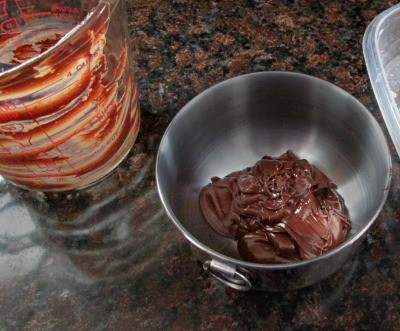 Here I am using the chocolate for my crazy good Almond Holiday Joy Bites  <----Recipe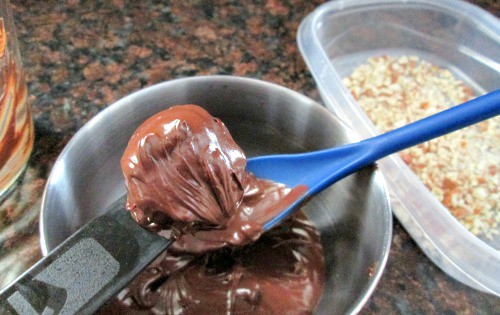 We used this technique to make our Almond Joy Candy Bites , try them out!