How To Make A Rustic Easter Egg Tree
Spring is here!  No, really , it is I promise.  It's just that in some parts of the country *clears throat* like mine, you can't feel it yet. Says me, the person who just had 20 inches of new snow dumped in her yard.  Sigh.  Either way,  technically spring is here and it is time to start thinking about Easter.  So why not start with this super cute tree that brings a little of the outdoors, in.
This Easter Tree is rustic, crafty and can be made to fit any color scheme in your home decor. If you have kiddos I suggest enlisting them to help, because there is one step that they will just love to get theirs hands in. Literally.  Have fun and think Spring!
What you need:
Part 1- For the "eggs"
Yarn in colors of your choice
1 bottle of craft or white school glue
Small water balloons
Scissors &  A Bowl
Cookie Sheet
Part 2- for the tree
Glass vase
Small rocks
Burlap
Twigs
What to do:
Part 1 -  for the "eggs"
1. Blow up the balloon in various sizes and tie them.
2. Mix equal parts of water and glue in the bowl
3. Cut the yarn into long lengths ( length depends on the size of the balloon, you want to be able to wrap quite a few times)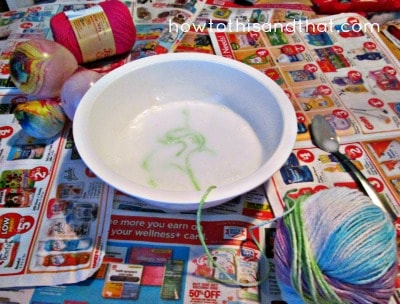 4. Run the yarn through the glue mix , lightly squeezing off excess as you go.
5. Wrap multiple times in different directions around the balloon. Lay on the cookie sheet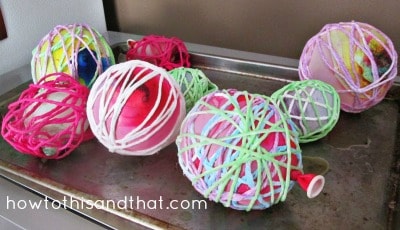 6. Allow to dry over night, pop the balloons and gently pull out the balloon through the yarn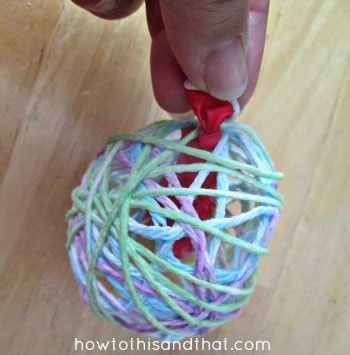 Part 2- for the Tree
1. Find one or two small branches that has a few sprigs coming off of it ( I used 2)
2. Fill a glass vase with small rocks (this will look nice and help hold the branches in place)
3. Arrange the branches in the vase, tie on a burlap ribbon
4. Hang your dried yarn "eggs"
Enjoy!