Plastic Egg Easter Bunnies Craft Project
Grab the kiddos, they are going to love this one.  This time of year these plastic eggs are every where (and very inexpensive) so let's make something with them! Bunnies! You can also make chicks if you have yellow eggs.
These plastic egg Easter bunnies are easy to and will be a cute addition to your Easter decor.
Caution* The cut pieces of pipe cleaner can be sharp, supervise your kids and take care when handling those pieces.
What you need: 
Plastic eggs
Pipe Cleaners
School or Craft Glue
Scissors
Cotton balls or pom poms
Googly eyes (construction paper also works)
Sharpie or non toxic marker
Drill with a #8 Drill Bit ( see this chart for reference if needed Drill Bit Sizes, or guess like I did!)The hole has to be large enough for the pipe cleaner to fit through.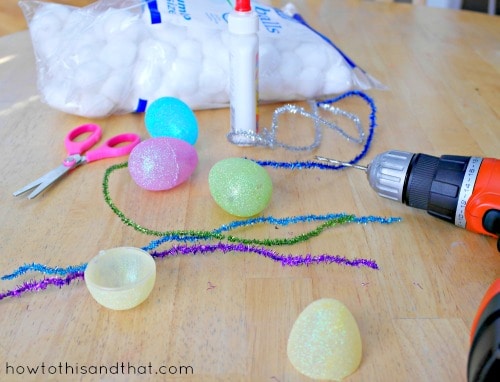 What to do:
Open the egg, drill two holes in the top & two in the bottom.
One on each side of the curved top (for the ears) .   Do the same on the bottom piece (for the feet)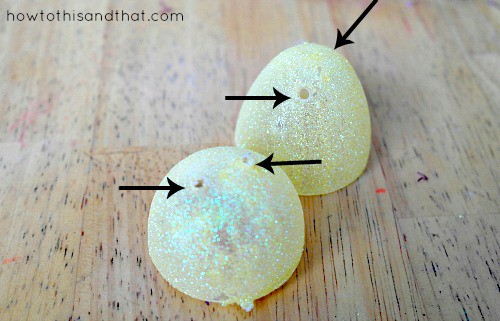 Cut  4 pieces of pipe cleaner (your choice of color)  into 3 inch lengths.  Bend them to shape an ear and foot, slightly twist the very end together and push through each hole.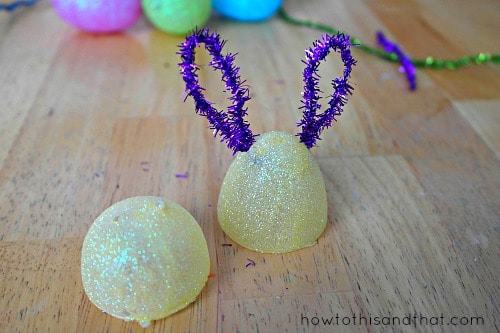 Snap the egg back together ,  glue a cotton ball (or piece of one if yours are big) onto the back side for a tail.  Add your eyes, draw on a mouth and admire your cute bunnies.
You can get a little more creative and use different stuff for the face, add whiskers, etc.  I used what I had on hand and to be honest, the glue was not my best friend today so we didn't attempt pipe cleaner whiskers.  I guess you can drill a few more holes in the sides to add them too!