The BEST Keto Deep Dish Pizza is a Gluten Free & Low Carb recipe alternative that uses the POPULAR Fat Head Dough and is loaded with Meat & Cheese. Our Deep Dish Pizza is the low carb pizza you never knew you needed in your life. A perfectly baked fat head dough crust, delicious sauce, toppings and it's easy to make. So delicious that non low carbers will love it and never know it is a gluten free pizza or for any specific diet at all.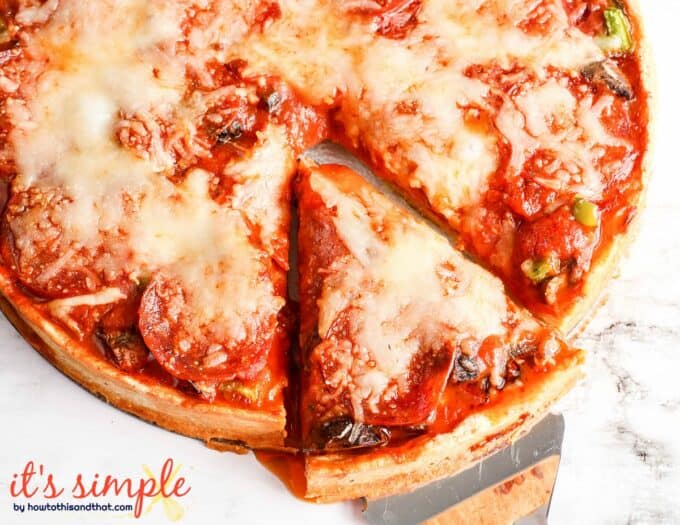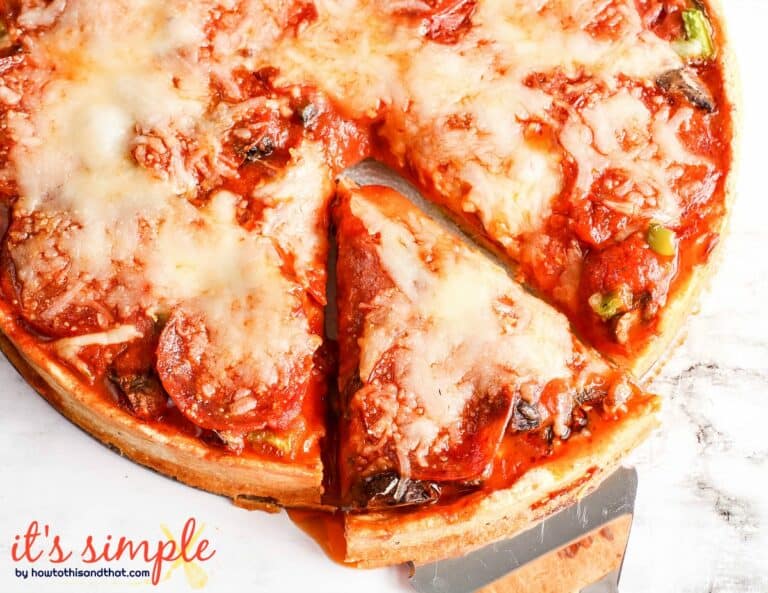 Keto Deep Dish Pizza
Enjoying a piece of deep dish pizza with all of the rich pepperoni and melty cheese is a favorite way to spend an evening with friends and family. Following a keto diet means that it isn't always easy to make happen. This recipe for keto deep dish pizza solves that problem and gives you a perfect choice for satisfying your cravings.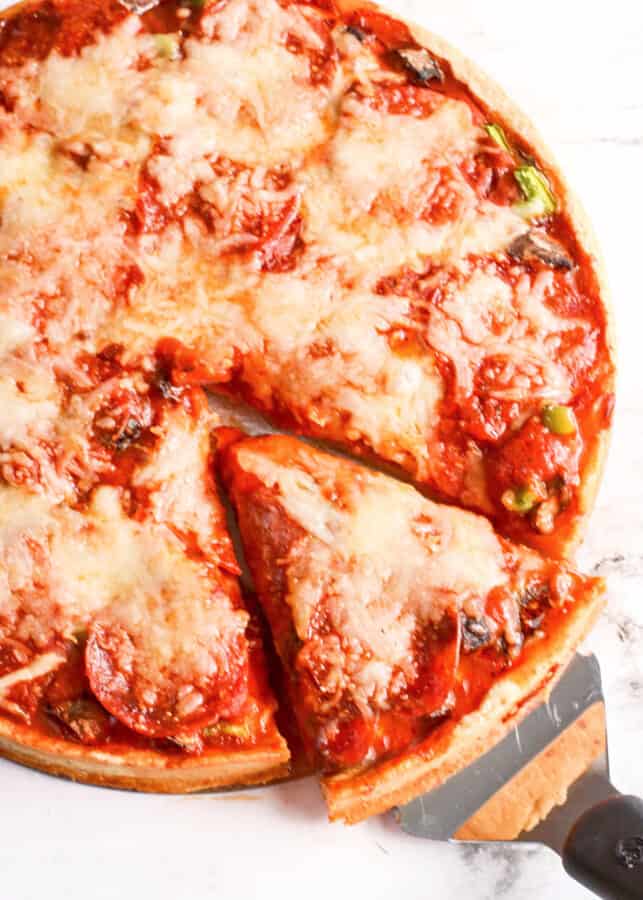 Deep Dish Pizza Pans
I chose to use a springform pan to make my low carb pizza. For me, it allows a deep dish crust to happen, all of my toppings to stay in place, and is easy to remove and slice for serving. Other more traditional option includes a heavy-duty cast iron pan or a deep-dish pie plate. If you haven't used a springform pan to make your pizza before, I highly recommend it for a small or single-serving pizza. So convenient and easy to remove so nothing sticks or breaks apart.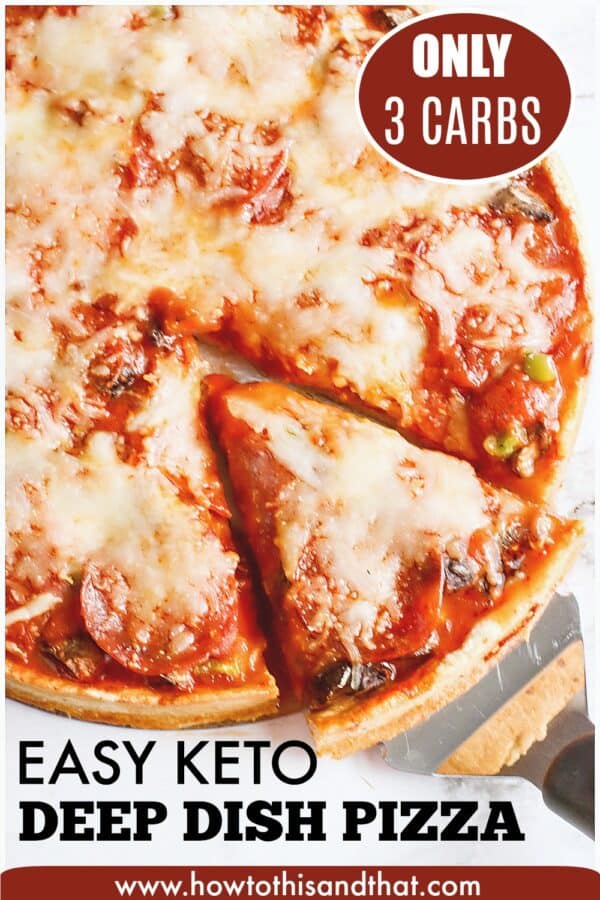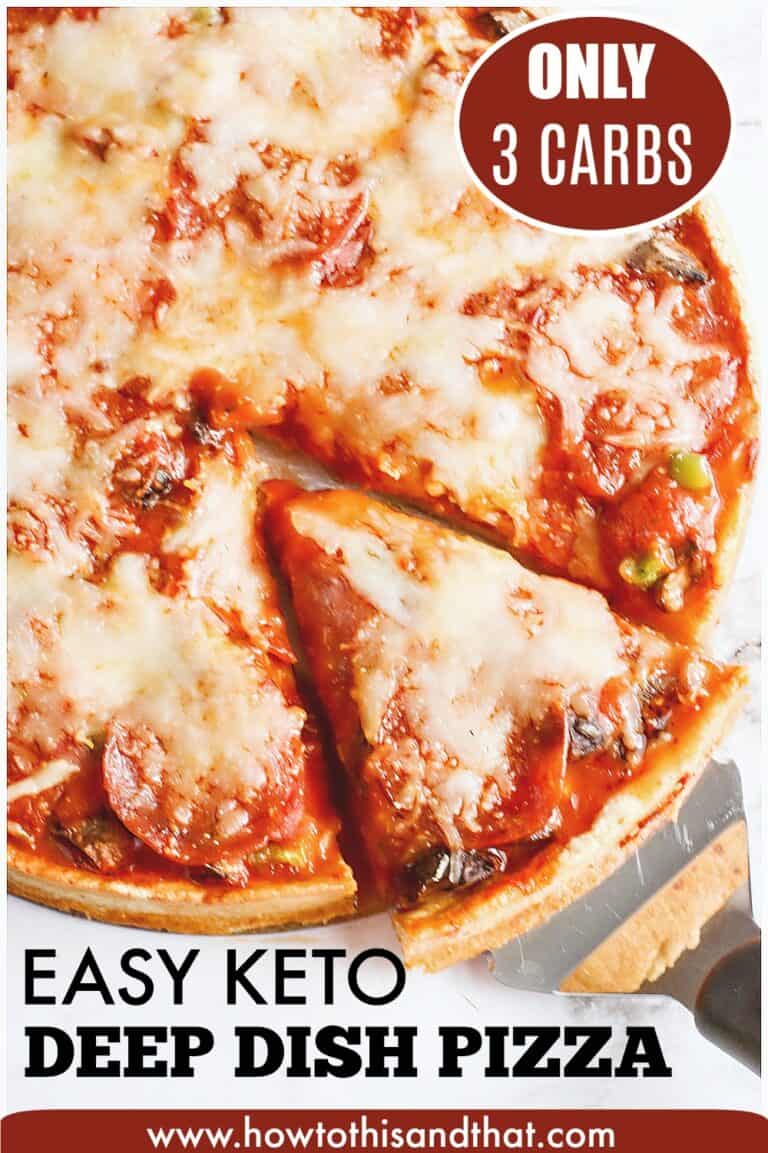 Keto Fat head Dough
Keto Fat head dough is the popular dough made with mozzarella and almond flour meant to replace a regular pizza crust. There are many variations to the dough. But, the most common way to make it is by combining cream cheese with mozzarella, heating to melt and then mixing in eggs and almond flour with a few other ingredients. The mozzarella takes the place of the gluten in regular flour, making it the best crust for gluten free deep dish pizza.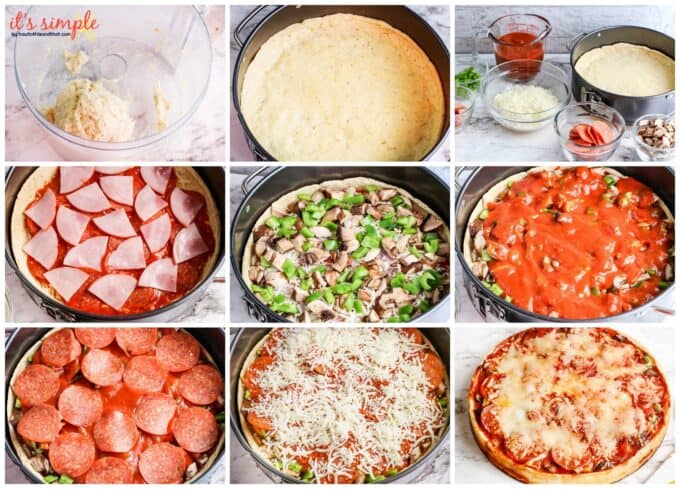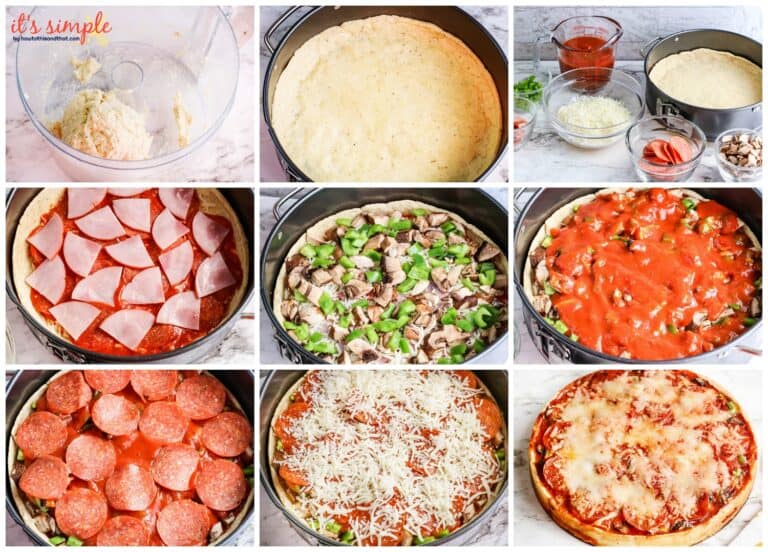 What Pizza Toppings are Keto Friendly?
Despite the crust often giving the pizza a bad name, most of the toppings are actually very keto-friendly. The only thing I've seen added to pizza that I would avoid are the sweet toppings like some barbecue sauces and pineapples. Something not realized by most people too is that onion is actually considered high in carbs for the yield. If using onion, just spread thin slices lightly.
For this recipe, I used mushrooms, bell pepper, Canadian bacon, pepperoni, and of course, tons of cheese. You can add crumbled bacon, sausage, hamburger, and onions if you prefer. Chicken and pork are also excellent choices for pizza toppings.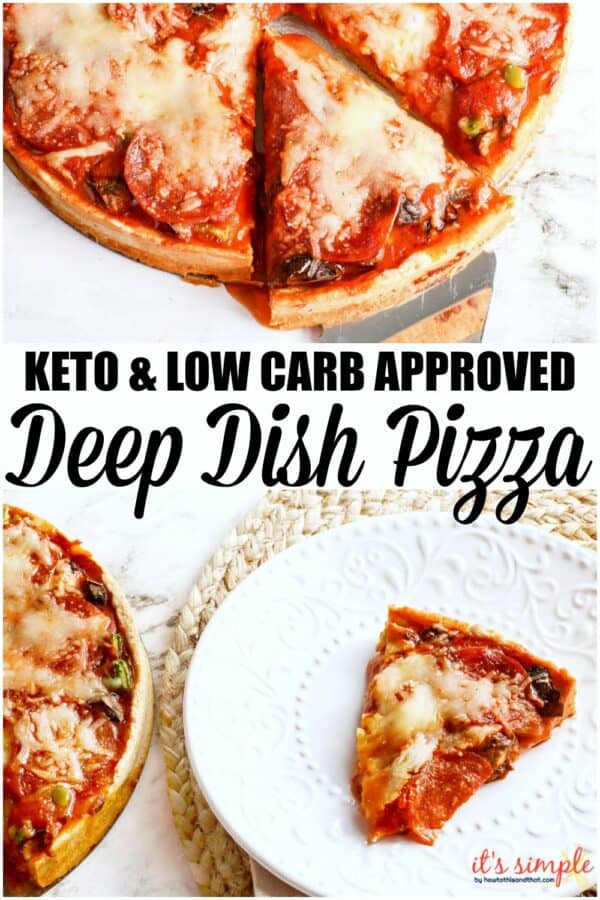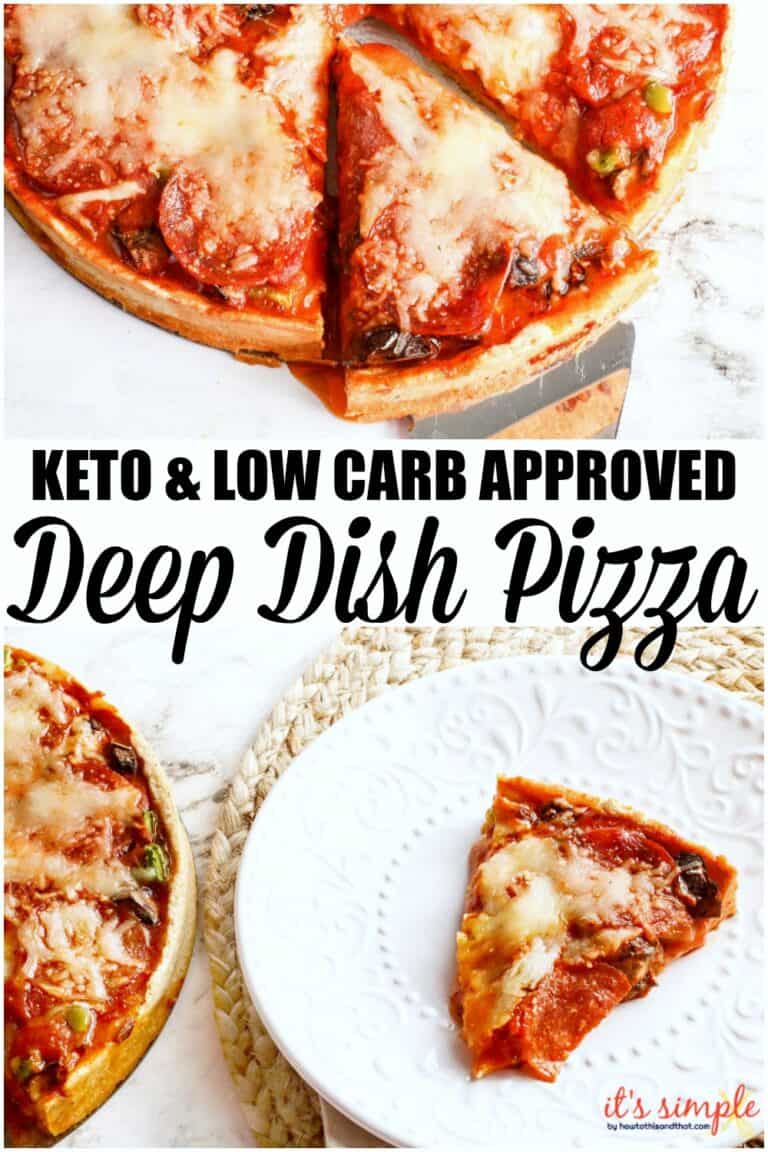 Is There a Special Sauce Recipe for Low Carb Pizza?
When picking a pizza sauce for your deep dish pizza, I recommend you look for a sugar-free option. There are a variety of brands available, but I have found that Rao's and Primal Kitchen are some of the most popular. I also have tried the basic Prego no sugar sauce and found it worked well.
Alternately, you can make your own homemade sauce using sugar-free tomato sauce and spices. Just check the labels ahead of time to make sure there is no hidden sugar or corn syrup.
Want More Keto Pizza Recipes?
Did you know there are a ton of great pizza recipes that easily fit into the low arb and keto lifestyle? Check out my favorites below!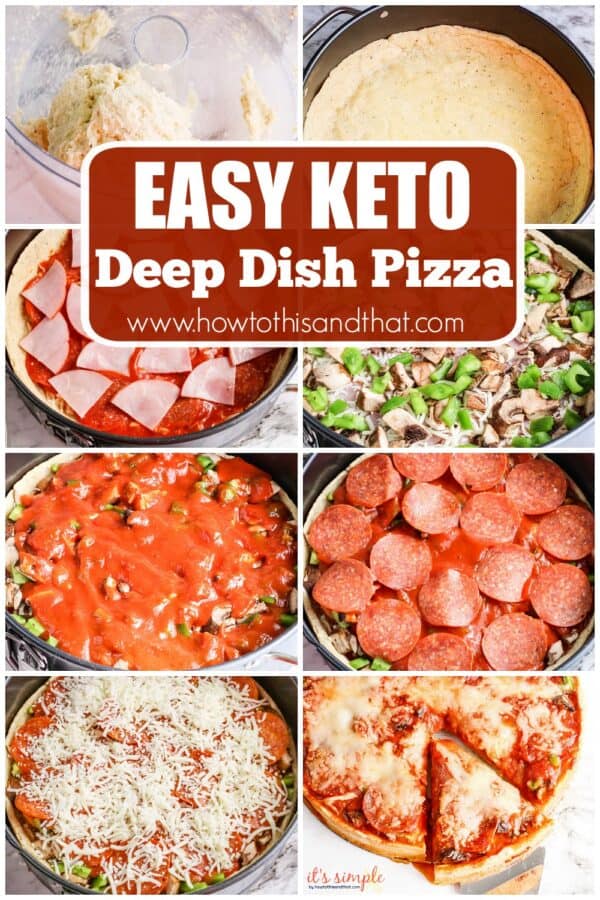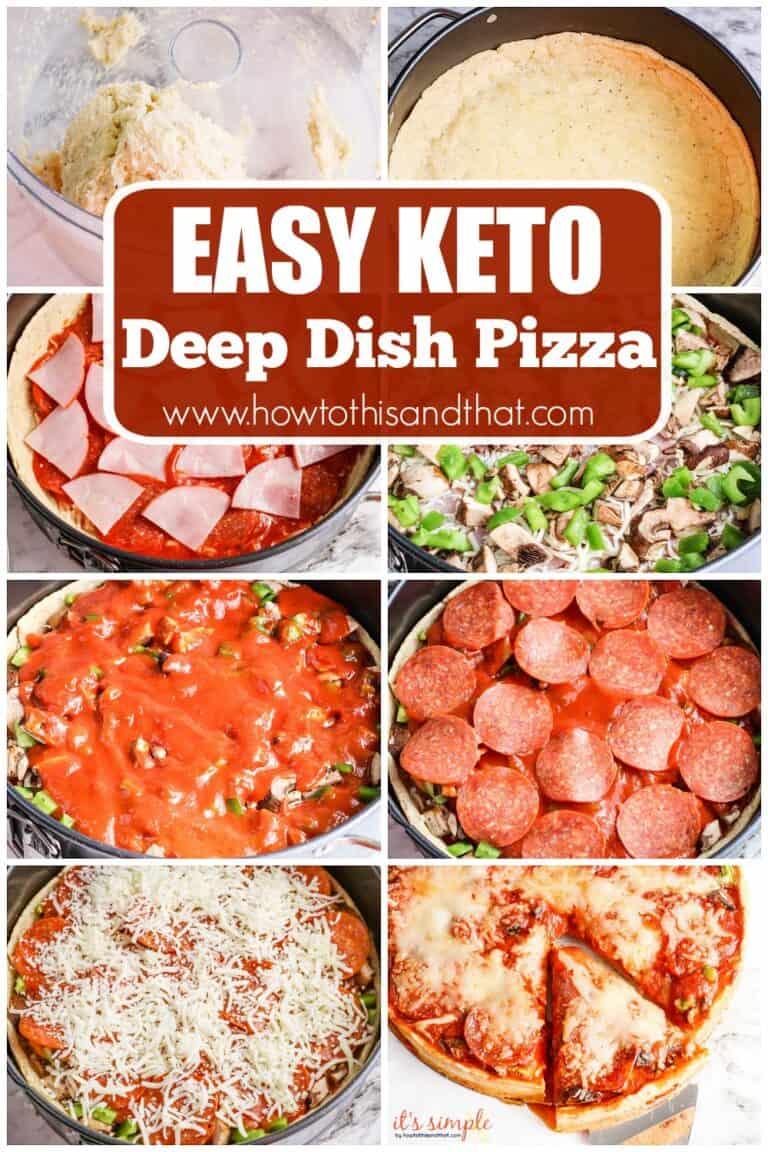 How to Make Keto Fat head Pizza Dough
A full printable recipe is below.
This pizza is super easy and fun to make. Get the kids involved and let them make their own! Start with the fathead crust.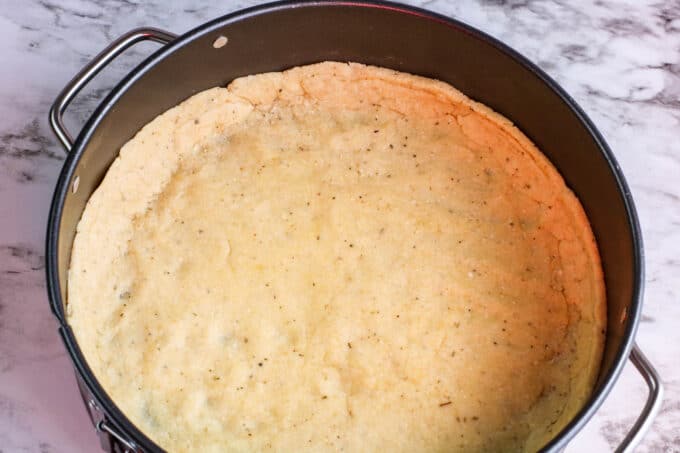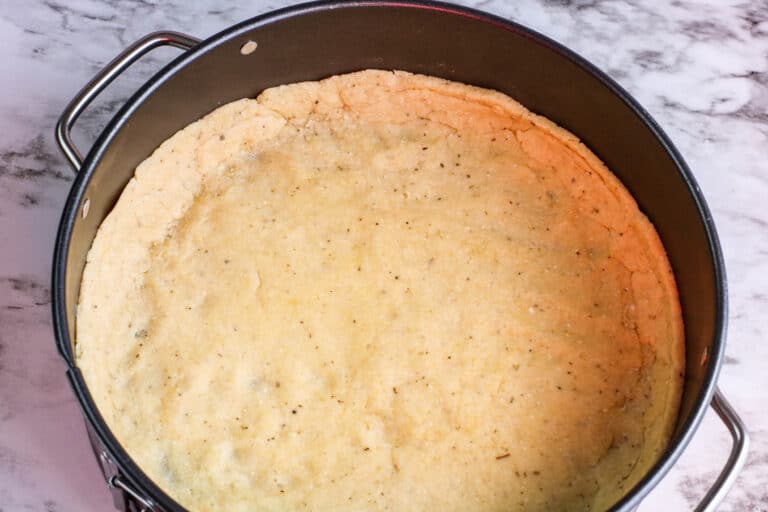 Add some sauce and cheese before the next layer, Canadian bacon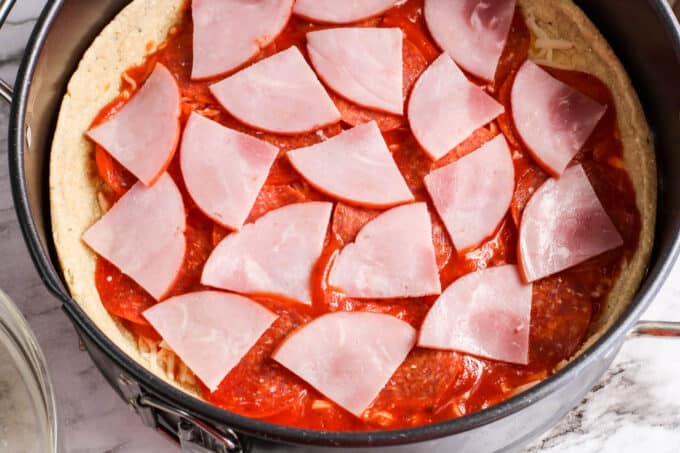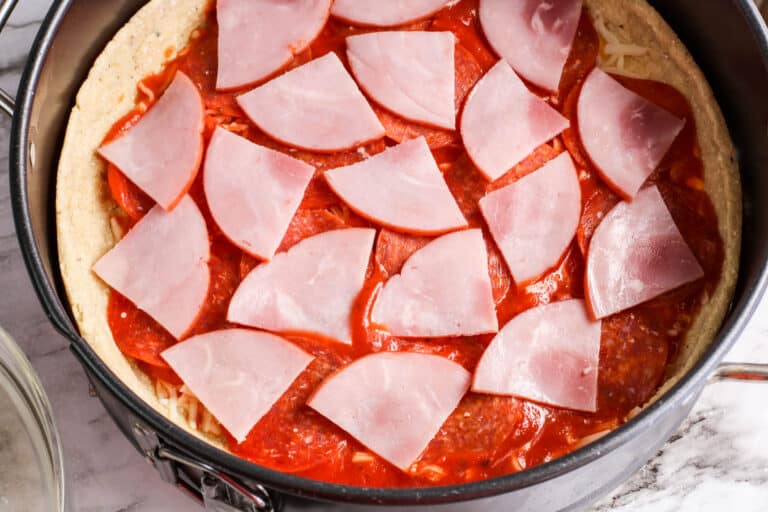 Continue to layer the pizza with sauce, cheese and toppings. Don't forget the veggies, OR go all meat.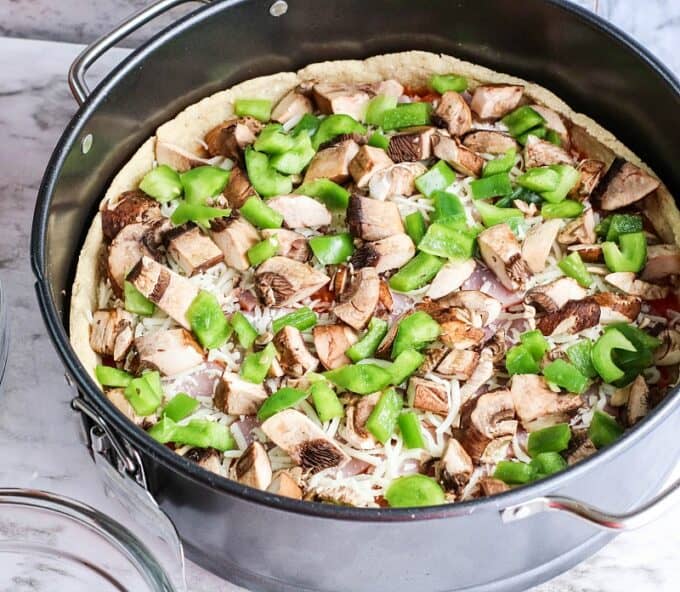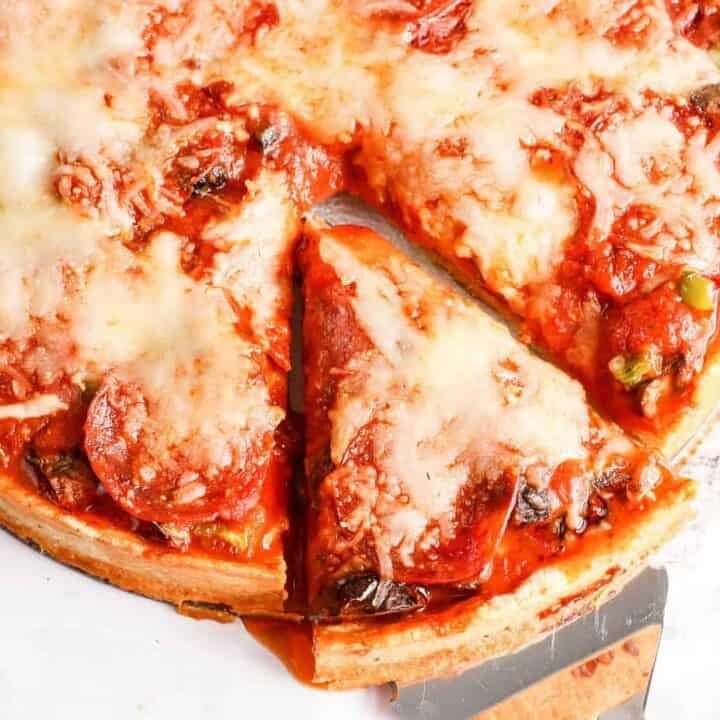 Keto Deep Dish Pizza Recipe
Additional Time:
5 minutes
This keto deep dish pizza recipe satisfies all of your cravings for that classic Chicago style pizza, but with cheese on top of course! Loaded with flavor and a perfect crust, it's a great weeknight recipe everyone loves.
Ingredients
For the Crust:
1 cup almond flour
2 tablespoons coconut flour
1 teaspoon baking powder
2 teaspoons xanthan gum
½ teaspoon Italian seasoning
¼ teaspoon salt
½ teaspoon garlic powder
1 ½ teaspoon apple cider vinegar
1 egg
3 tablespoons water
½ cup shredded mozzarella cheese
For the Pizza:
1 (14 ounce) jar sugar-free pizza sauce
¼ to ½ cup diced green bell pepper
½ to ¾ cup diced canadian bacon
¼ to ½ cup diced mushrooms
½ to ¾ cup sliced pepperoni
2 cups shredded mozzarella cheese
Instructions
Preheat oven to 350 degrees. Prepare an 8 to 9-inch springform pan, (you can use a cake pan or pie plate) with nonstick cooking spray.
In a bowl, whisk together the flours, xanthan gum, baking powder, and seasonings. Add the apple cider vinegar and egg. Mix. Slowly add the water and mix until a ball of dough forms. The dough will be sticky.
Mix in the ½ cup of mozzarella.
Press the dough evenly into the bottom of the pan and up the sides about 1 to 1 ½ inch.
Bake the crust in the prepared oven for 10 minutes or until slightly golden. Remove from the oven.
To the crust add a fine layer of mozzarella cheese. Then, layer the vegetables and pour the pizza sauce over the top. Add the Canadian bacon and pepperoni and finish with another layer of cheese.
Return to the oven and bake until the cheese has melted and started to brown slightly about 20 to 25 minutes.
Let rest 5 minutes. Before serving, run a dull knife around the edge to loosen crust from pan. Cut into wedges and serve.
Nutrition Information:
Yield:

4
Serving Size:

2 Slices
Amount Per Serving:
Calories:

449
Total Fat:

31g
Carbohydrates:

10g
Net Carbohydrates:

6g
Fiber:

4g
Protein:

28g
Nutrition facts are auto- populated by the app for this recipe card, numbers may vary. For best results, input your exact brand ingredients into a recipe analyzer like Verywell or MyFitnessPal.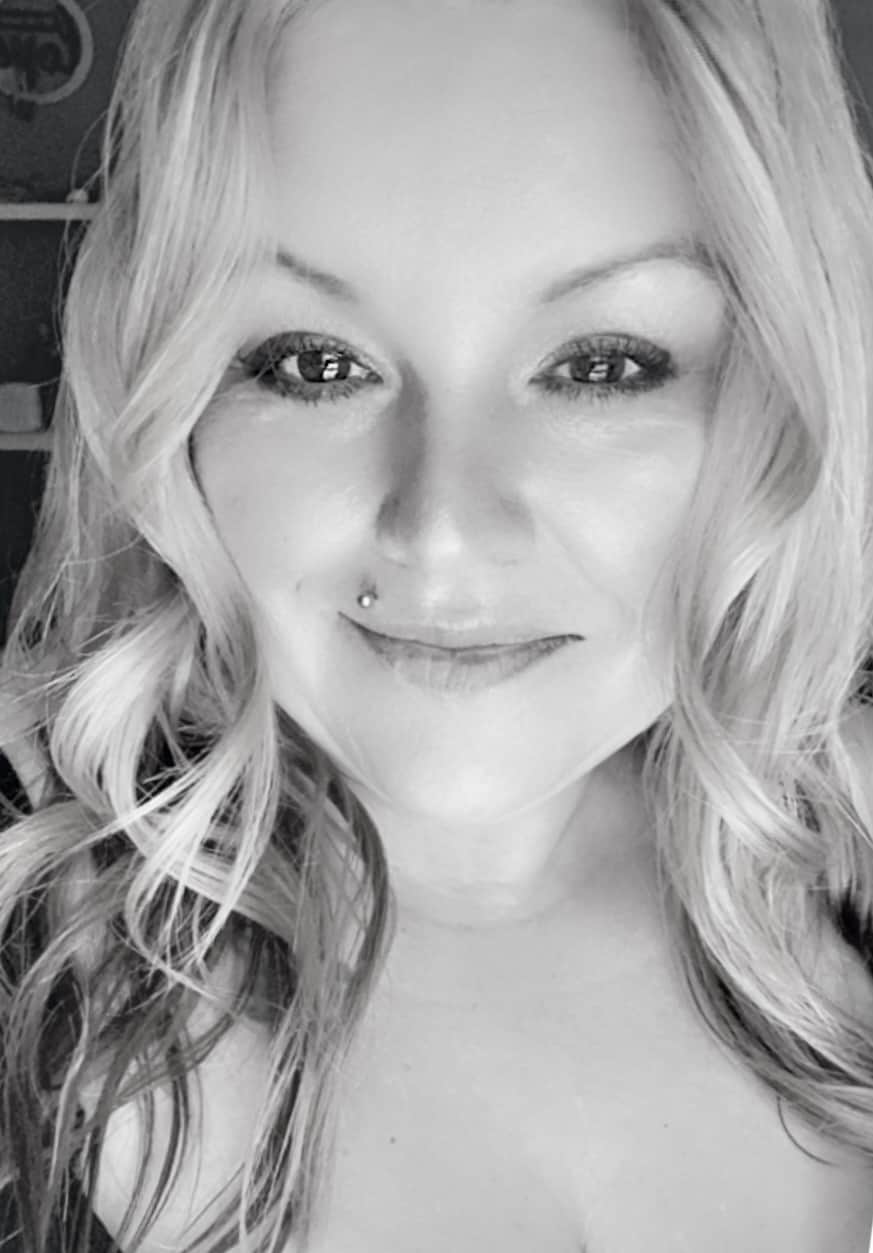 Owner & Lead Recipe Developer for It's Simple! since 2015, where you will find our best Family Favorites & Keto Low Carb Dishes with Helpful Cooking Tips & Hints in each post. Many Thanks for Stopping By, Enjoy!