This honey mustard popcorn chicken is the perfect crunchy movie night snack or dinner for the whole family! Check out my "not so secret ingredient" below. Not a fan of honey mustard? Simply leave them out!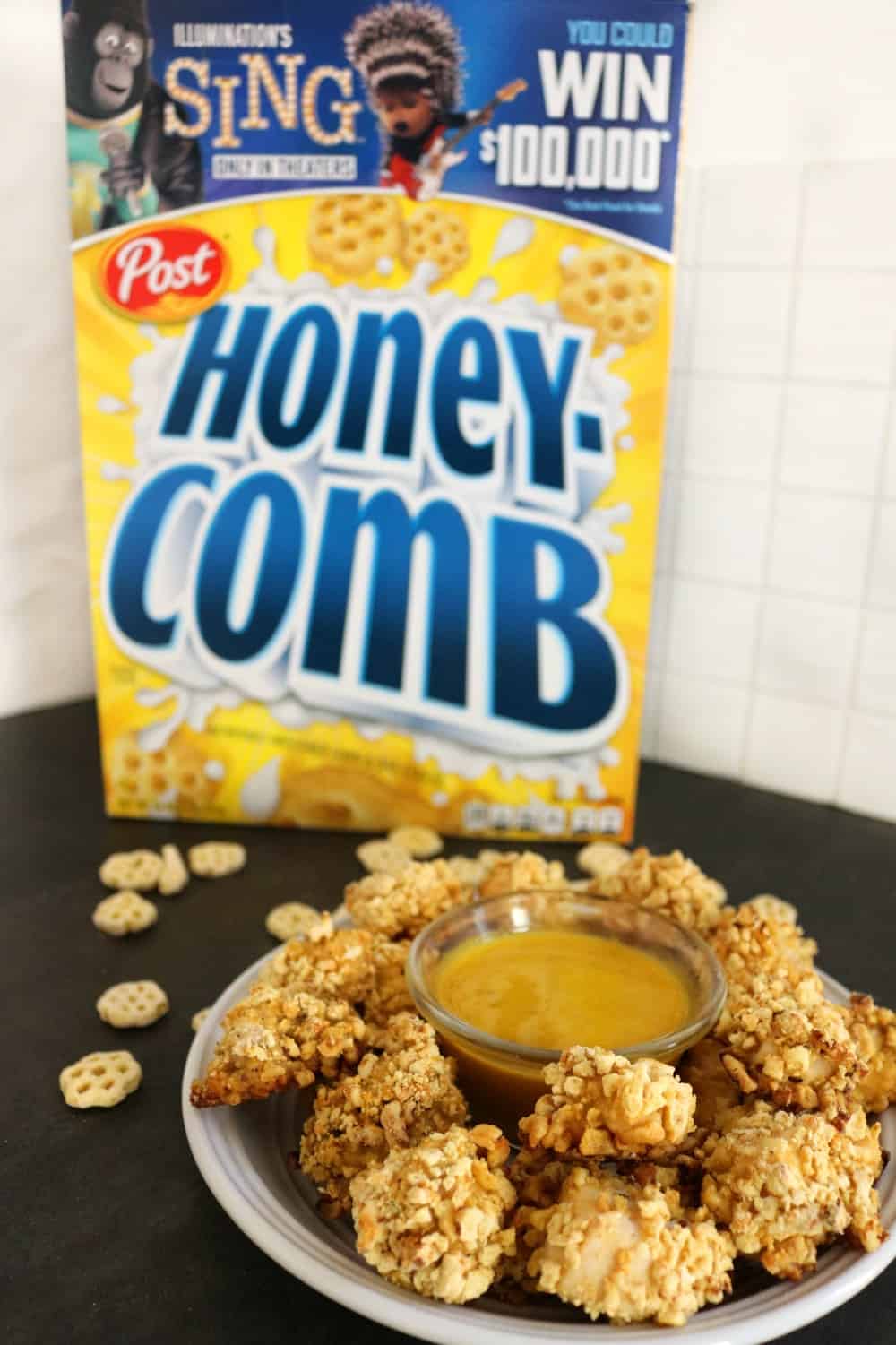 Honey Mustard Popcorn Chicken
Oven Baked Crispy
Movie nights are a real big deal in my house. I grew up in a time (that makes me sound so old!) when kids read more books than watched T.V and most of us kids didn't have a T.V in our bedrooms. Do you remember every Friday or Saturday night there would be a "special" on around 8pm? Well, my sister and I would be sitting with my parents on the couch, popcorn in a big bowl, ready to watch each week. It is absolutely one of my favorite childhood memories..... which is why we have always done something similar with my girls and now, my grandson.
Our movie nights are just a bit different, we tend to watch two movies and make appetizers, snacks and etc. like this Honey Mustard Popcorn Chicken. This chicken eats like a snack or a meal! Put the crispy little nuggets in a paper cup to snack on during the movie or serve with french fries to make a meal. Either way, everyone will go crazy over them.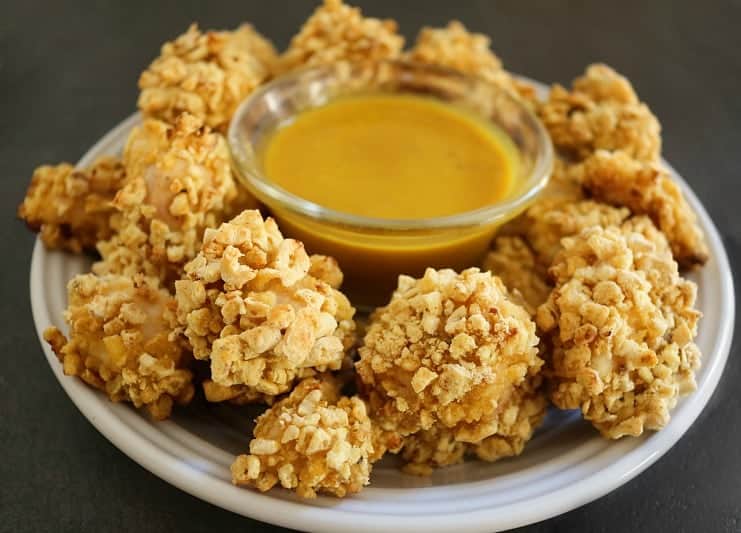 Though Post cereals are like my ultimate favorite breakfast, they aren't just for breakfast anymore! The selection is huge and offers something for everyone. Honey Bunches of Oats is my go to- morning, noon or night.
So, with my love for cereal it should come as no surprise that I use it in many recipes. My "not so secret ingredient" is Honeycombs. Yup, the cereal. I know, right? I thought it was pretty clever. The cereal flavor goes great with my honey mustard marinade and crisps up nicely. It creates a perfect balance of sweet and savory.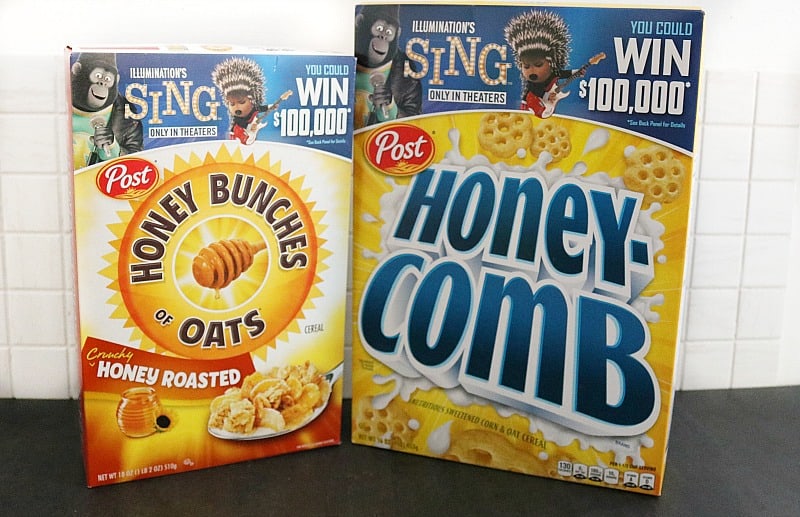 Each week we head out to Walmart, a total one stop shop, to grab up movie night ingredients and drinks. The selection is huge and I like that if I need non food items I don't have to visit a second store. You can find Honeycomb in the cereal aisle at Walmart.
Look for the BIG (this box is huge) yellow box with the new design to promote the movie SING, there is information on the box that will tell you how to enter the SING National Sweepstakes for a chance to win $100,000 or free movie tickets. Entering is simple- look inside the specially marked boxes for codes that you will enter into the sweepstakes website.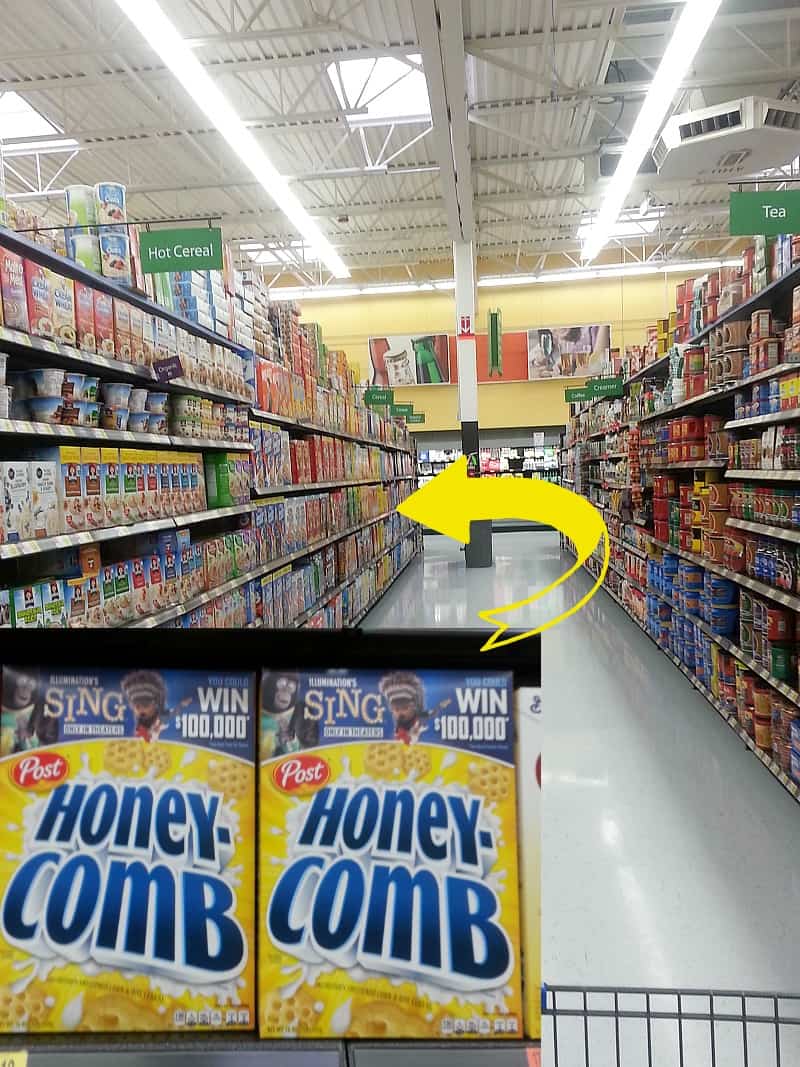 How To Make My Honey Mustard Popcorn Chicken
(full printable recipe below)
I am a HUGE cereal eater, so it is no surprise that I have found a delicious way to incorporate cereal into a savory application. Post has a great selection and I have used quite a few for cooking. Another one of my favorites is Grape Nuts. They can be used in place of these Honeycombs if you wish.
Here we go !
Start by getting all your ingredients together and ready to go. In addition to your ingredients, you will need 3 small bowls, a sheet pan and Olive oil. Cube boneless chicken breast into 2" pieces.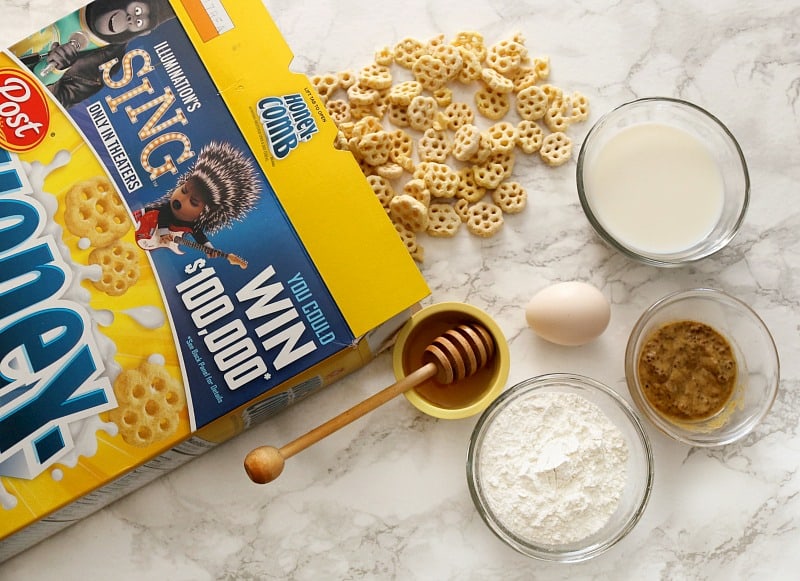 Use a food processor (or good ole ziptop bag and rolling pin) to crush Honeycombs. Add to a bowl.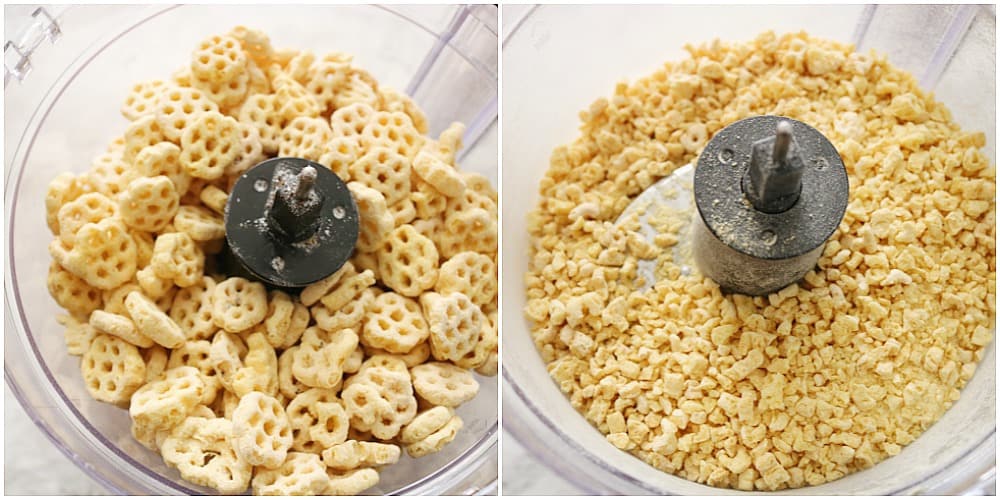 Whisk egg, milk, honey and mustard (of your choice) into one bowl. Add flour to another bowl.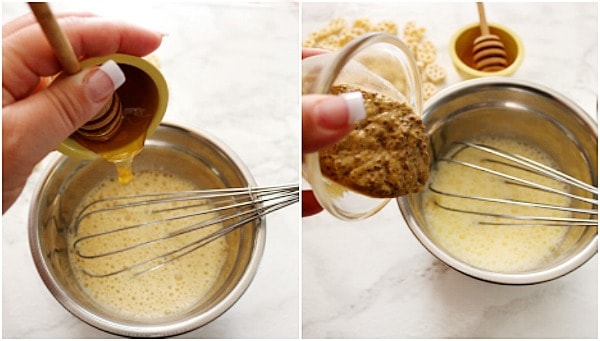 You should now have cubed chicken, a bowl each of - egg mixture, flour and crushed Honeycombs. Before dredging the chicken, preheat the oven to 425 and drizzle a sheet pan with Olive oil.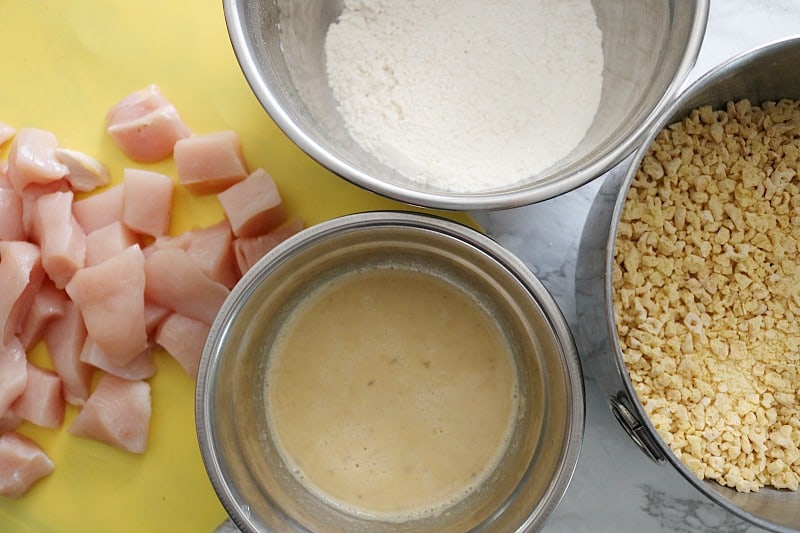 Create an "assembly" line. It is important to try and keep one clean hand during this process and avoid cross contamination. Create the breading for the chicken as follows: dip chicken in egg mixture, coat with flour, place back in egg mixture, coat in crushed cereal. Place on sheet pan.


Bake for 15-20 minutes or until golden brown and internal temperature of chicken reaches 160º.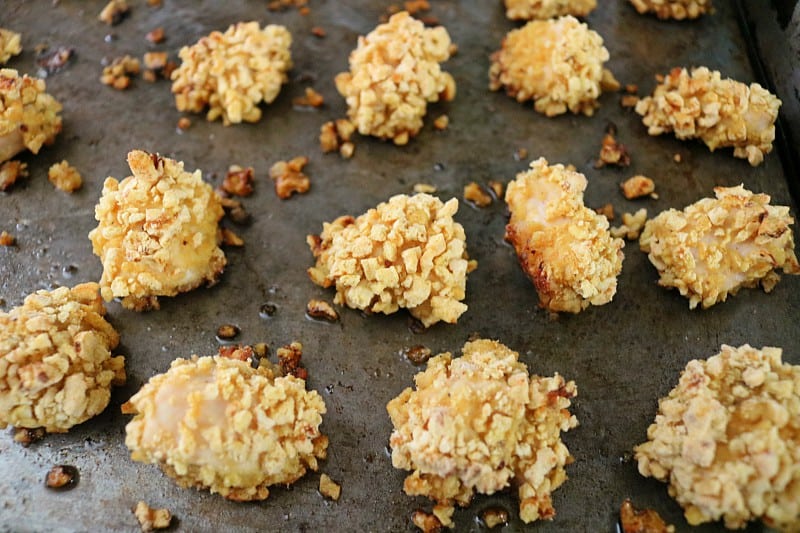 To make the honey mustard dipping sauce, simple mix 2 tablespoons of honey into 3 tablespoons of mustard. Adjust to taste.
Serve at your next family movie night!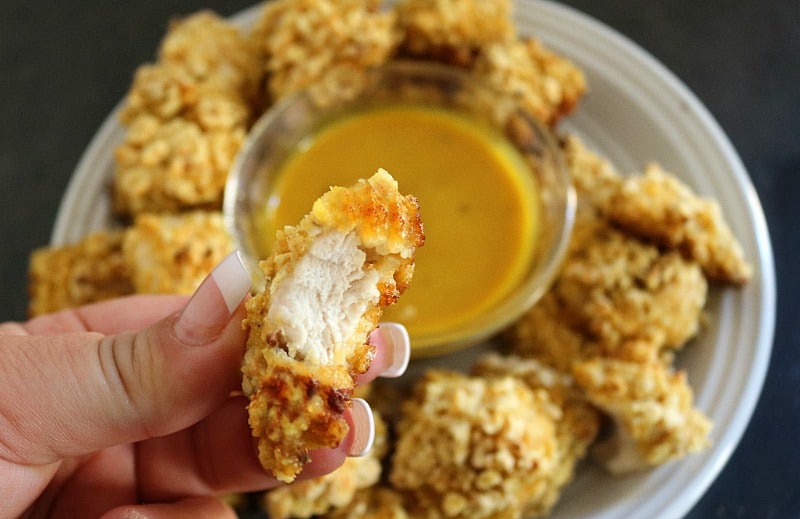 For more great recipes using cereal, follow the #CerealAnytime board on Pinterest!
Here is another great recipe using Post cereal- my Mini Dutch Apple Pies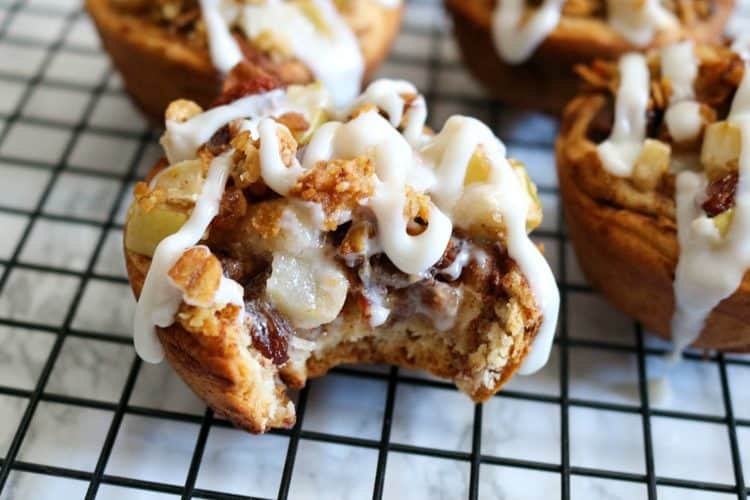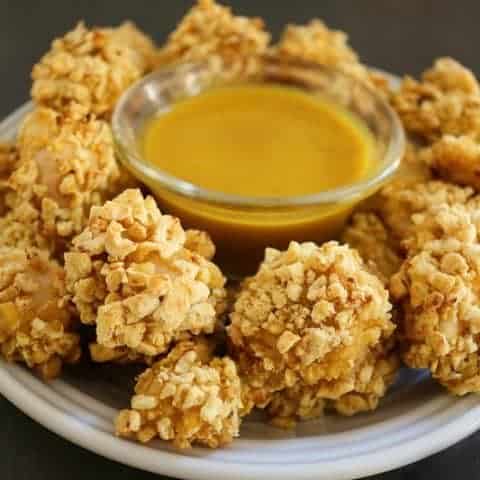 Honey Mustard Popcorn Chicken- Oven Baked Crispy
Your kids will go crazy for this popcorn chicken once they see that you use CEREAL as the main crunch component!
Ingredients
1 lb boneless skinless chicken breast, cubed
2 cups flour
3 cups Honey Comb cereal, crushed
2 eggs
½ cup milk
¼ cup mustard plus 3 tablespoons
2 tablespoons honey plus 2 more tablespoons
Olive Oil
Salt & Pepper
Instructions
Preheat oven to 425.
Whisk egg, milk, honey and mustard in a small bowl. Set aside.
Add flour to a second bowl.
Crush cereal in food processor or bag. Add to a third bowl.
Dip chicken pieces into egg mixture, dredge in flour, dip back into egg mixture, coat in cereal.
Place on a sheet pan that has been drizzled with Olive oil.
Bake for 15-20 minutes or until golden brown and 160 internal temperature.
Serve with honey mustard dipping sauce- combine additional honey and mustard into a small bowl.
Nutrition Information:
Yield:

4
Amount Per Serving:
Calories:

200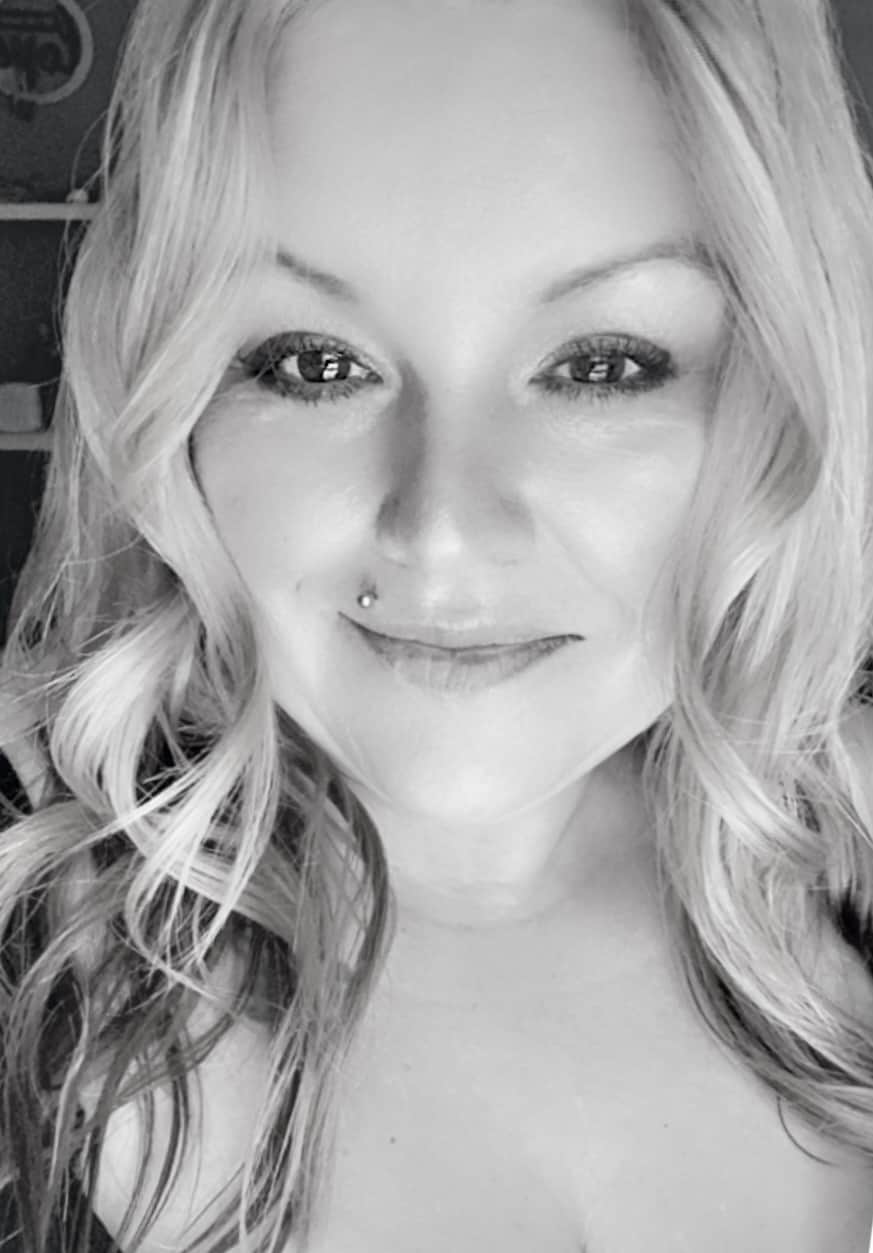 Owner & Lead Recipe Developer for It's Simple! since 2015, where you will find our best Family Favorites & Keto Low Carb Dishes with Helpful Cooking Tips & Hints in each post. Many Thanks for Stopping By, Enjoy!