SkinnyPop popcorn has been dominating the industry with their Healthy POPCORN at ONLY 39 CALORIES PER CUP! We tried Skinny Pop Popcorn for this review and have never been more satisfied. Skinny popcorn Ingredients: All natural popped Corn. Sunflower oil. Salt.  That is ALL ! In addition to already popped popcorn,  SkinnyPop even makes microwave popcorn bags. A whole bag is apparently under 150 calories. Woah. Munchies game changer.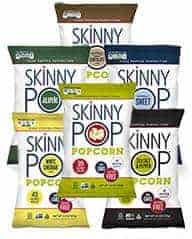 Skinny Pop Popcorn Review
I received a case of Skinny Pop Popcorn free for the purpose of this review, regardless my opinions are always true and I write about my own,  or my family's personal experience with the product.
I love my munchy foods , popcorn especially.  My husband and I go to the movies once a week and it never fails, regardless of what I have had to eat prior, I can not resist popcorn.   I usually make sure to order only a small and share it so that I do not end up having too much.
My Waist Yells At Me
That popcorn is LOADED with butter and salt and well,  that is just not suppose to be a part of my diet.  I always have to laugh when they ask you "Do you want butter on that?"  , after all it is already loaded with butter right? Such a hard decision... not really. Yes, butter please is what my mind says, my waist is like "no you didn't girl."
SkinnyPop Low Calorie Already Popped Popcorn
The other problem I find with eating popcorn is that,  it is light, airy and addicting.  I can eat it for hours.  In the end I am sick of popcorn, but not full as if I ate a meal.  Then I end up wanting food to actually fill me up. The next thing I know I may have consumed 1,000 calories in 2 hours.  Horrible. This is not ok.
I can't afford to have my waist yelling at me over food binges and crazed snack attacks. Skippy pop popcorn is truly the perfect way to indulge, guilt free, as they say. 4 Cups of popcorn seems like a lot until you realize it is only 39 calories a cup.
The Skinny on this Amazing Popcorn
Skinny Pop is the creator of the all natural 39 calorie a cup popcorn!  THANK YOU!   Their popcorn is also free of gluten, cholesterol, trans fats, preservatives, nuts and GMO's. I was afraid it would taste overly dry and plain, but it does not.
If you are  looking for a healthy snack that tastes great and will satisfy your salt craving, this is for you. I think there is a perfect balance of salt and butter flavor (it is actually sunflower oil) on the popcorn, making it just right and guilt free!  Also, the quality of the popcorn is very good.  Sometimes bagged popcorn can taste stale or be chewy, but this tasted fresh popped.  It is pretty fresh and crunchy. The popcorn also seemed to lack all those choke you out shells.
 NUTRITION COMPARISON
Skinny Pop already popped popcorn or microwave popcorn
Serving size- 4 cups
Calories- 155
Small Movie Theater Popcorn
Serving size- 2 cups  
Calories -    470- 630 (without the extra butter they ask you if you want)
Where to Find Skinny Pop Already Popped Popcorn
For more information on where to buy Skinny Pop Popcorn please visit their website Skinnypop.com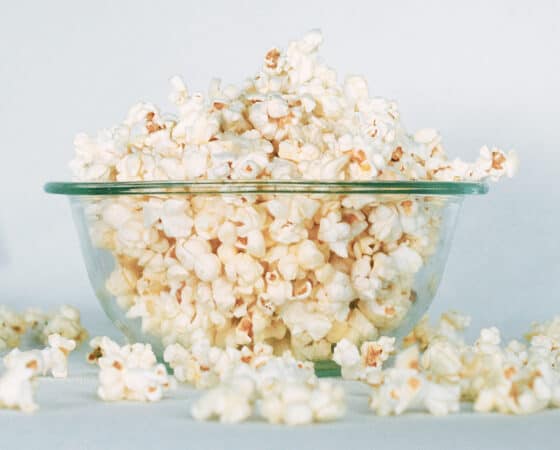 Photo by Georgia Vagim on Unsplash
Skinny Pop Popcorn can also be found at most large retailers now, such as Costco, Walmart, Hannaford, Kroger and so many more we can't list them all. Amazon is a huge seller of the already popped popcorn. It comes in all kinds of flavors and now even microwave bags. This skinny popcorn is an absolute must for low calorie diets or light snacks. Well..  or heavy snackers like me who need limitless servings.  Enjoy! Come back and tell is what you thought.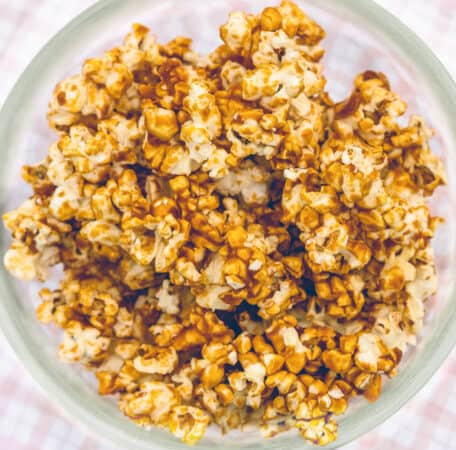 Photo by John Tecuceanu on Unsplash
Making our SkinnyPop Sugar Free Caramel Popcorn Recipe
Our skinny sugar free caramel popcorn uses SkinnyPop microwave popcorn with sugar free caramel sauce and a few other ingredients to make the best homemade caramel popcorn. This low calorie popcorn is indulgent and the perfect guilt free snack.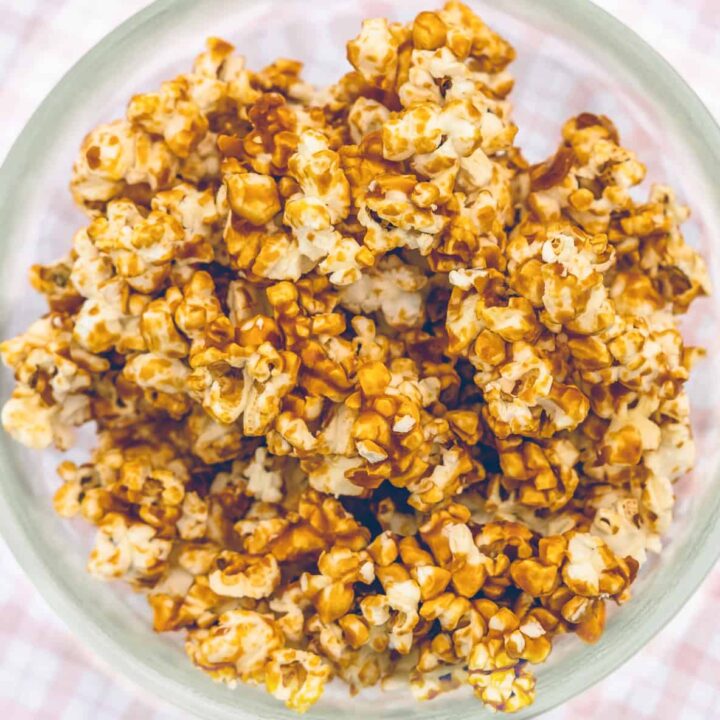 Sugar Free Caramel Popcorn Recipe using SkinnyPop Low Calorie Popcorn
Additional Time:
5 minutes
Our easy sugar free caramel popcorn uses SkinnyPop microwave popcorn to make a super indulgent guilt free snack!
Ingredients
1 Bag SkinnyPop Microwave Popcorn, Already Popped and Cool
⅓ cup Sugar Free Caramel Sauce
1 tablespoon Unsweetened Almond Milk
1 teaspoon Vanilla
½ teaspoon Cinnamon (optional)
Instructions
Pour Skinny popcorn into a bowl.
Using a small bowl, mix the caramel sauce, almond milk and vanilla together.
Pour over popcorn and toss to coat.
Enjoy!
Notes
Popcorn is best devoured all at once. It does not keep well leftover.
Nutrition Information:
Yield:

2
Serving Size:

1
Amount Per Serving:
Calories:

150
Total Fat:

6g
Trans Fat:

0g
Cholesterol:

0mg
Carbohydrates:

13g
Net Carbohydrates:

7g
Fiber:

6g
Sugar Alcohols:

2g
Nutrition facts are auto- populated by the app for this recipe card, numbers may vary. For best results, input your exact brand ingredients into a recipe analyzer like Verywell or MyFitnessPal.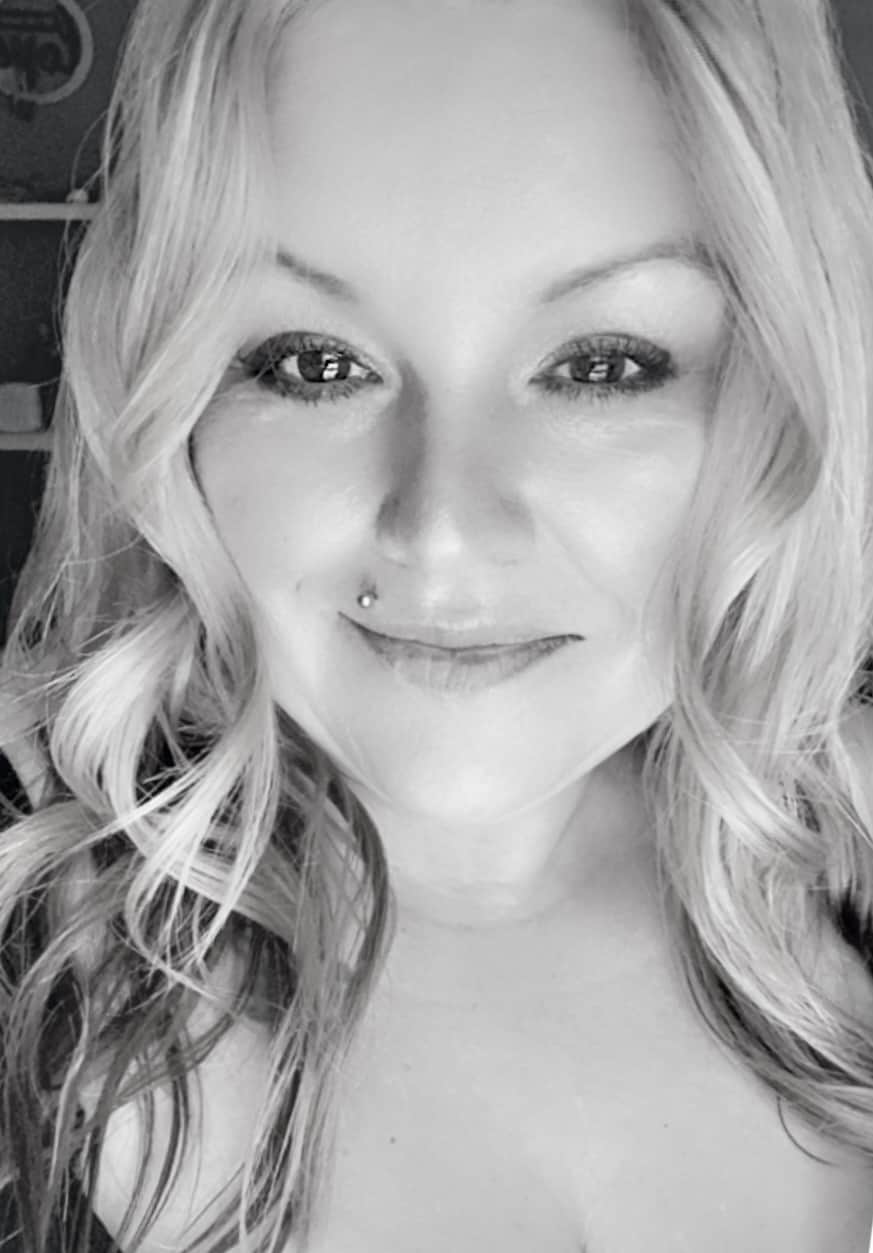 Owner & Lead Recipe Developer for It's Simple! since 2015, where you will find our best Family Favorites & Keto Low Carb Dishes with Helpful Cooking Tips & Hints in each post. Many Thanks for Stopping By, Enjoy!