DIY Stress Relieving Lavender Hair & Scalp Treatment
A treatment that relieves stress and treats your hair? Yes please!  These days, I will try anything that relieves stress. It is just a nice way to relax and unwind.  Lavender is known to have a calming effect so of course we included that in this hair treatment recipe. We took my basic hair treatment recipe from cosmetology school and added a few extra ingredients to put this over the top. In addition to the calming effect, this treatment will add shine, moisture, tame "fly-a-ways" and bring relief to dry, itchy, flaking scalps. Perfect for this time of year, long cold winter.
This is an easy recipe and aside from the oils, you probably have everything you need already.  Mix it up, apply it, grab a cup of chamomile tea and relax!
For best results, warm (25 seconds microwaved) the mixture slightly before applying. It feels amazing!
What you need: 
1 Cup of Mayonnaise
1 Egg Beaten
1 Tablespoon of Olive Oil
1 drop of Lavender Oil
Plastic Shopping bag or shower cap
What to do:
In a small bowl, mix together all the ingredients.  To warm, microwave on high for 25 seconds, if not warm enough, heat for an additional 15 seconds at a time until you reach your desired temperature.
WARNING****  this mixture heats up fast and will get EXTREMELY hot. TAKE CAUTION.
Part your hair into 4 sections -   down the middle as if you are going to do ponytails. Then from ear to ear.  Apply with a color brush or your fingers onto the scalp then work down the hair strand. Life the section and repeat underneath.
Using just the tips of your fingers, rub the mixture into the scalp
Cover with a plastic bag or shower cap.  Leave on for at least one hour. Can be left over night.
TIP* you may need to wash your hair twice to completely remove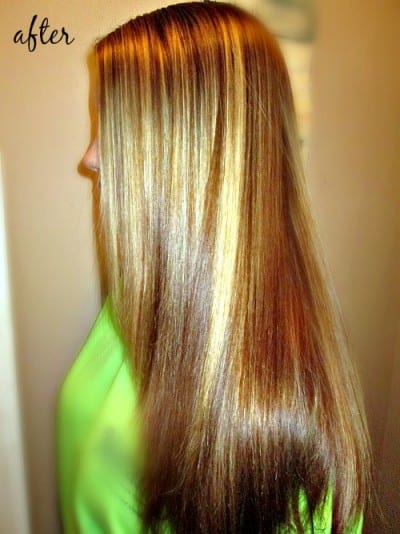 Like this post? Use the buttons below to share!