Chocolate Peanut Butter Explosion Bundt Cakes
There isn't much about these cute little chocolate peanut butter bundt cakes that does not scream ooey and gooey.  They are covered in chocolate fudge and warm peanut butter and to make them even more gooey, we put fudge in the batter.  The end result, a moist cake that is light and airy. These bundt cakes are a combination of a bundt and a lava cake.  The best part about them is that you can take this base recipe and use it with any toppings you want.  Coconut and caramel are on my list next!
Don't forget your coupon to save on the cake mix!


What you need: 
1 box dark chocolate cake mix (do not prepare according to package)
2 eggs, beaten
½ stick butter, melted
⅓ cup water
⅔ cup hot fudge
½ cup peanut butter
Mini Bundt Cake Pan
What to do:
Preheat the oven to 350°,  grease a mini bundt pan with butter. You can use cooking spray, I just personally do not.
In a large bowl, mix together the cake mix, eggs, butter and water until smooth.
Add the hot fudge to a microwave safe dish and heat for 30 seconds.  Stir, heat again until melted.
Fill the mini bundt pan about ¼ full of batter.
Spoon hot fudge onto the batter in each bundt pan space.  You do not want a lot, but more than a drizzle.  I would say each took about 1 tablespoon.
Fill the rest of the way with batter.   Bake for 15 minutes or until firm and set up.  NOTE* The toothpick method will not work to check doneness because the hot fudge is in the middle. 
Let cool.  Remove from pan.  Drizzle with warm peanut butter and the remaining hot fudge!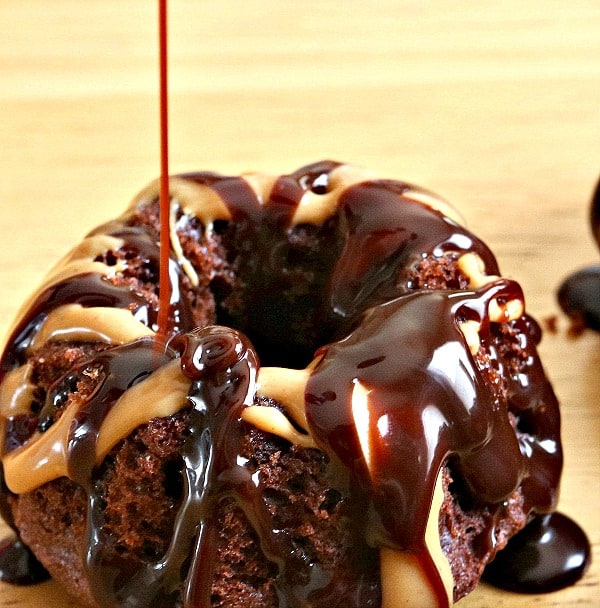 Try our Semi-Homemade Funny Bones Cupcakes Recipe !