What greater way to teach your kids how to recycle than by making Upcycled Kids Crafts! Making these fun upcycled kids crafts will not only have them excited about recycling, but will get their creative minds working!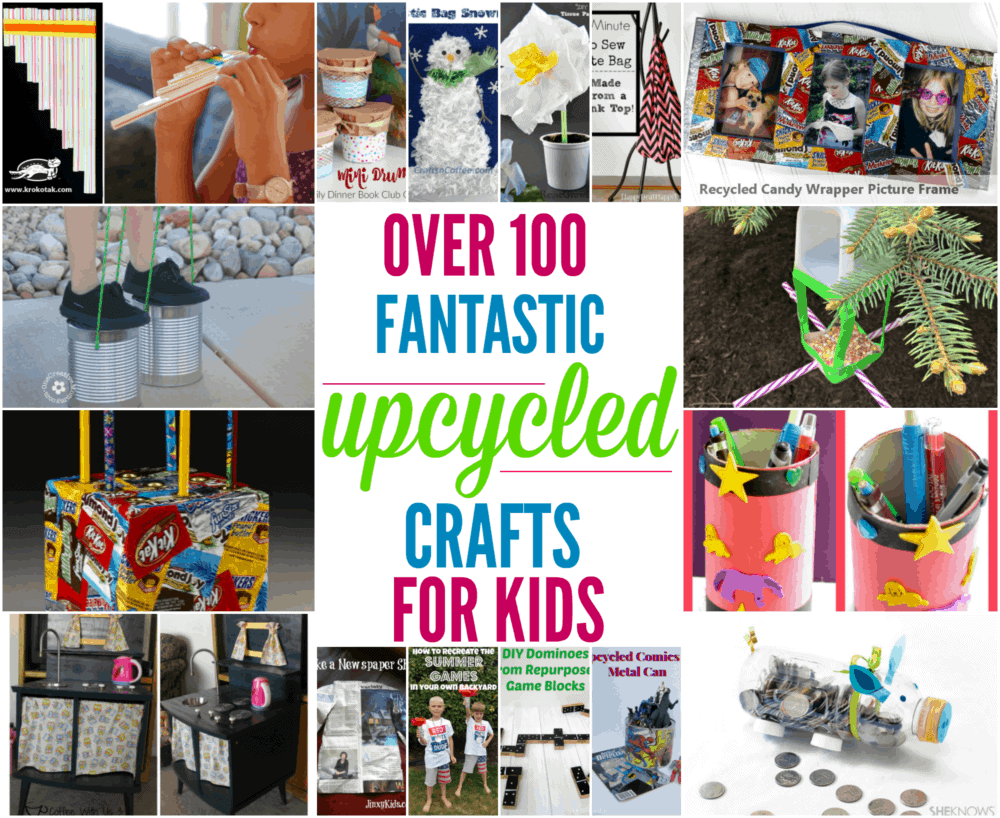 One of the best crafts to make is upcycled kids crafts, they are practically free, help the planet and take some serious creative thinking! Most of the materials used in the crafts below can be found around the house. Great for a rainy day, boredom buster or just for fun.
Let's begin!
Fantastic Upcycled Kids Crafts
Minions Coin Bank by Aprons and Stilletos -  Such a great way to upcycle those juice containers ,  is he not the cutest thing ever??
Upcycled Comic Book Can by Organized 31 -  such a fun and creative way to use comic book pages and upcycle!
Water Bottle Piggy Bank by SheKnows-  save money and the landfills by reusing water bottles in amazing projects like this!  Teaching kids two valuable lessons in one.
Candy Wrapper Pencil Cube by Crafts n Coffee- why go out and buy a pencil organizer when you can make one?
Mini Drums Inspired by Drum Dream Girl by Sunny Day Family -  you won't believe how easy and adorable these little drums are.  I bet you have all the supplies needed right at home already!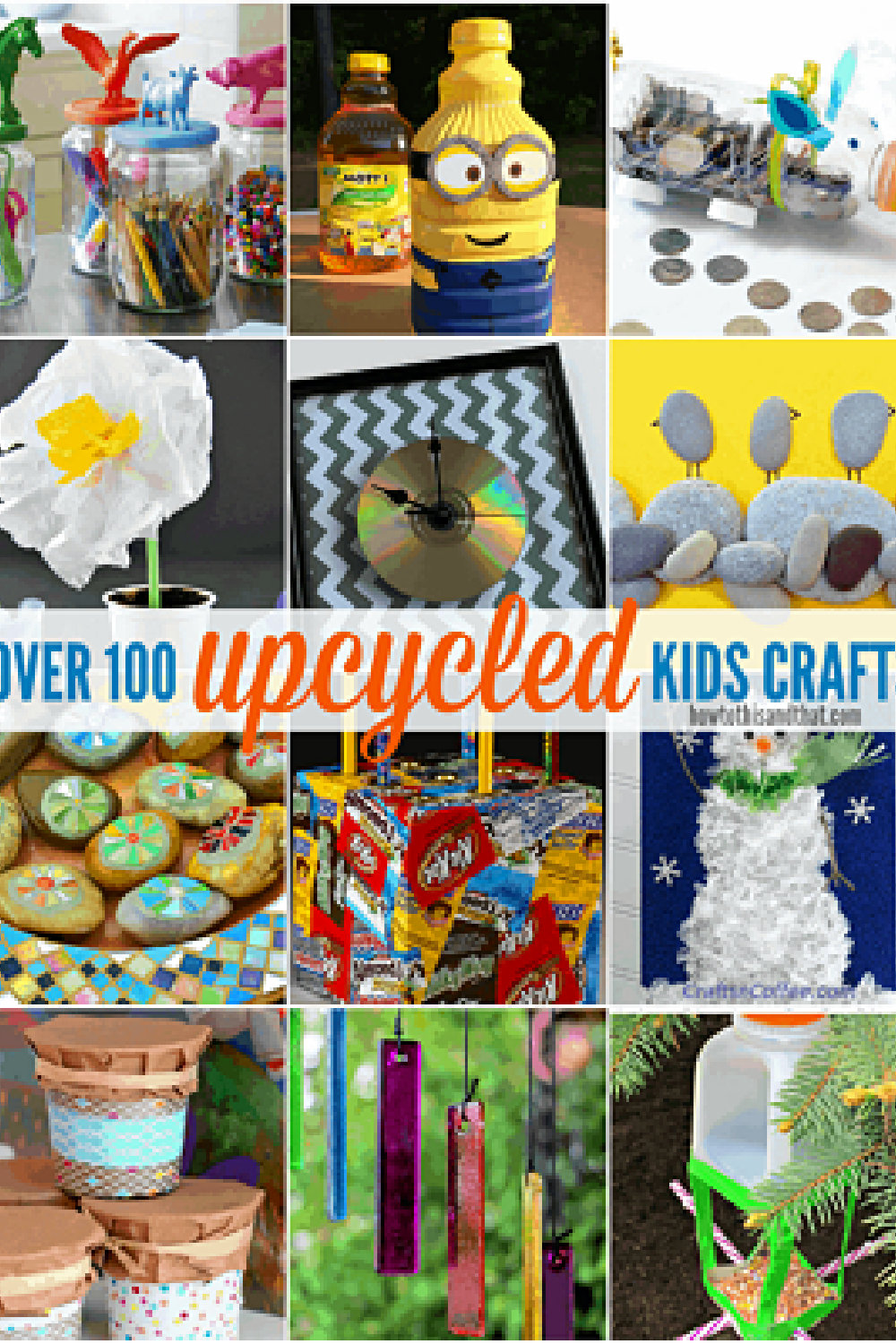 Personalized Pencil and Art Supply Cup by Our Family World - Kids will be back to school soon, help them celebrate by making this cute, useful craft!
Recreating The Summer Games at Home by Making Time For Mommy -  Your kids will feel like an Olympic winner with these cute torches and medals made from recycled materials!
K Cup Tissue Paper Flower by Reuse Grow Enjoy- K cups are a great upcycle material, there are tons of them ready to use.  Try this adorable paper flower!
Singing Straws by Krokotak-  teaching kids music and upcycling...  the best.  These easy singing straws sound beautiful!
Paper Plate Turtle by How To This And That-  use one half for the turtle and another half for our paper plate flamingo!
Newspaper T Shirt by Jinxy Kids -  Wear it or use it to protect kids clothing from paint and other activities when crafting!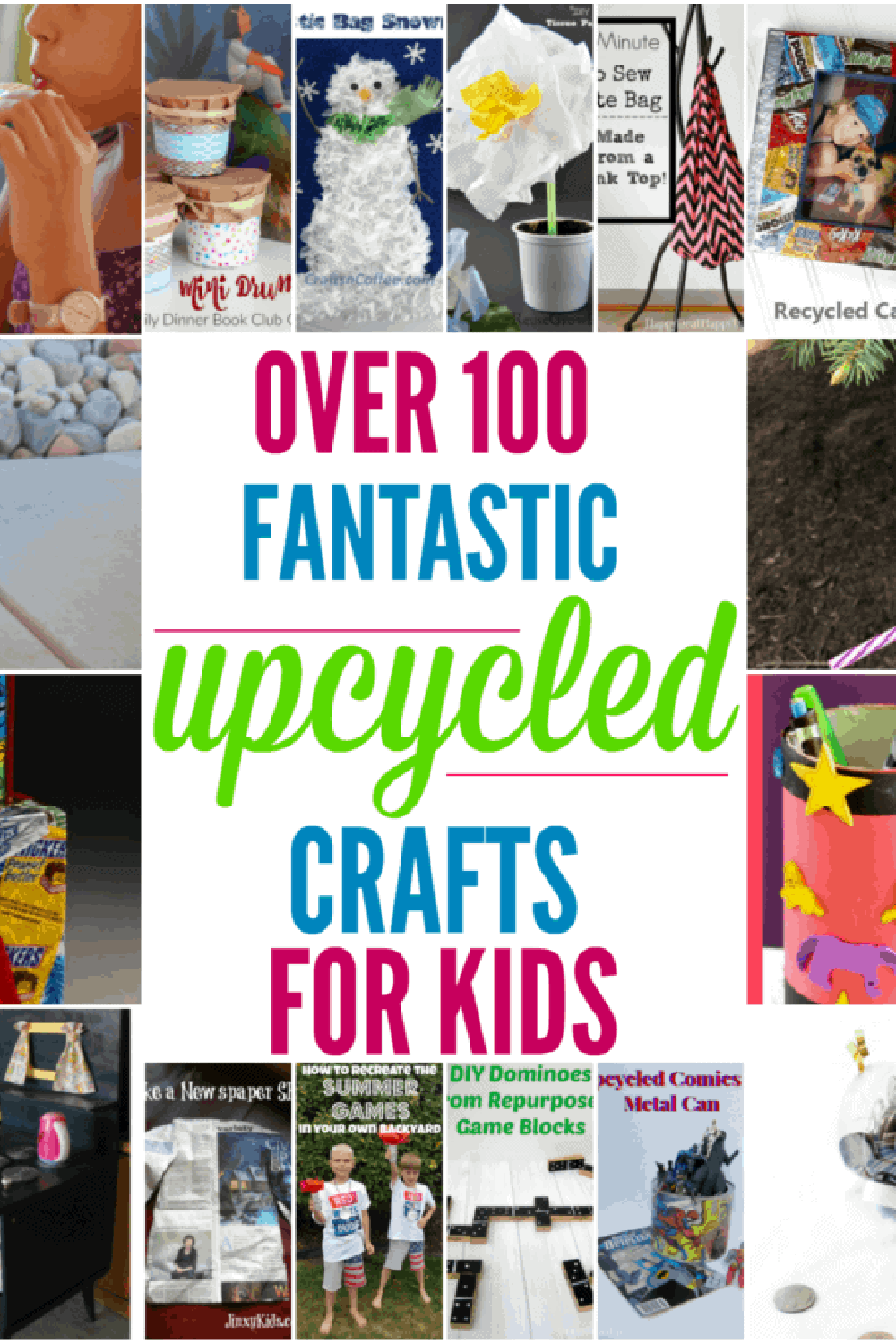 DIY Dominoes by Organized 31 -  A genius idea for upcycling game blocks! Don't sell that unused game for $1 in the yard sale, make these instead.
Recycled Candy Wrapper Picture Frame by Crafts n Coffee-  this would make such a great gift!
Recycled CD Clock by Aprons and Stilletos-  I know you have old CDs laying around! This is such a great idea.
Tin Can Stilts by Jugglin Act Mama-  These easy tin can stilts will provide lots of fun for the kiddos!
15 Minute No Sew Tote Bag by Happy Deal Happy Day-  this is genius.  Total cost, under $4! Try buying a bag like this for that price.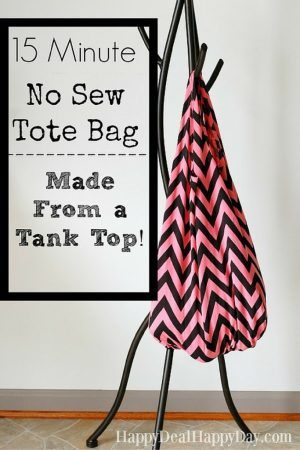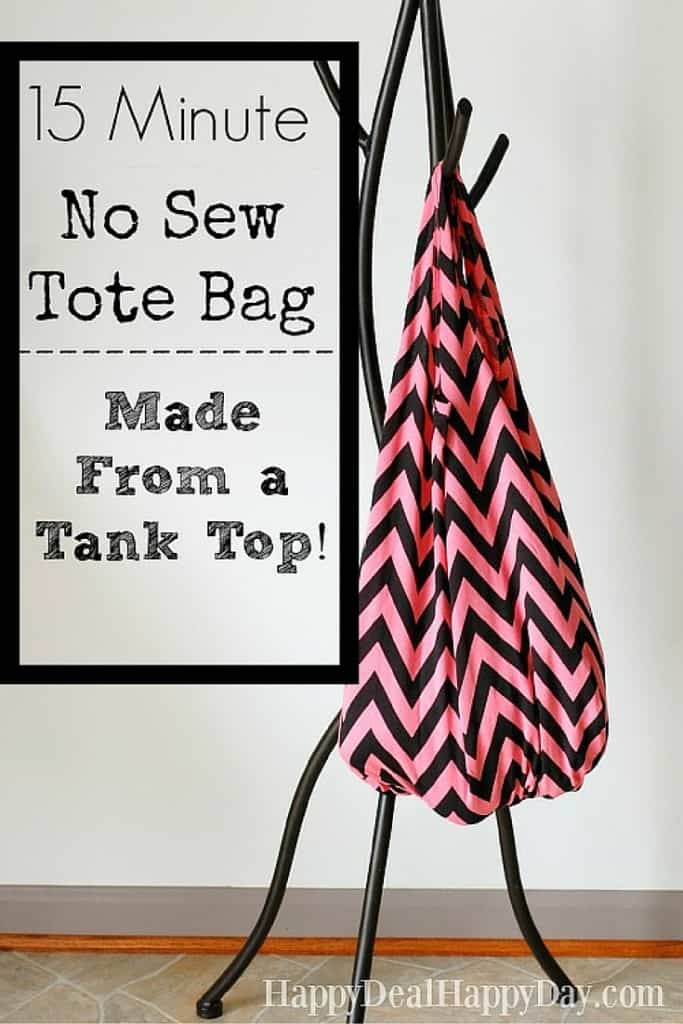 DIY Milk Jug Birdfeeder by Six Dollar Family- a great project that uses materials you probably already have laying around!
Pretend Potions  by Organized 31 - let the kids play magician for a day with these recycled items turned potions.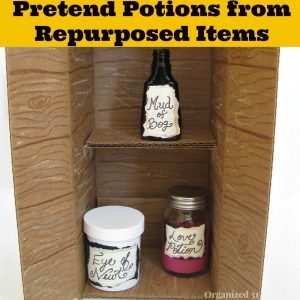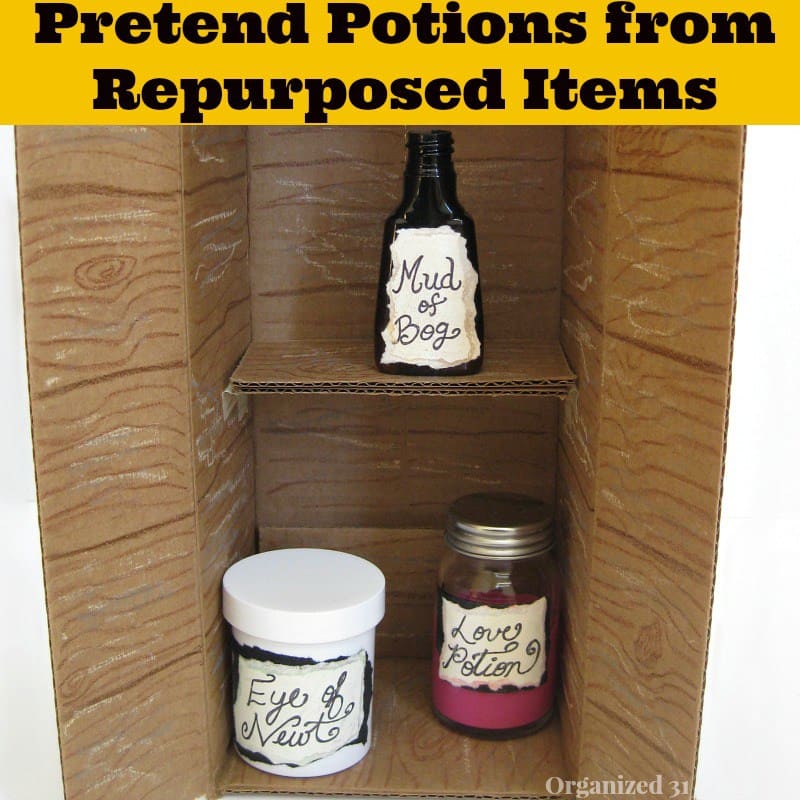 Kid's Kitchen from a Nightstand  by Coffee With Us 3 - we have all seen those old, used pieces of furniture at the flea markets or yard sales. Give them new life like this!
Recycle Plastic Shopping Bags Snowman Picture by Crafts n Coffee- stop stuffing plastic bags into another bag and storing them,  make this adorable snowman!
More Kids Project Ideas
Clay Tile Mosaic by First Palette
Recycled Pouch Beads by The Inspired Home-   Kids love beading and it is great for their hand eye coordination!
Animal Jars by House To Home UK -  this would be a fantastic way to organize craft supplies, beads and more. Love the idea!
20 Upcycle Tips & Tricks by How To This And That
Chick Fil A Upcycle by Atlanta's Frugal Mom-  put those plastic containers to good use!
Over 34 Recycled Kids Crafts by Hands On As We Grow
25 Upcycled Projects for Kids by Fun A Day
18 Awesome Practically Free Upcycled Craft Projects by Wisebread
We hope you enjoyed these upcycled kids crafts!
 Comment below and let us know your favorite.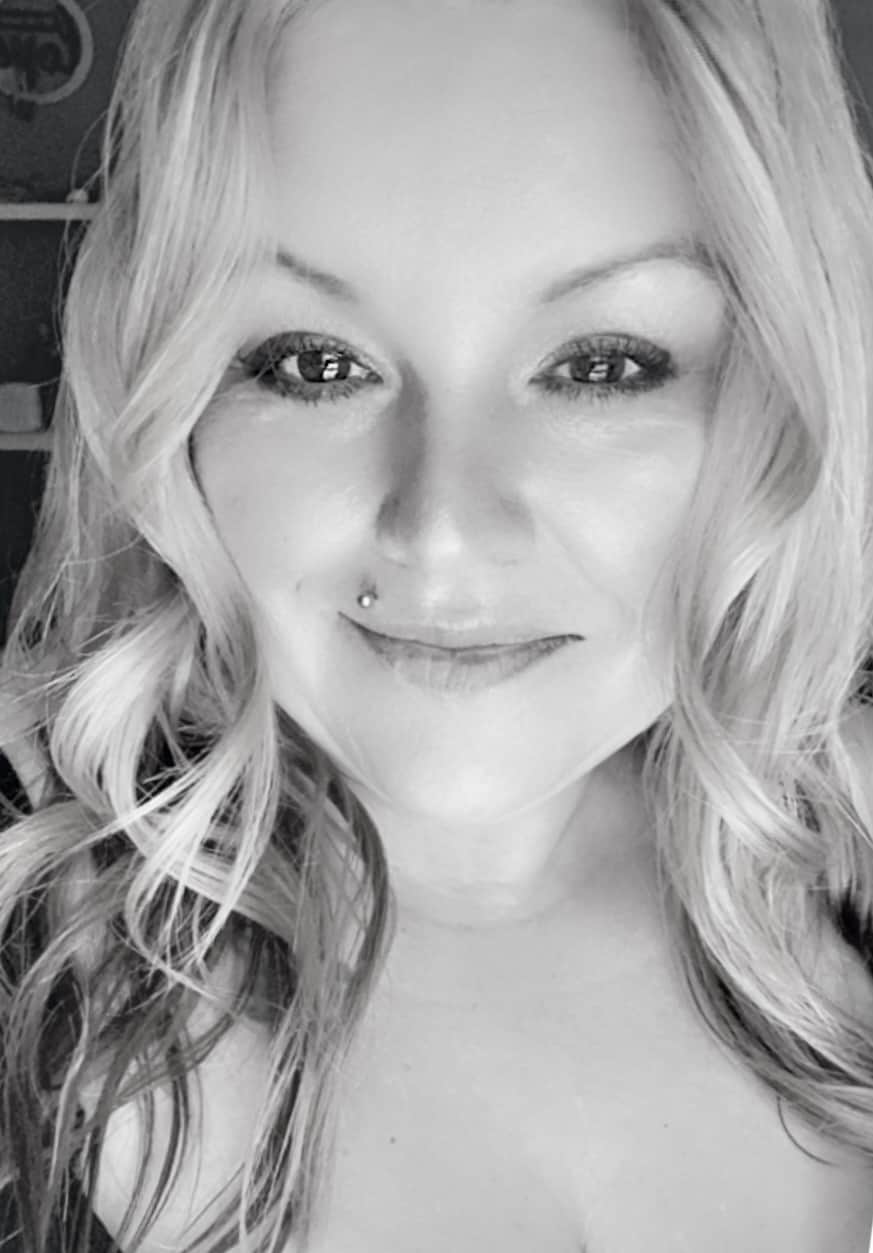 Owner & Lead Recipe Developer for It's Simple! since 2015, where you will find our best Family Favorites & Keto Low Carb Dishes with Helpful Cooking Tips & Hints in each post. Many Thanks for Stopping By, Enjoy!