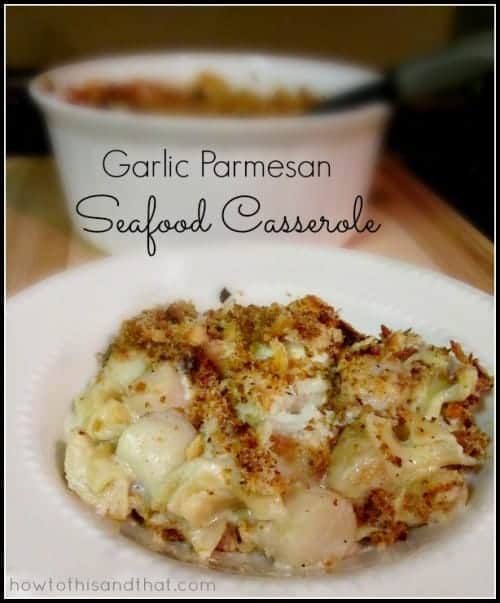 Seafood Casserole Plus My Recipe For Easy Garlic Parmesan Sauce
Living near the coast of Maine, we enjoy lots of fresh seafood year round. Though summer is my favorite with all of those lobster pounds steaming up clams, crab and lobster, I also like white fish so bake with it a lot in the winter.  Especially since our summers are so short!
Now, scallops... those are my weakness. I can purchase a pound of the largest sea scallops when they are at their highest market price ( about $20) and not think twice about it.  For recipes such as this one I used the smaller scallops that were available. The ones I purchased for this recipe are bigger than Bay scallops, but not quite as big as usual. You can use Bay scallops of course if  that is all you can find. Additionally, if all your market has is sea scallops those are fine, just cut them in half.
This recipe includes my homemade garlic parmesan sauce which you will see is the absolute easiest, versatile, most delicious sauce ever.  Once you make it, you will use it for everything. It is also a lot less fattening than traditional Alfredo sauce.
If you try this recipe, let me know by leaving a comment below!
Enjoy!

Seafood Casserole Plus My Recipe For Easy Garlic Parmesan Sauce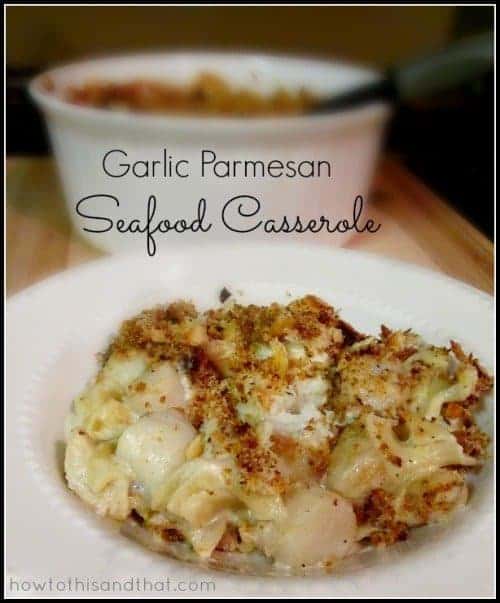 This recipe serves 4-6 people, if you would like to make a larger dish I suggest using a 13x9 pan and double the recipe exactly.
Ingredients
½ lb Cod or Haddock
½ lb Fresh Scallops, you can use frozen, just thaw them first
6 oz Egg Noodles, medium NOTE* the bags I buy are 12oz
2 Cups of Bread Crumbs
1 Tablespoon melted butter or margarine
For the sauce:
½ Stick of Butter or Margarine
¼ Cup of Flour
2 ½ Cups of Milk, I use milk to cut back on the fat
¼ Cup of Grated Parmesan, you can use the "shaker cheese"
1 Tablespoon Garlic Powder, or 2 cloves peeled and crushed fresh
½ Teaspoon Onion Powder
½ Teaspoon Pepper
1 Tablespoon Italian Seasoning
Pinch of salt
Instructions
Preheat the oven to 350
Partially cook, drain and set aside the egg noodles (do not cook fully, they will finish in the oven)
In the same pot you boiled the noodles, add the ½ stick of butter and melt on medium low heat. Add the flour, stir until mixed well.
Add the milk, stir, increase heat to HI, bring to a boil stirring constantly.
When boiling remove from heat.
Mix in the garlic powder, onion powder, grated parmesan, Italian seasoning blend, salt & pepper.
Add the egg noodles to your casserole dish.
Cut the fish into large chunks then layer on top of the noodles
Add the scallops
Pour the sauce over all of it
Mix 1 Tablespoon of melted butter into the 2 cups of bread crumbs then sprinkle all over the top of the casserole.
Bake for 30 mins covered.
Uncover and bake for 15 more minutes or until golden brown.
Like this post? Use the buttons below to share!