Impress your friends and family this holiday season with my easy creamy seafood pasta bake- made with a combination of seafood, perfectly cooked pasta and a white wine cream sauce! Seafood pasta is an easy to make seafood casserole, elegant and the perfect recipe for any weeknight or even entertaining.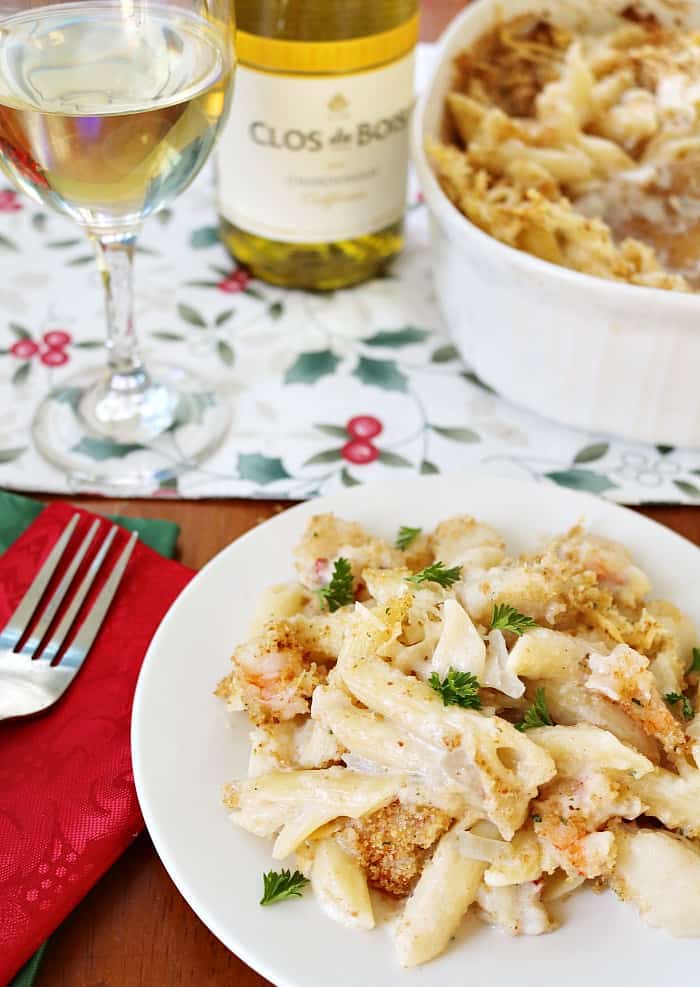 Creamy Seafood Pasta Bake
A Family Holiday Tradition
Let me start by saying I am French....  AND Greek! If you know anything about either heritage you know it involves a ton of food. The French side of me uses a lot of creams, wine, and butter. The Greek side of me cooks to feed an army or as if it is a special occasion every day.
Seafood Pasta
When the holidays come around I take a different approach to my cooking. I start to get a bit fancier and cook with ingredients I don't use every day. I have family members who can't attend our holiday festivities, so we have a get together within the week or so prior. They know there is always a fantastic meal (and wine!) served, like this Seafood Pasta Bake.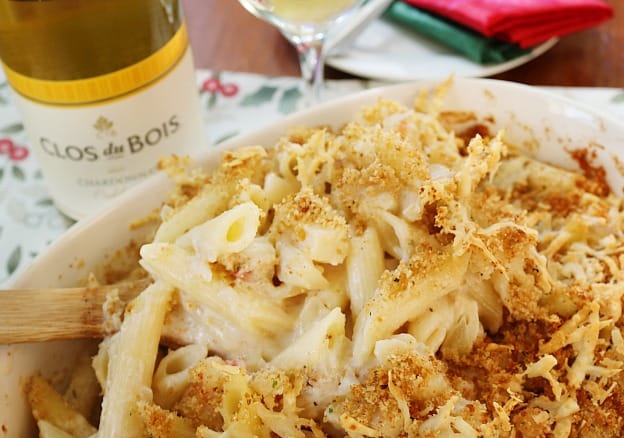 About Seafood Pasta Bake Recipe
My seafood pasta bake, or seafood casserole if you will, is a recipe that pairs two of my favorites- pasta and wine. Grab your favorite dry pasta, a bottle of wine and let's get cooking! 
Another favorite dish I make combines a Clos du Bois Cabernet (used in my famous red sauce) with angel hair pasta. Absolutely amazing, but that recipe is for another day. We love a pasta dish with homemade sauce in our home.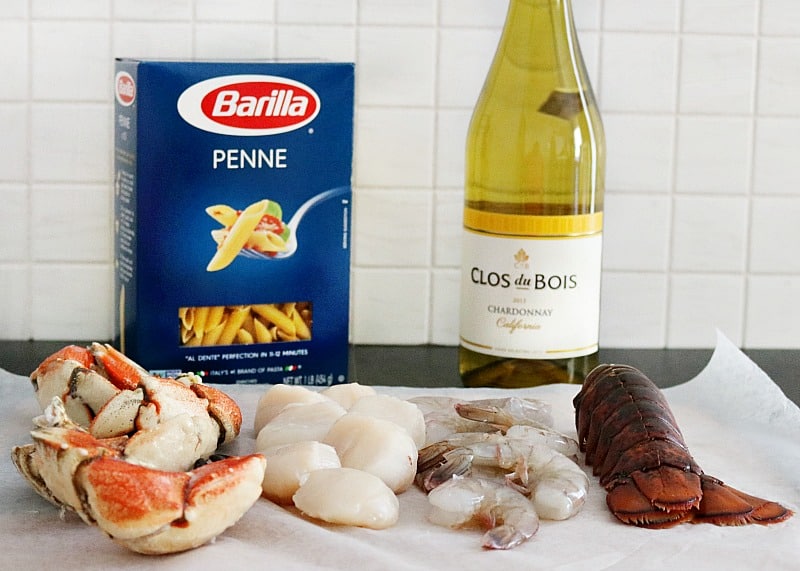 What Wine Pairs With Seafood Best
Briefly mentioned above- The wine I use is an amazing feminine, French brand called Clos du Bois.  (not an affiiate just love it!) I use the Chardonnay because it is versatile, light, crisp and well balanced. The flavors play perfectly with seafood or chicken in both cooking and drinking; with key flavor notes being things such as apple and pear with a light oak character. Making it a great choice for any chicken or seafood casserole. 
As a general rule of thumb, when cooking with wine use one that you would drink. There is no sour, bitter flavor with this Chardonnay, it's smooth and adds just the additional level of flavor needed in this white wine cream sauce.
Clos du Bois offers a selection of vintage style wines that are elegant, but approachable at an affordable price. Even with the seafood, this dish comes out at about $5 per person. Not bad for a seafood casserole dinner and a glass of wine, try getting that in a restaurant!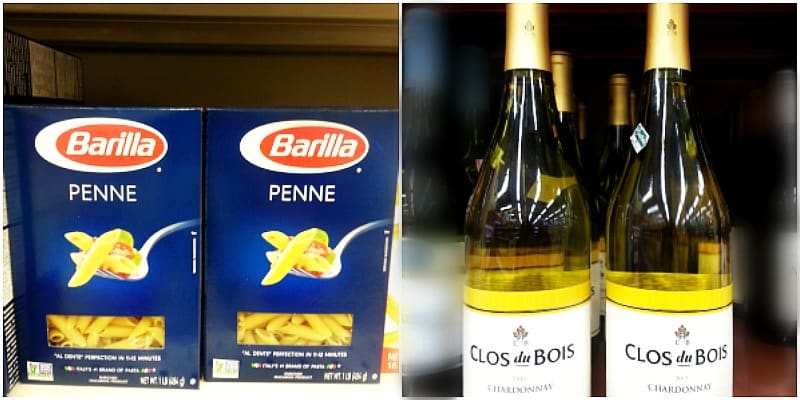 It all sounds so fancy doesn't it? Just remember- the dish is easy, inexpensive and sure to impress!
 Here is how to make it (full printable recipe card below)
Chef side note- I apologize for the steam in these photos, as they say on T.V "Hey, we are really cookin' here!". They may not be perfect, but I love to show you as many steps as I can. Thanks for understanding!
on to the delicious recipe.....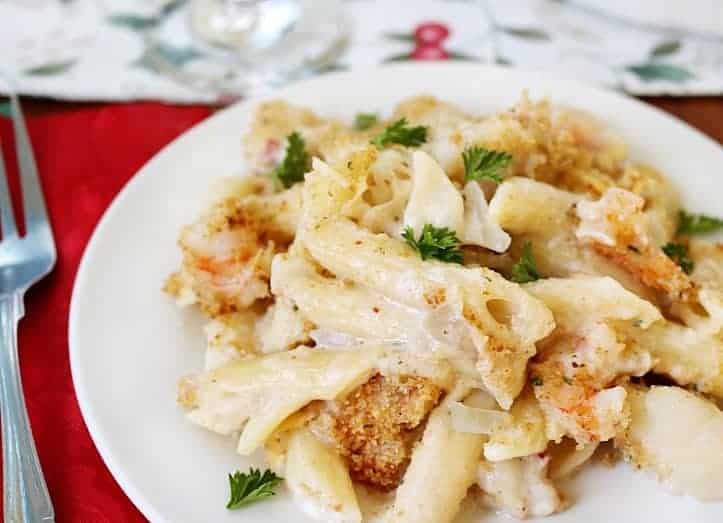 Prepare the seafood so everything cooks evenly-  quarter scallops, cut the lobster tail into chunks, peel & cut shrimp in half. Shuck crab (if using).
Heat a drizzle of Olive oil in a skillet over medium heat.  Add seafood. Do not stir right away, allow the seafood to cook for a minute or two, this will help avoid sticking.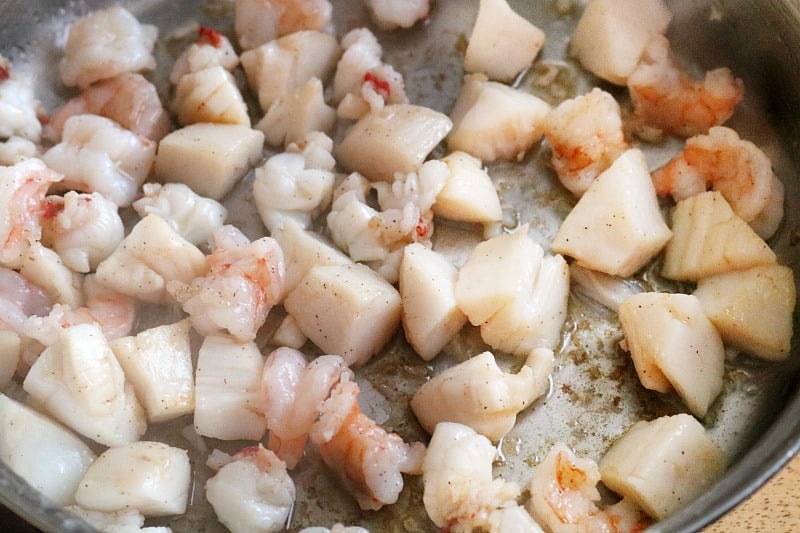 Slowly add wine, stir.  This is also called "deglazing" , you can use a wooden spoon to scrape and loosen all the flavor from the bottom of the pan.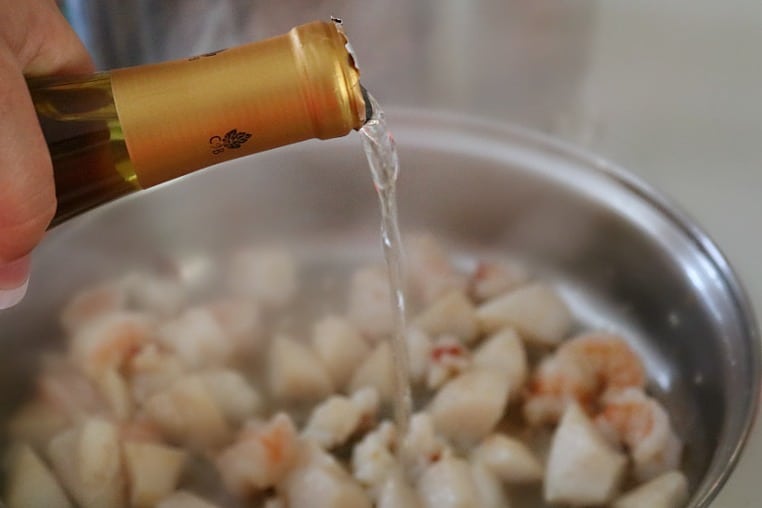 Add shallots, garlic and butter. Stir. Continue to cook for about 3 minutes.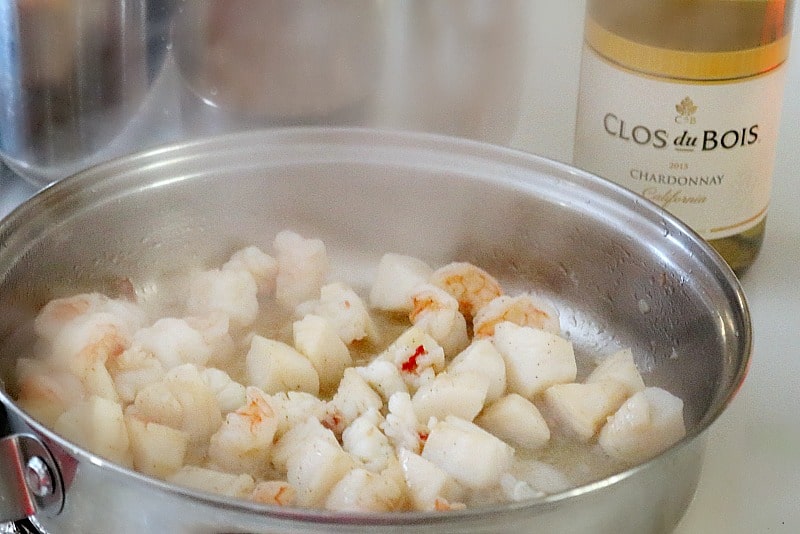 Add flour and stir to coat seafood. Slowly pour in cream, stir constantly.  Bring to a boil, reduce to simmer. Sauce will begin to thicken. Remove from heat. Stir in grated Parmesan cheese.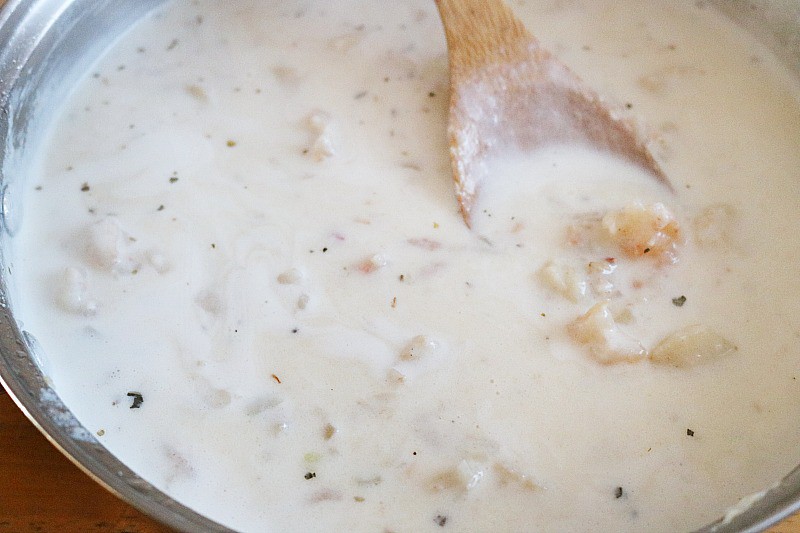 Cook pasta to Al Dente texture, cooked but a bit firm.  Drain and rinse pasta.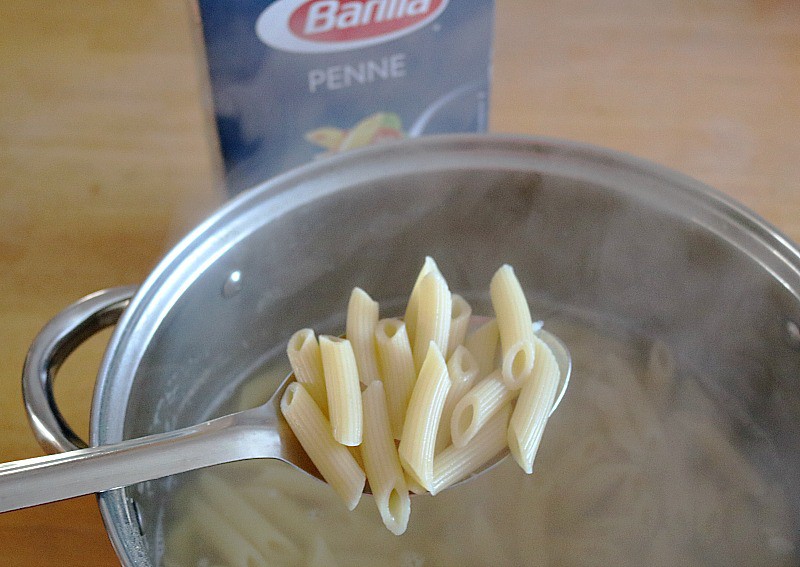 Preheat oven to 425. Layer in a casserole dish :   pasta, seafood in cream sauce, bread crumbs, grated Parmesan.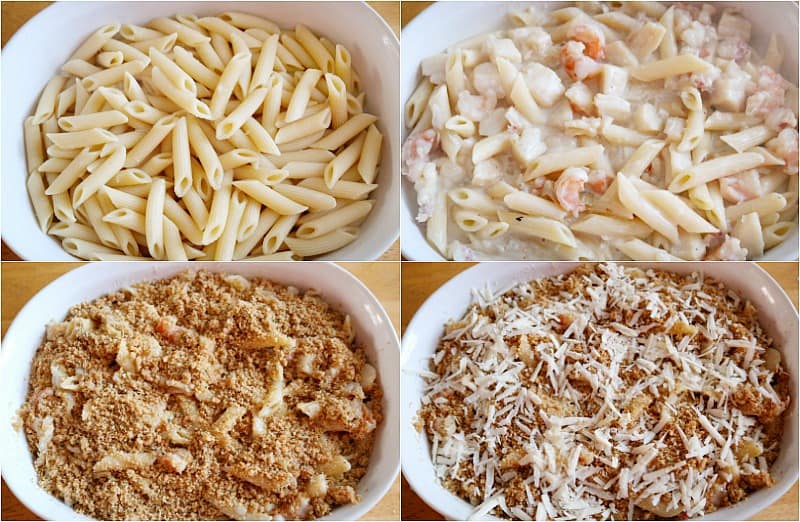 Bake for 15 minutes to heat through and brown the top.
Serve with a glass of Chardonnay and crusty bread!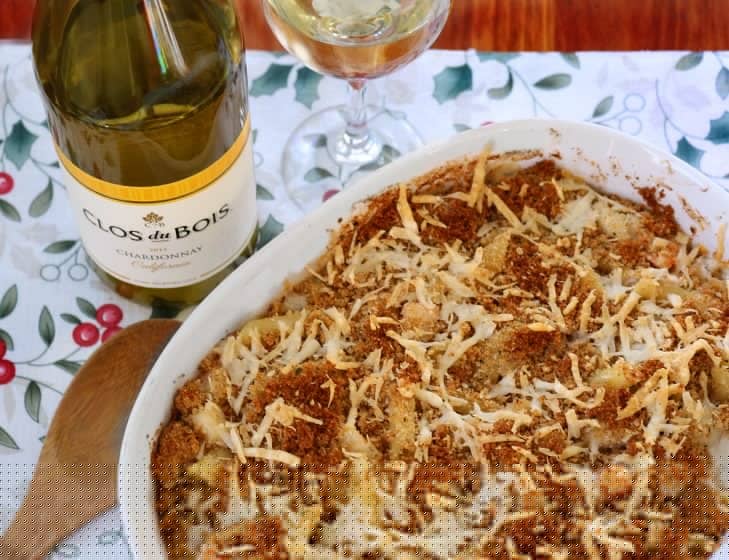 For more great recipes follow Barilla on Twitter and Pinterest. 
Do you have a special holiday dish your family loves? Tell us about it in the comments!
Happy Holidays, enjoy.
Can I Use A Different Shaped Pasta For Seafood Pasta
Of course! You are welcome to use any shape pasta that you prefer. I enjoy using shorter pasta, as it is easier to eat and offers a pretty presentation. I have used bowtie pasta as well in the past and it offers a gorgeous presentation value. 
Can I Just Use One Type of Seafood In Seafood Casserole
If you don't want to use a variety of seafood, you can use just one or two items. I really love the flavor of lobster and shrimp paired, but use what sounds and fits your taste buds. The best part about this seafood casserole is that you can make it your own.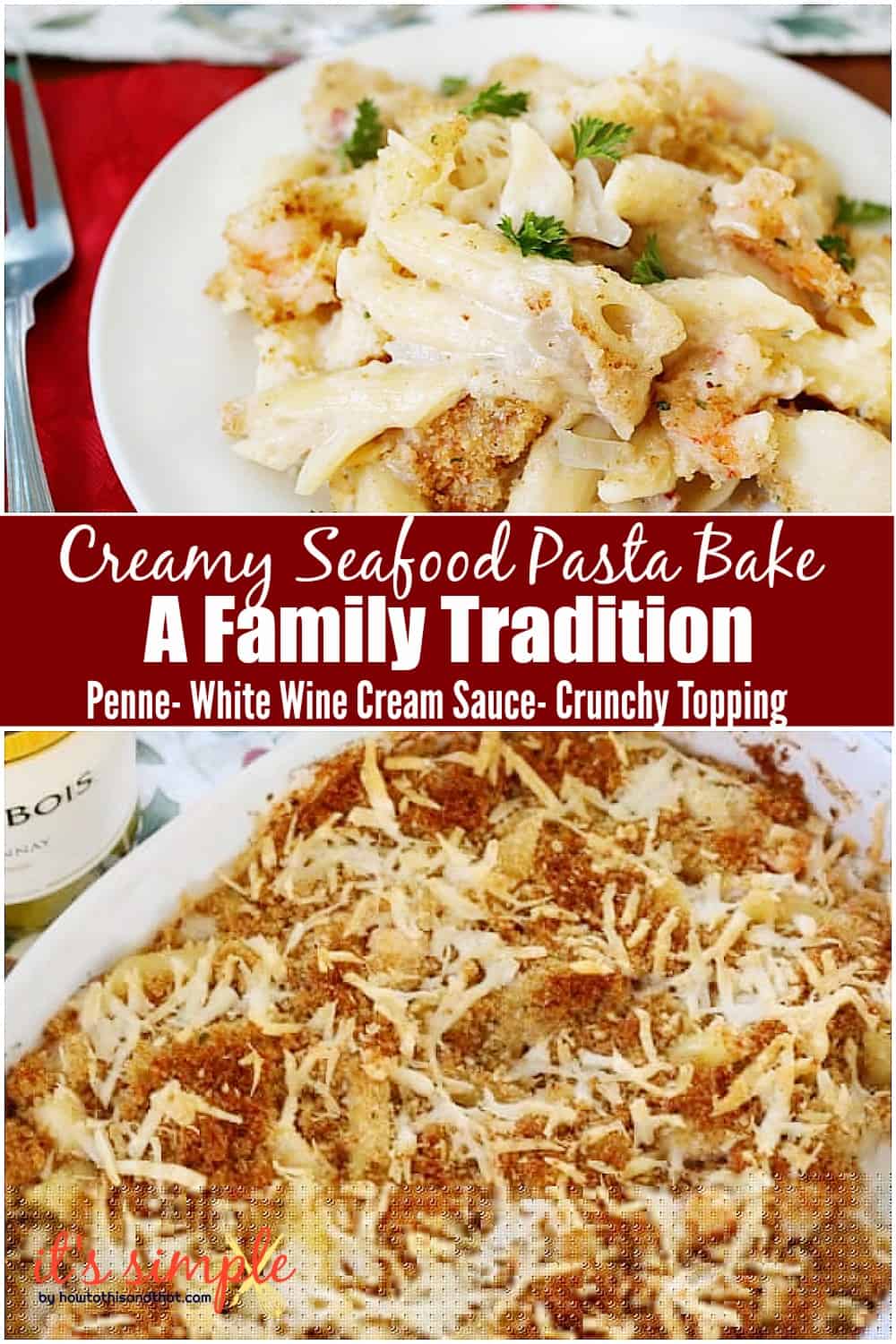 How To Store Leftover Seafood Bake
Eat any leftover seafood bake within three days. Use your best judgment as to if you feel you need to toss it out. You never want to eat expired food as it runs the risk of you getting very ill. 
Best Way To Reheat Seafood 
For this creamy seafood pasta bake, I either reheat it in the microwave or spoon some into a baking dish and cover with aluminum foil and heat in the oven. It helps to warm it up and give it that first-day flavor, so it doesn't taste like leftovers. 
What To Pair with Seafood Pasta
This is all about your personal preference. Personally, we enjoy eating this as is, but let me share some sides that would work being tossed on to the menu. Feel free to pair whatever you prefer with this seafood pasta recipe. 
Crisp green salad
Asparagus 
Broccoli 
Green Beans
Garlic bread or dinner rolls 
White wine cream sauce also goes great over any of these!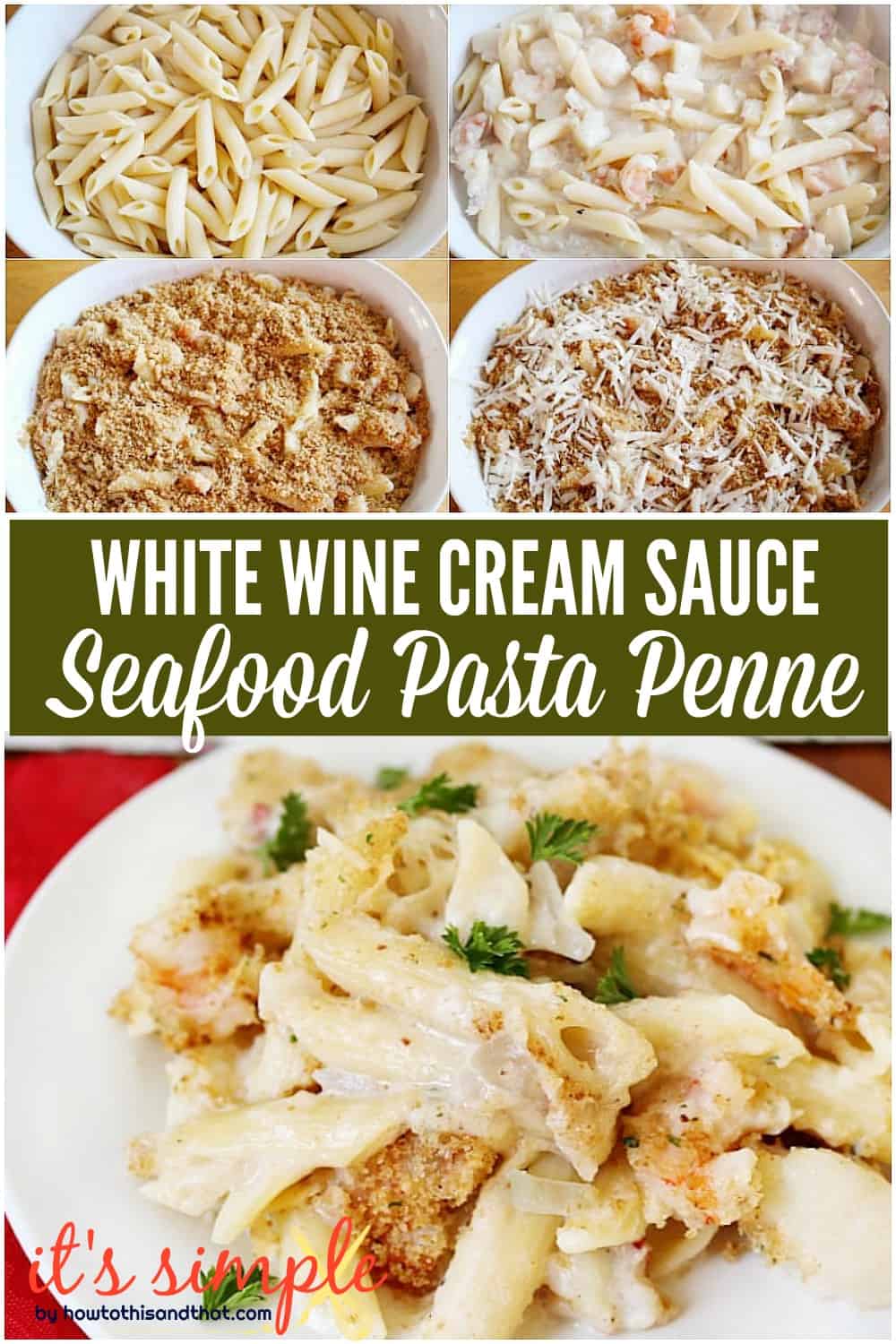 Variations for Seafood Pasta
Looking to add fresh and vibrant flavors to the dish to change it up a bit? Here are a handful of variations to consider. 
Add Tomatoes | Shrimp pasta tastes great but you can always toss in some fresh diced tomatoes to the mixture before baking. 
Cajun Seasoning | Add a sprinkle of cajun seasoning over the top of the shrimp pasta before you put it in the oven to bake. It will add a spice and added flavor to the dish. 
Seafood Mixture | Play around with different kinds of seafood to fit what works for you. I love this combination but maybe you can find something else that fits your fancy. 
What Are Some Good Seafood Recipes
Have you ever tried shrimp pasta bake before?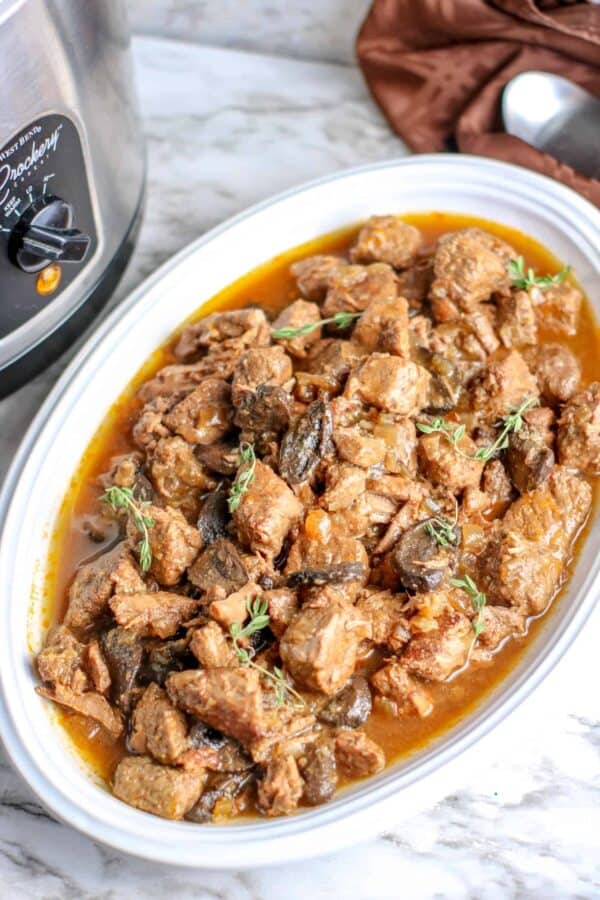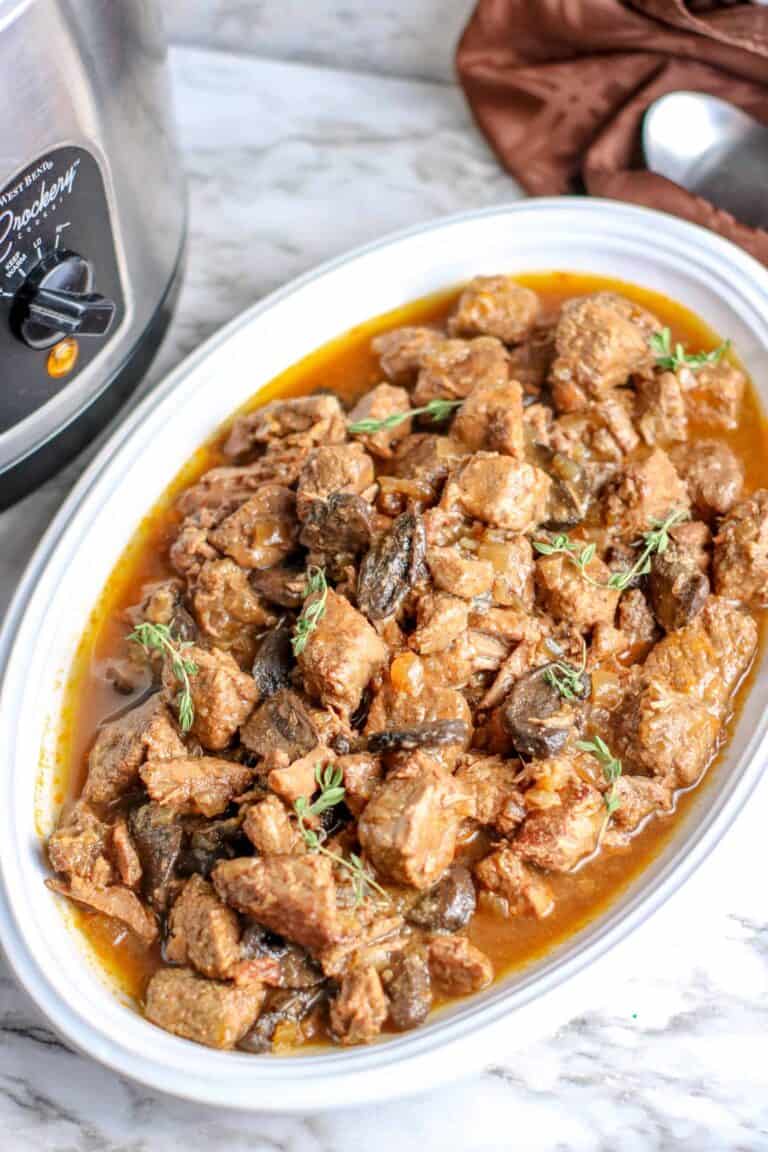 Don't forget to PIN for later!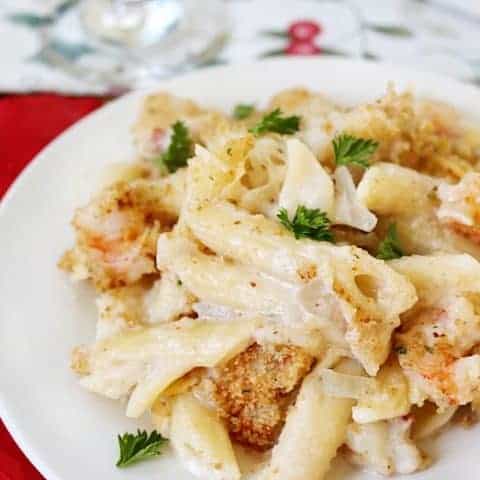 Creamy Seafood Pasta Bake- A Family Holiday Tradition
Impress your friends and family with this loaded seafood casserole. An elegant dish for an occasion. 
Ingredients
8 Sea Scallops, quartered
1 lobster tail, rough chopped
10 jumbo shrimp, cut in half
8 Jonah crab claws, shucked (optional)
2 shallots fine diced
2 cloves garlic, minced
2 tablespoons unsalted butter
½ cup Clos du Bois Chardonnay
2 tablespoons flour
2 ½ cups milk or cream, I use milk
1 cup grated Parmesan, divided in half
Pinch salt & pepper
¼ teaspoon dried tarragon or thyme
1 lb Barilla Penne, cooked Al Dente
2 tablespoon butter, melted
1 cup Italian bread crumbs
Instructions
Preheat oven to 425.
Heat a skillet over medium , drizzle with Olive oil.
Saute seafood for 1-2 minutes.
Slowly add wine to deglaze the pan, add shallots, garlic & butter. Stir.
Add flour, stir to coat seafood.
Pour in milk or cream, bring to a boil stirring constantly
Reduce to simmer, sauce should start thicken.
Remove from heat. Stir in ½ the Parmesan.
Cook, drain and rinse penne pasta.
Mix bread crumbs into melted butter.
Layer in casserole dish- pasta, sauce and seafood, bread crumbs, remaining Parmesan.
Bake 15 minutes or until top is golden and edges are bubbly.
Serve with a glass of Chardonnay and crusty bread.
Nutrition Information:
Yield:

6
Amount Per Serving:
Calories:

320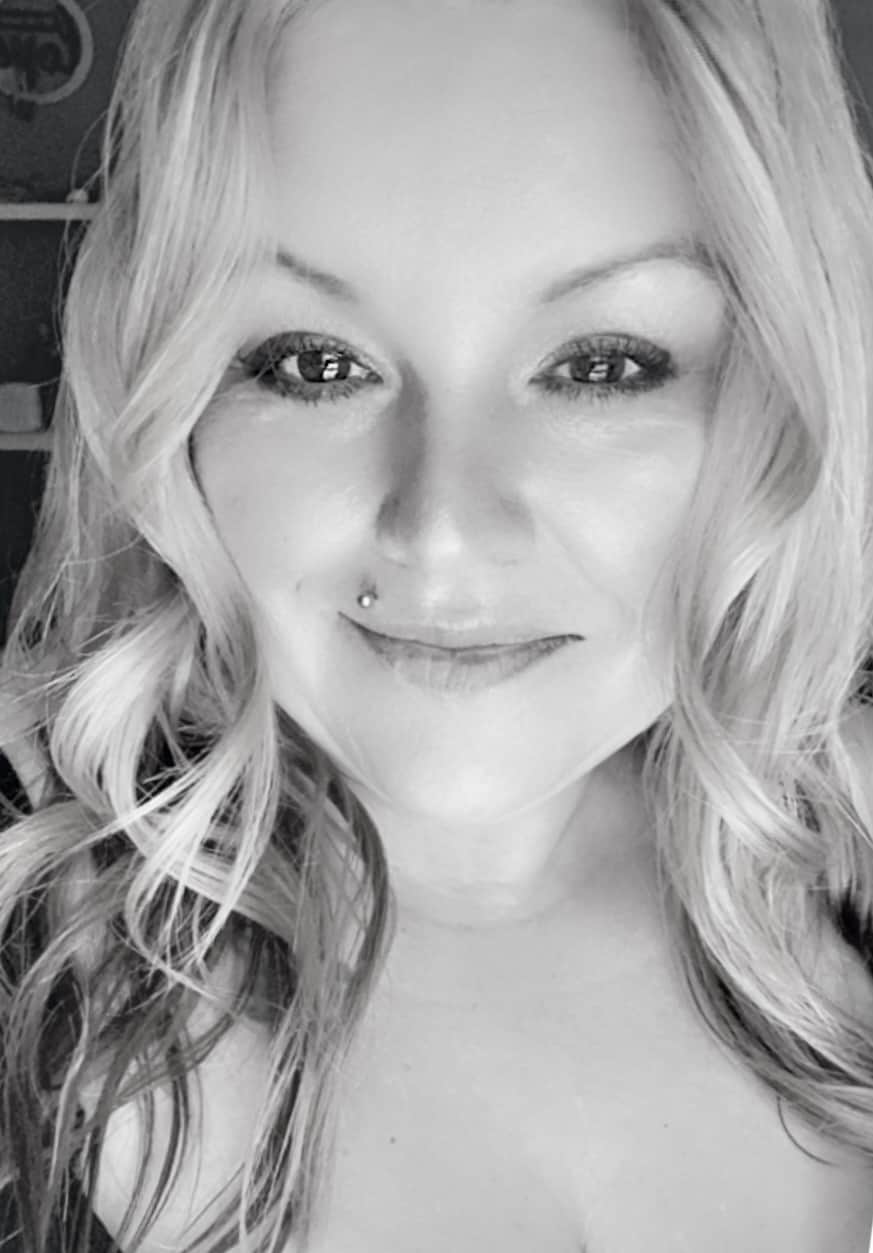 Owner & Lead Recipe Developer for It's Simple! since 2015, where you will find our best Family Favorites & Keto Low Carb Dishes with Helpful Cooking Tips & Hints in each post. Many Thanks for Stopping By, Enjoy!