Quick & Easy Homemade Coffee Flavored Syrup Extract
I am a coffee addict, and I have quite a few friends and family members who love coffee too. So I am always looking for ways to feed the addiction. I have made flavored syrups in the past to add to my cup O' joe but until recently, I had never attempted to make COFFEE flavored syrup. That is until I needed to buy a tiny little bottle of coffee extract and it cost me almost $6.00-ouch. There has to be a way I can make this.  After all, that is usually my first thought when I think something is crazy expensive!
Syrups are simply made from 1 part water to 2 parts granulated sugar- So I just subbed brewed coffee for the water, and added some vanilla to really pop some flavor into it. Delicious it is like a "syrupy", sweet espresso. These ingredients cost less than $1.00, can't beat those savings.
Use to pour over ice cream, pancakes, and brownies. It can be mixed into cocktails to infuse coffee flavor, stir into milk for a grownup "hot chocolate", or milkshakes. Bake with it !  Tiramisu, cookies, frosting and so much more.
This coffee syrup makes an amazing gift to any coffee lover in your life! Pop it in a basket with a pretty mug, and a bag of espresso beans and I am telling you they will be up all night thinking of ways to thank you! (Ok maybe that's more from the caffeine, but still there will be sincere gratitude)
Grab that leftover coffee from the pot and lets get started with this simple 2 step process!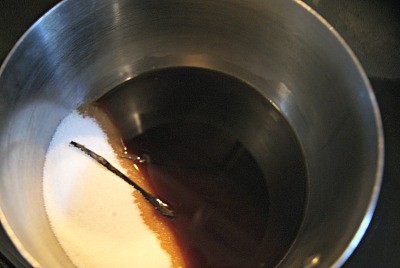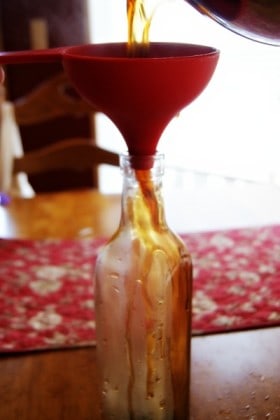 How To Make Coffee Flavored Syrup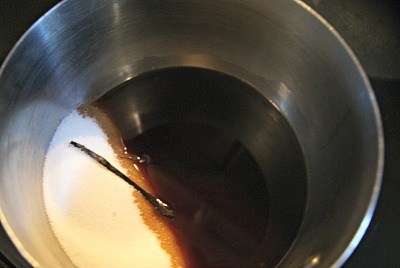 Ingredients
1 Cup strong brewed coffee
2 Cups sugar
½ vanilla bean
Instructions
Split vanilla bean with a sharp knife.
Bring coffee to a boil in a medium saucepan over medium-high heat.
Add in sugar and vanilla bean, stir until sugar is well dissolved.
Reduce heat, and allow to simmer for 10 minutes, stirring occasionally.
Be careful not to let it get too hot, the burnt coffee flavor will transfer to your syrup.
Let cool completely
Use a funnel to transfer syrup to a container with an airtight lid.
Store in refrigerator.

You can use any of these containers to store and/or dispense your syrup:
Mason Jars
Dispenser Top Bottle
Latch Top Bottle
Or any container that works for you!
If you liked this post, be sure to check out our How To Make Your Own Flavored Non Dairy Coffee Creamer!
Don't forget to use the buttons below to SHARE to your favorite social media pages!