I have used McCormick® spices for years in recipes such as this pork pie recipe! Come see how you can make McCormick and my Grandmother's special tourtiere recipe a part of your holiday tradition. This is a sponsored post written by me on behalf of McCormick®.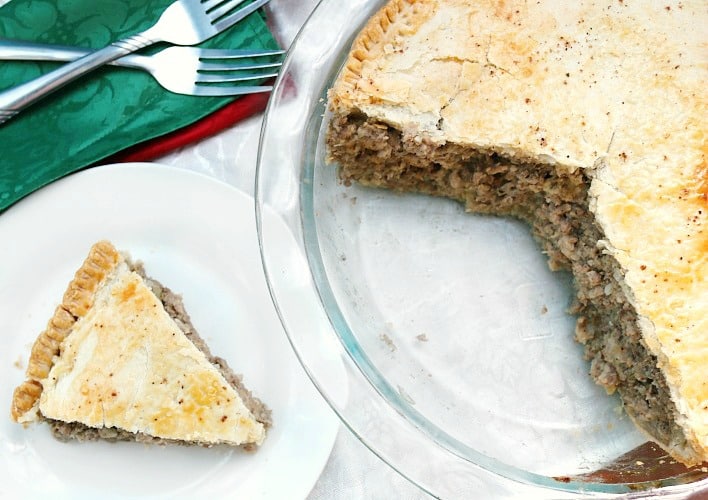 Pork Pie Recipe - Tourtiere Recipe
I come from a large Greek And French family, so basically that means food, food and more food. My family is known for planning a big feast whether it be a Sunday dinner, simple family get-together or a holiday.
One of my favorite things to do during the holidays is cook with my girls in the kitchen. Sometimes my husband gets involved, but that usually just contributes a bigger mess so we put him on dish duty. I grew up helping my mom and grandmother cook and those are memories I wish to pass on to my girls.  This pork pie recipe is just one of our family recipes that is loaded with flavor, but more importantly, special memories.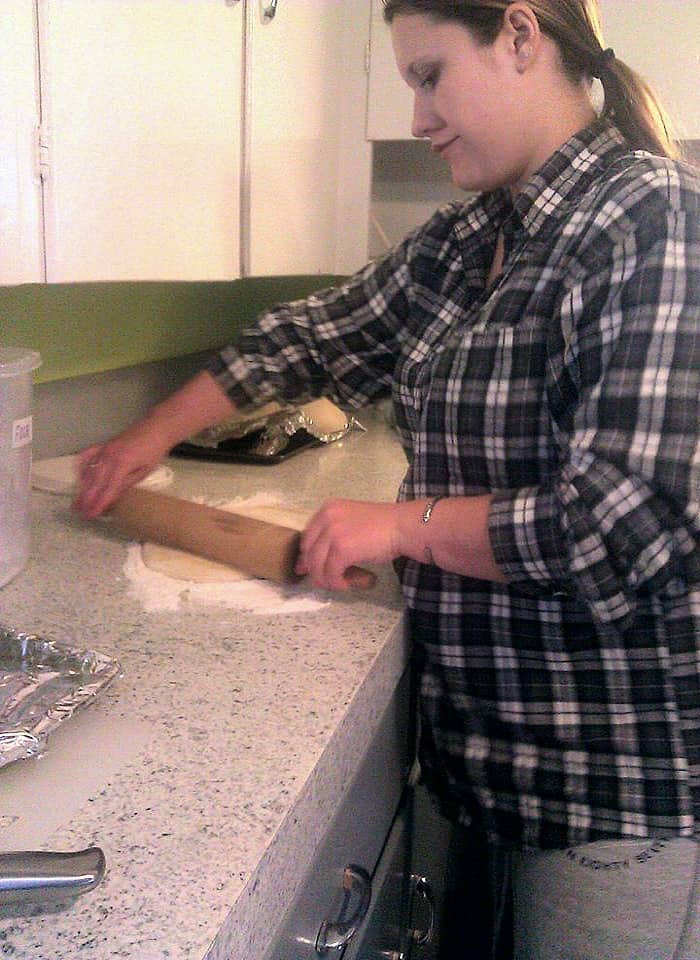 What is a Pork Pie?
One dish I remember making with my Grandma is her specialty- a French meat pie called tourtiere or Pork pie. It's basically ground pork and beef cooked then mixed together with mashed potato, salt, pepper and spices. The spices used make it the perfect holiday dish. It's one of those things that if I smell it baking it reminds me of Christmas.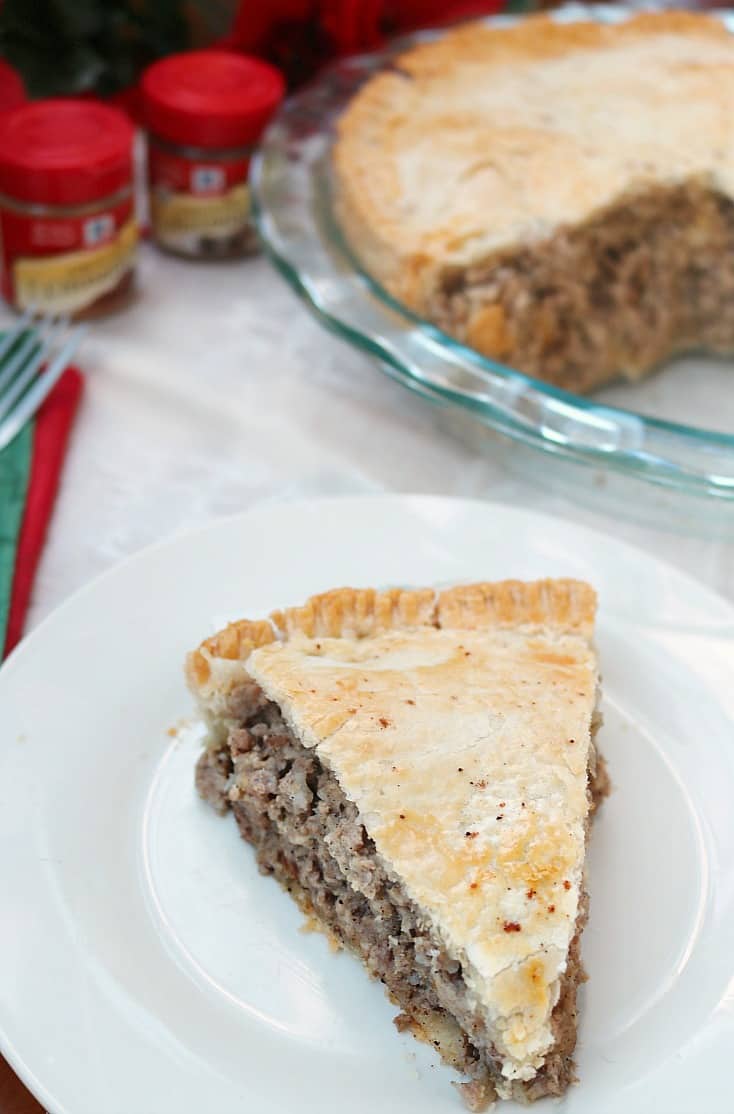 What Spices Season a Traditional Tourtiere Recipe?
Some of the spices that go into the mix are McCormick® Ground Nutmeg and just a touch of McCormick's Ground Cinnamon, sometimes clove. McCormick spices can be found in almost any grocery retailer, big box store and online. Look for the familiar red cap and displays. They are known for being set up in alphabetical order making it really easy to find what you need.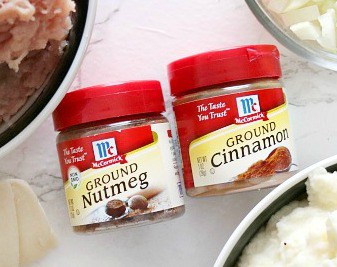 Here's an interesting fact a lot of people don't realize- Spices actually can lose their potency so starting with a high quality spice is important. I prefer McCormick spices because they seem to be as close to fresh ground as I can get. I work a lot with fresh herbs and ground spices, but when they are out of season or I don't have them McCormick is an excellent replacement.
How to Make My Grandma's Pork Pie Recipe
(A full recipe card is below)
Gather all of your ingredients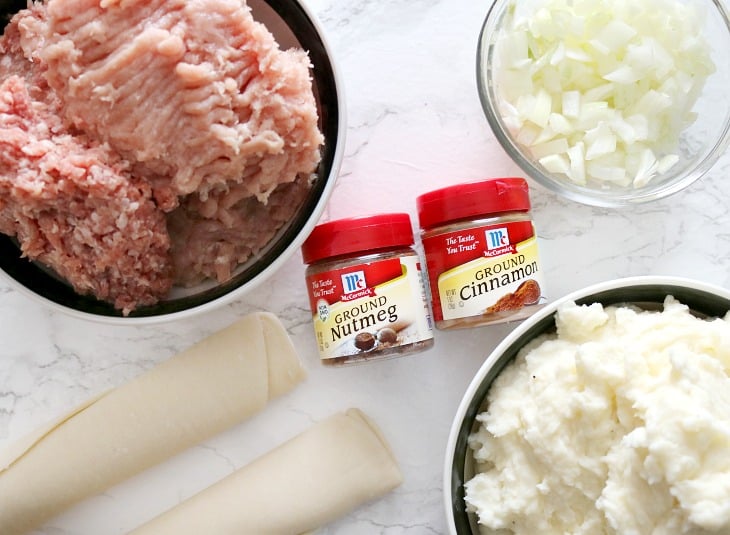 Start by browning the ground beef (I used ground turkey this time), pork, onions and garlic. Drain fat, add spices, crumble meat with a fork and set aside.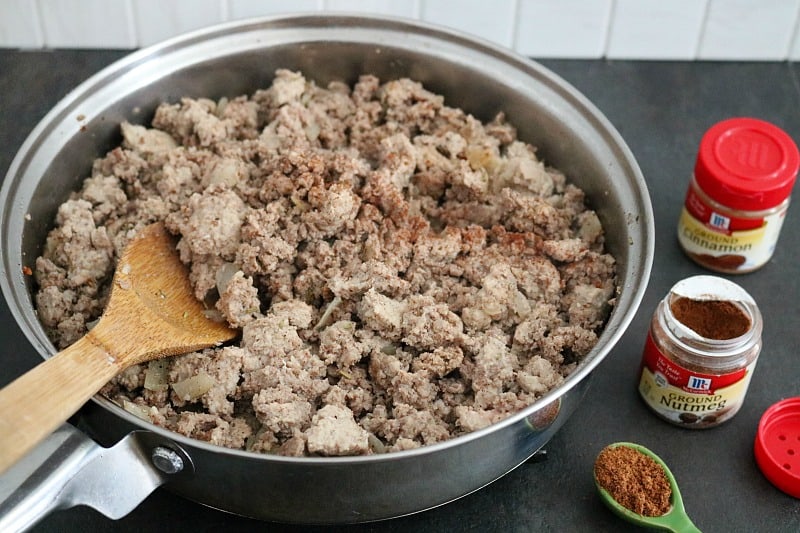 Cook potatoes until fork tender, drain & mash. Add butter, milk, salt & pepper to taste. just the same as if you were making mashed potatoes as a side dish. Combine meat With potatoes. Mix well.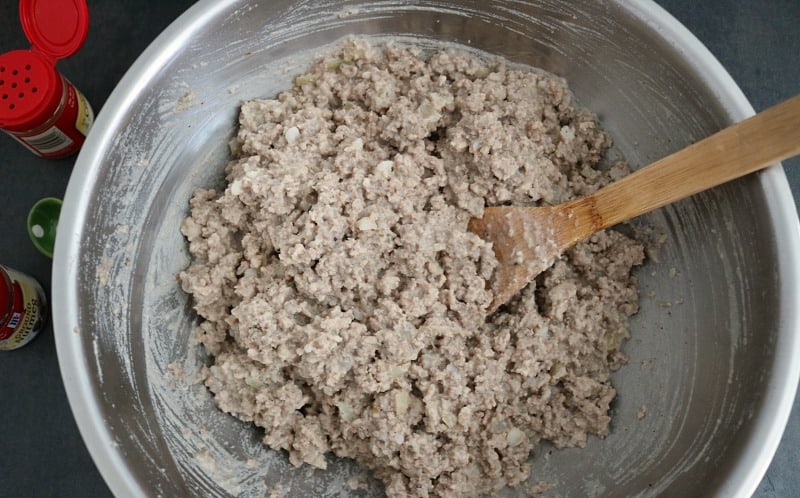 Place first pie crust into a 9" pie plate.  I like to sprinkle a little nutmeg on salt on the bottom.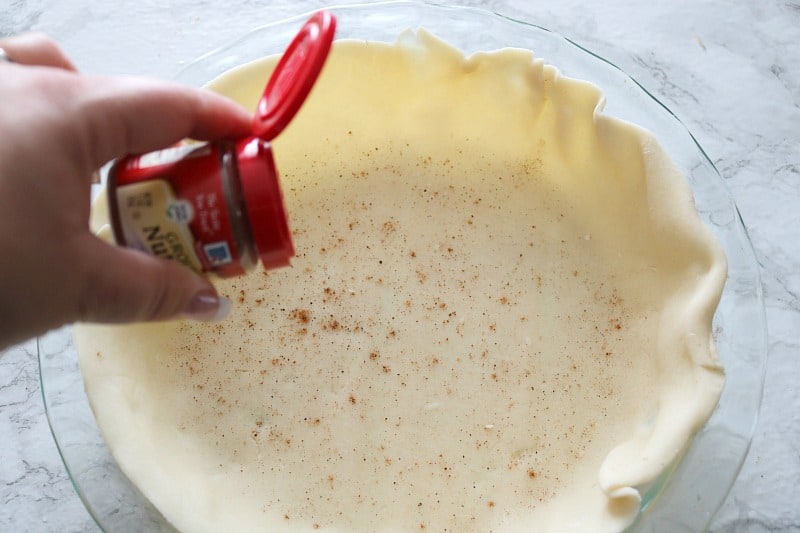 Add meat and potato mixture.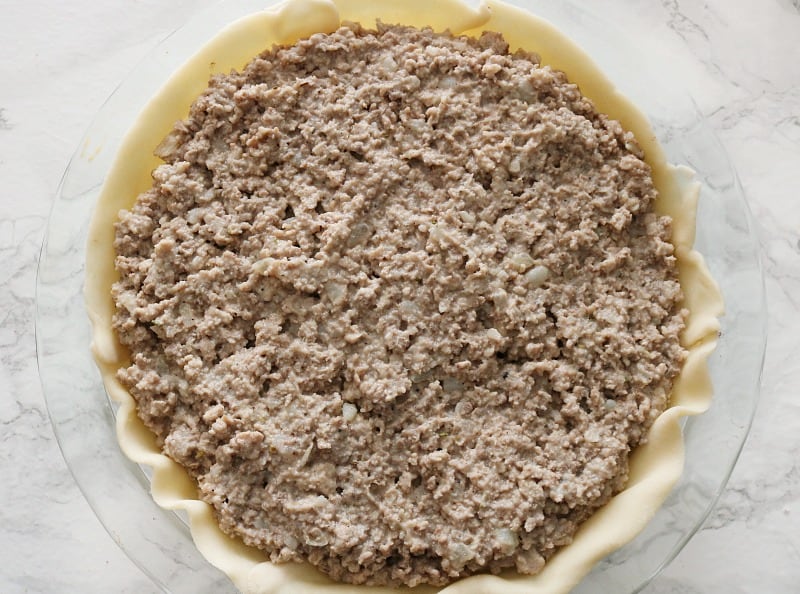 Top with pie crust, brush with egg wash and sprinkle with nutmeg & salt.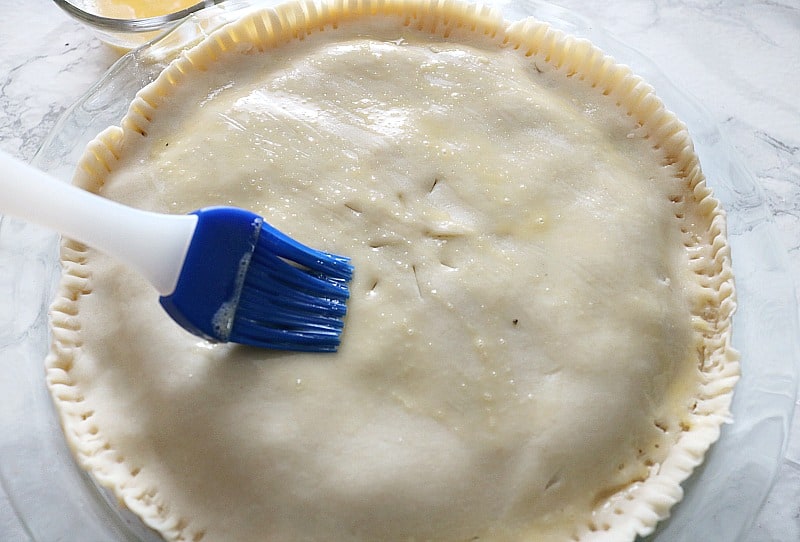 Bake 40 minutes or until crust is golden brown.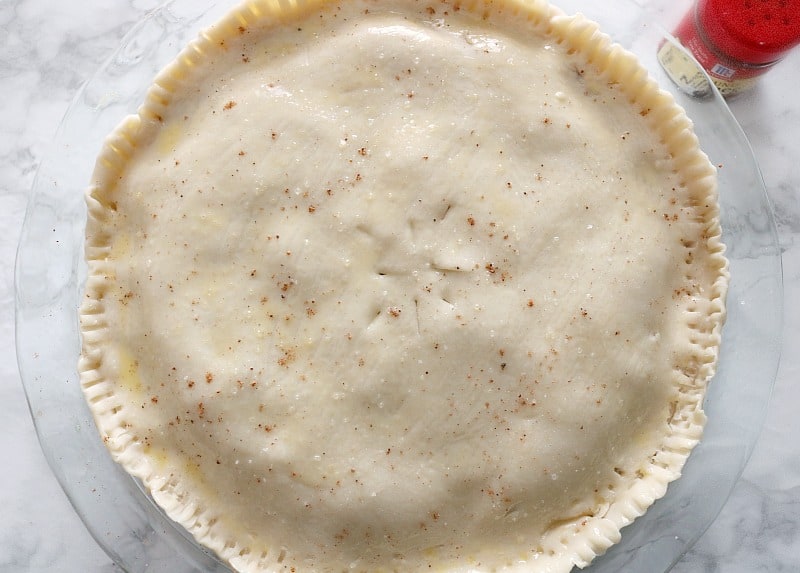 Cut and serve with cranberry sauce.
To make this as an appetizer-
Cut pie crust into 4 inch rounds
Add a small scoop of the meat filling
Fold over pinching edges closed to create a crescent-shaped hand pie
Bake for 15 minutes or until crust is golden.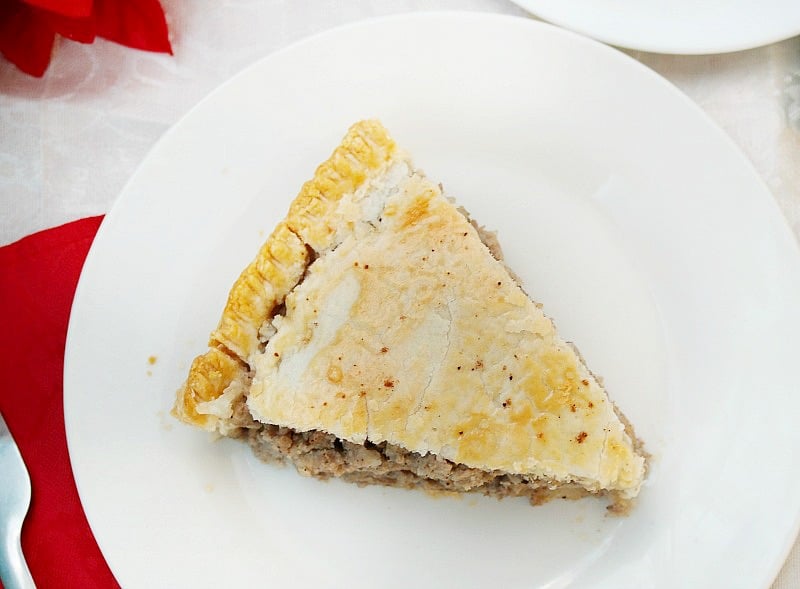 More Pork Recipes
More spice than traditional comfort food, my Instant Pot Jamaican Pork is a delicious addition to your meal plan.
This sweet and spicy Slow Cooker Pork is another family favorite that is super easy to make and delicious after a long day.
For another authentic but different side of the world recipe, my Ginger Pork Potstickers are one of a kind!
Yield: 8 -10 servings
Pork Pie- Grandma's Special Tourtiere Recipe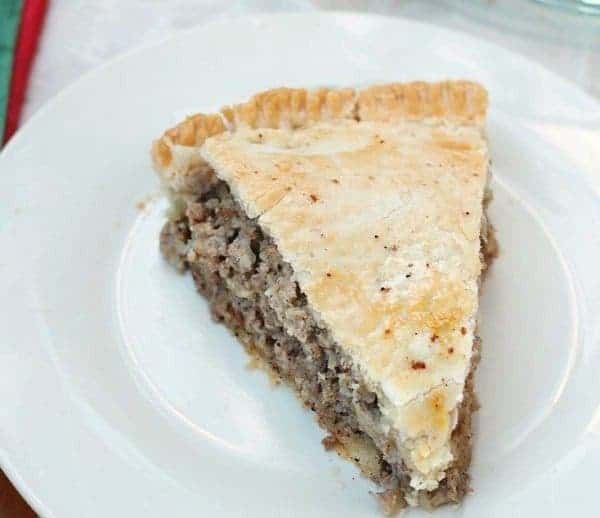 Just like the classic your grandma use to make, this pork pie will remind you of the holidays! 
Ingredients
2 pie crusts
1 lb ground pork
1 lb ground beef, can substitute turkey or chicken
1 small onion, chopped
1 garlic clove, minced
2 cups mashed potatoes, prepared
1 teaspoon McCormick Ground Nutmeg, plus additional for sprinkling
1 teaspoon McCormick Ground Cinnamon
½ teaspoon McCormick Ground Cloves, or sub allspice
Salt & Pepper
Instructions
Preheat oven to 400
In a large skillet, brown meat, onions and garlic. Drain fat.
Add spices, mix well.
Mix mashed potatoes into meat. Give it a taste. Add more salt, pepper or spices if desired.
Place one crust into the bottom of a 9" pie plate.
Add meat mixture.
Top with pie crust, brush with egg wash.
Bake 40 minutes or until crust is golden brown.
Notes
Serve with cranberry sauce!
Nutrition Information:
Yield:
8
Amount Per Serving:
Calories:

300
This is a sponsored post written by me on behalf of McCormick®.