These lemon blueberry cream cookies are light, refreshing and celebrate one of Maine's most popular flavors - the Maine wild blueberry.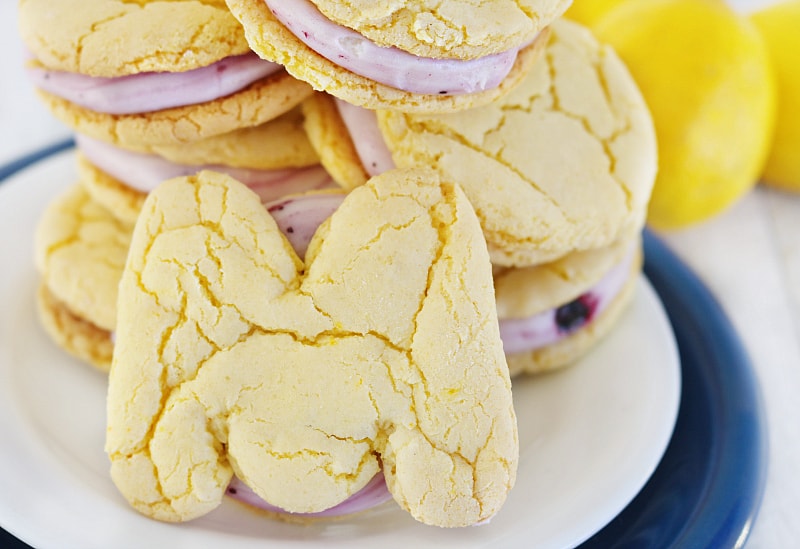 Lemon Blueberry Cream Cookies
Taste of the USA: Maine Edition
Hey everyone! I have something so cool for you today. We have been chosen to represent our beautiful state of Maine in the "United States of Cookies" feature. Yes, that means 50 amazing cookie recipes from all across the U.S showcasing their state's signature flavors. 50 states, 50 bloggers, 50 cookies, with one mission -- to bring our country together for a sweet treat that celebrates our wonderful nation. I will be teaching you my lemon blueberry cream cookie recipe which features beautiful wild Maine blueberries.
Here in Maine we celebrate the change in seasons by taking advantage of the bountiful foods available to us for harvesting. We have everything from potatoes in the fall, lobster in December, Fiddleheads in April, Strawberries in July to, of course, Blueberries in August. Maine is just as known for their blueberries as they are lobster. When blueberry season hits , the flavor starts popping up all over the place- in coffees, cakes, pies, jams and more.
I pick quarts, upon quarts of blueberries during the season. This past season we picked 25lbs and that was mild for us. The whole family enjoys blueberry picking and all of the cooking we do together after.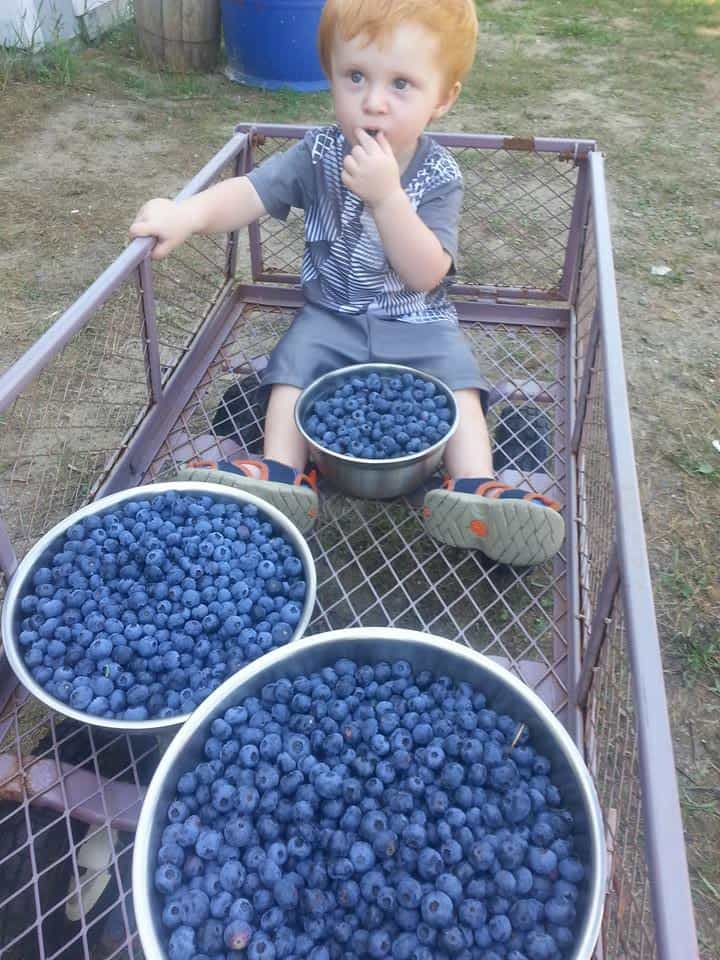 There are two types of blueberries you will find in Maine- highbush and lowbush.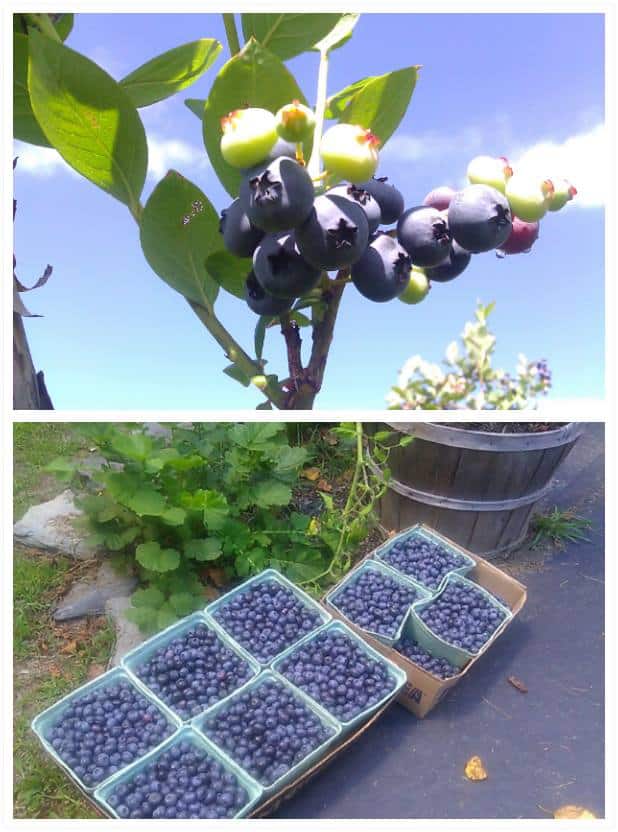 Highbush blueberries grow up to 8ft tall and produce a massive fruit, often the size of a nickel. These berries tend to be better for eating raw like grapes, in cereal, on yogurt and etc. They can be used in cooking, but do not provide as much flavor as lowbush.
My grandson working hard at eating as he picks!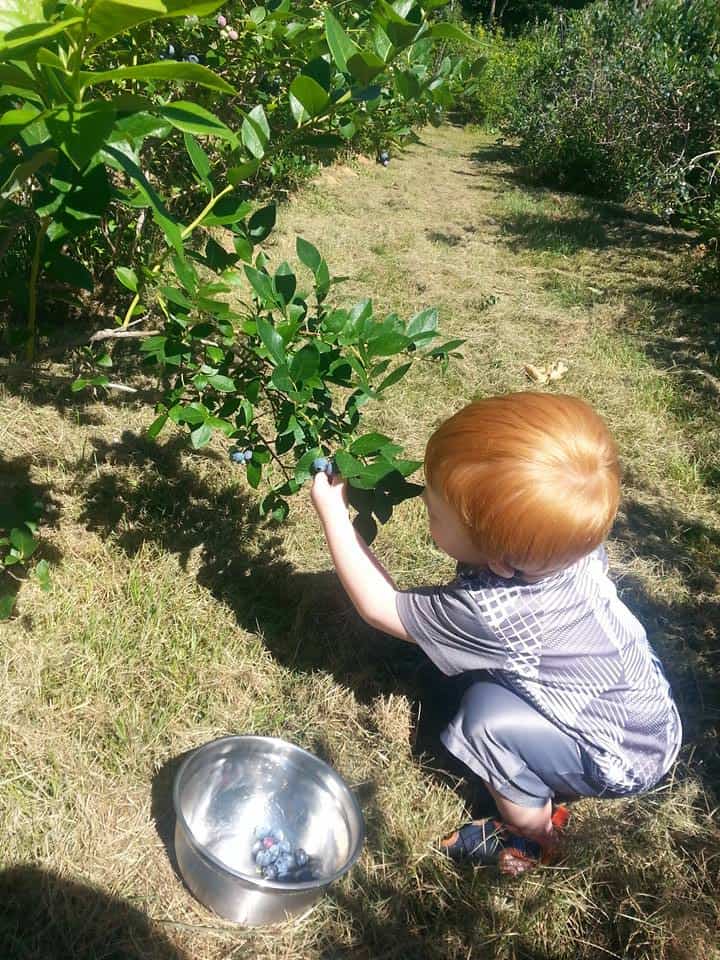 The lowbush blueberry is tiny, sweet and packed full of that signature blueberry flavor. You can find these bushes wild all over Maine. I prefer to cook with the Maine wild blueberries because they are naturally sweet, allowing me to use less sugar in recipes such as blueberry pie filling.
The Maine wild blueberry was my inspiration for these lemon blueberry cream cookies. Lemon and blueberry is a popular flavor combination that has been around for decades. The two fruits offer a perfect balance of tart and sweet.
I make these cookies around the holidays as an attempt to bring a taste of summer to winter.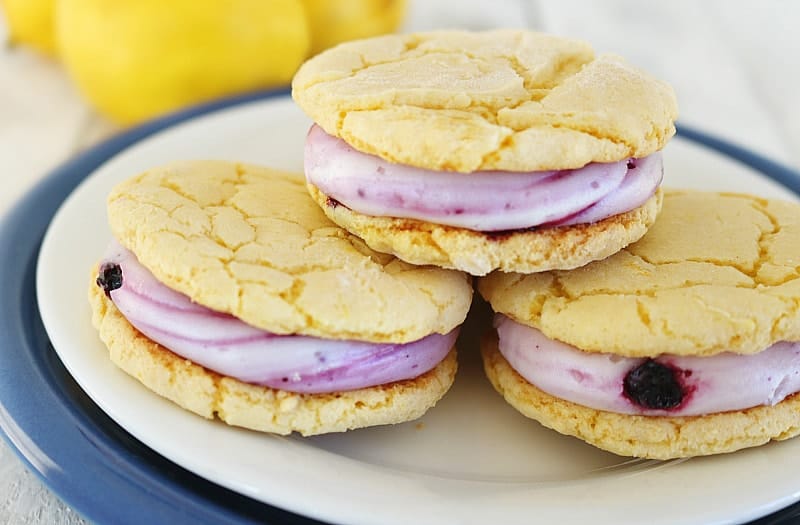 Here is how to make my Lemon Blueberry Cream Cookies
(full printable recipe card below)
Gather all your ingredients and utensils, this will help you to focus and keep things organized in the kitchen. I use the one bowl method of baking, I figure if I was using a stand mixer everything would be going into one bowl anyways. The flour I use doesn't need sifting, so that helps also.
I use Bob's Red Mill unbleached white all-purpose flour. This flour is light and not enriched with any additives. The flour is freshly milled from Organic hard red wheat and is the same high protein flour used by professional bakers that produces well-textured loaves of bread and airy baked goods.
The all-purpose flour is just that, all-purpose. I can use this flour to whip up a quick biscuit, pancakes for breakfast and to even thicken my gravy & sauces. It is an all in one, versatile must for your pantry.
NOTE* this recipe can easily be adapted to Gluten Free using Bob's Red Mill Gluten Free 1-to-1 Baking Flour. Simply swap out the all purpose flour, no additional specialty ingredients or custom recipes required.
Here is a coupon, you have to give it a try! Save on Bob's Red Mill products.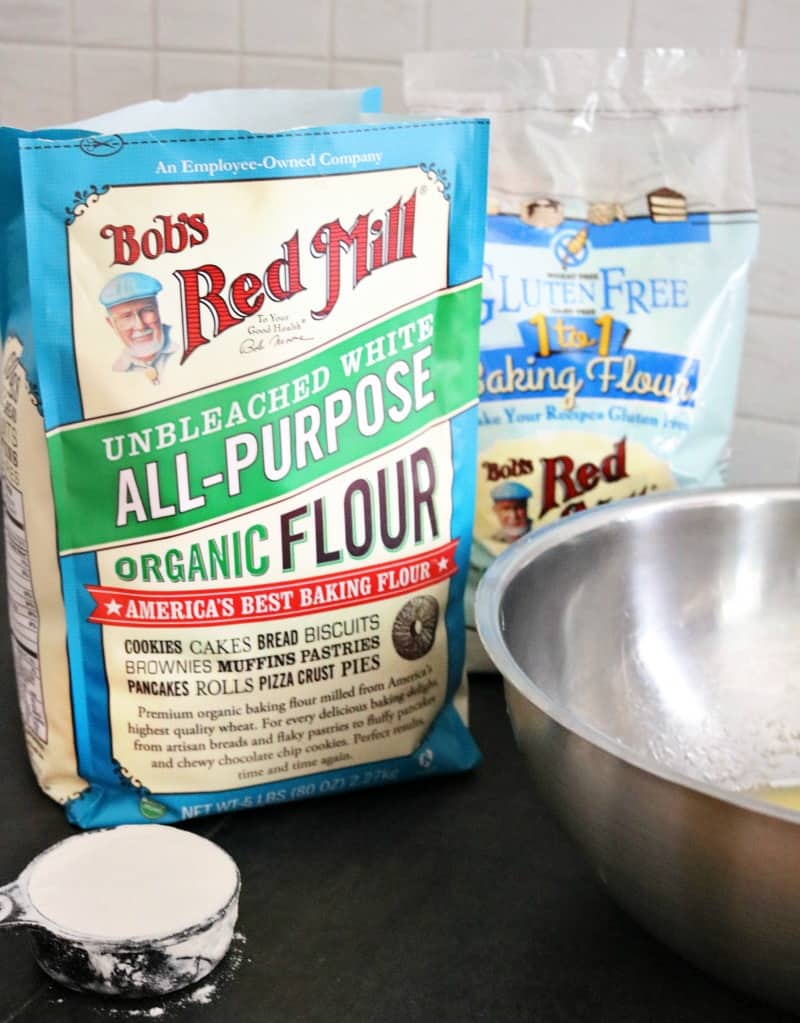 Beat sugar and butter until creamy. Add eggs , vanilla, lemon zest and juice, beat until well combined. Add flour evenly distributed over the egg mixture.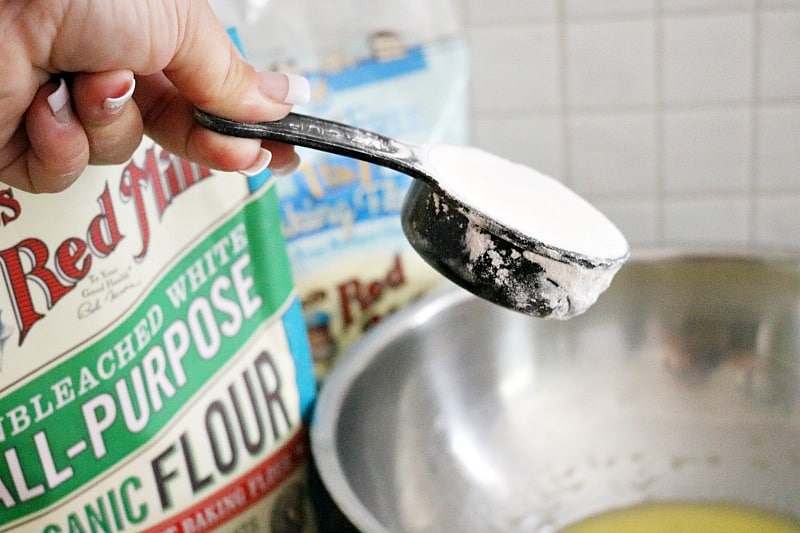 Sprinkle remaining dry ingredients evenly over the flour. Mix to combine. Batter should be thick and doughy. These cookies are rolled out like a sugar cookie.
Dust a clean work space with flour.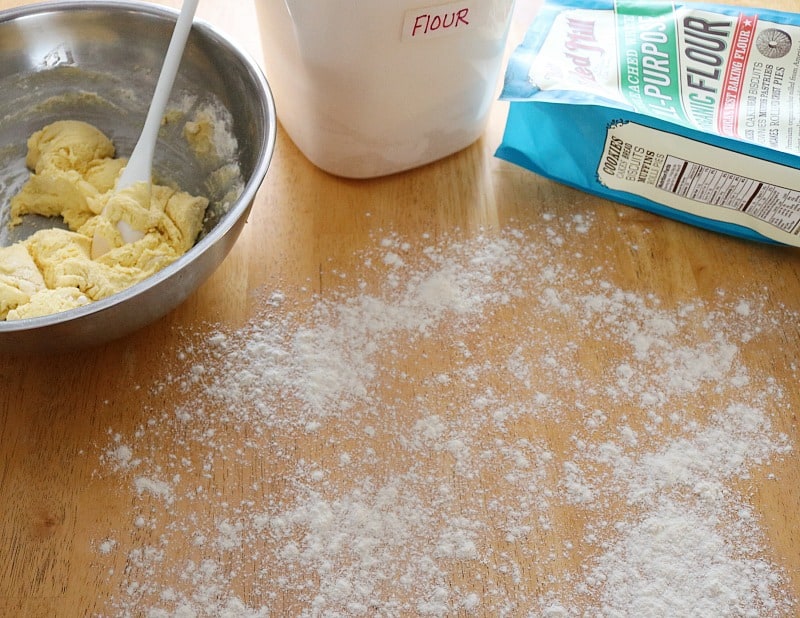 Turn dough out and sprinkle with flour. Dough should not stick to your hands.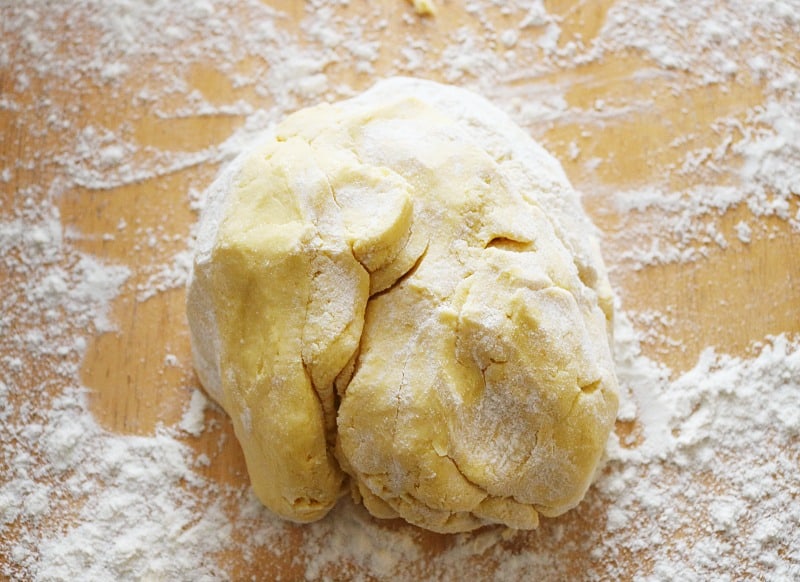 Roll dough to about ⅓" thick. Cut with a 2" cookie cutter. These cookies bake up and do not spread out.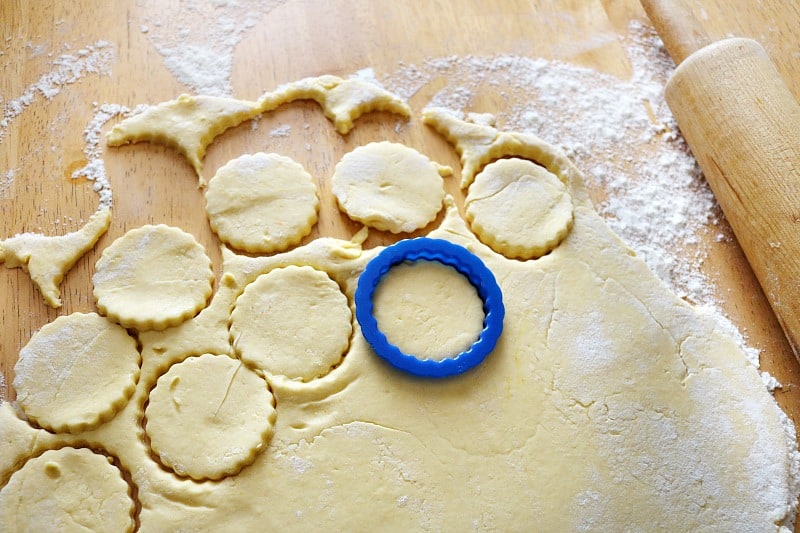 Place on a sheet pan and bake in a 350º oven for 10-12 minutes or until edges are slightly golden.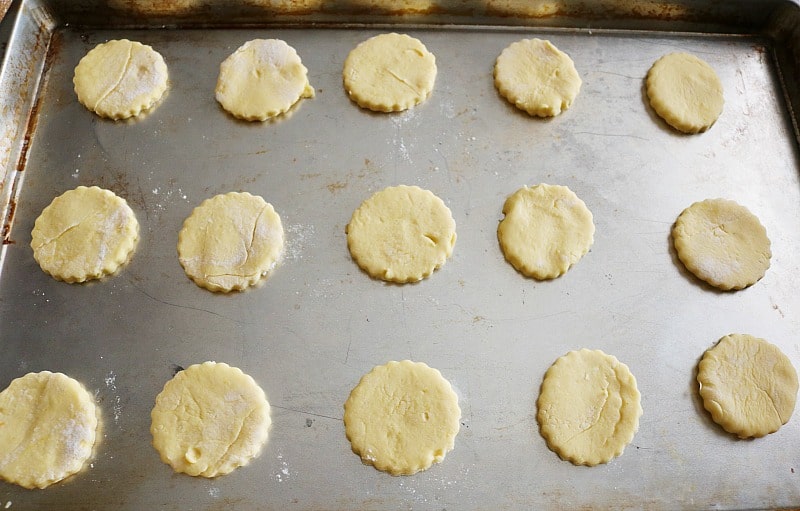 Transfer cookies to a wire rack to cool. This lemon cookie is soft on the inside with a touch of crunch around the edges!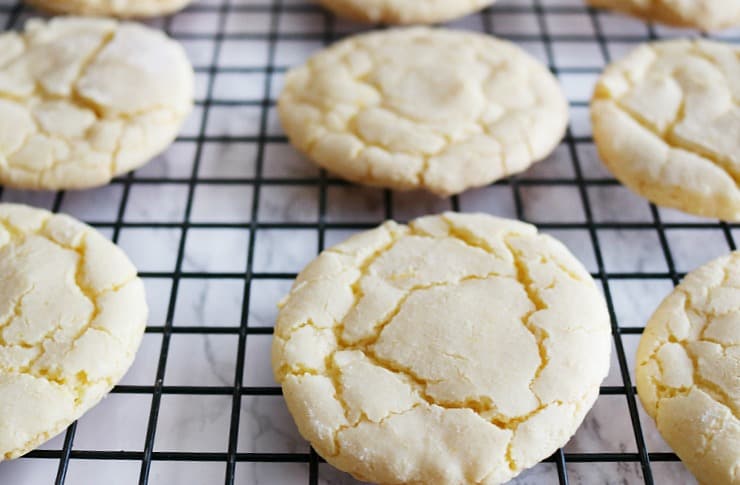 Let's prepare the blueberry cream filling. If you are new to buttercream, don't be scared. This is absolutely so easy, you will impress yourself and your family!
Start with Maine wild blueberries. If your freezer isn't full of them from picking your own, you can find them frozen in most grocery stores. If you can not find Maine wild blueberries specifically, any kind will work. Add ¾ cup blueberries to a microwave safe dish and defrost.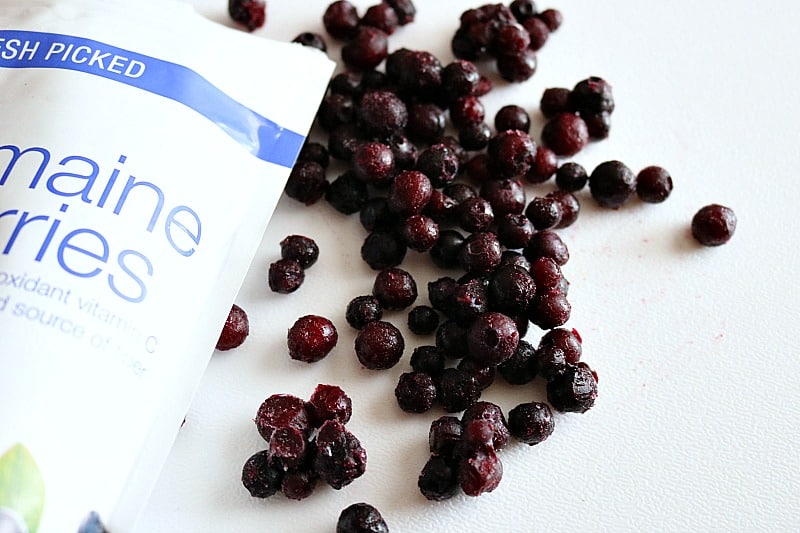 In a stand mixer or hand held with large bowl- cream butter, vanilla and ½ cup powdered sugar until smooth. Gradually add remaining powdered sugar mixing until fluffy. Buttercream will be a bit thicker than normal, this is intentional. The blueberries are going to add moisture which will thin out the filling.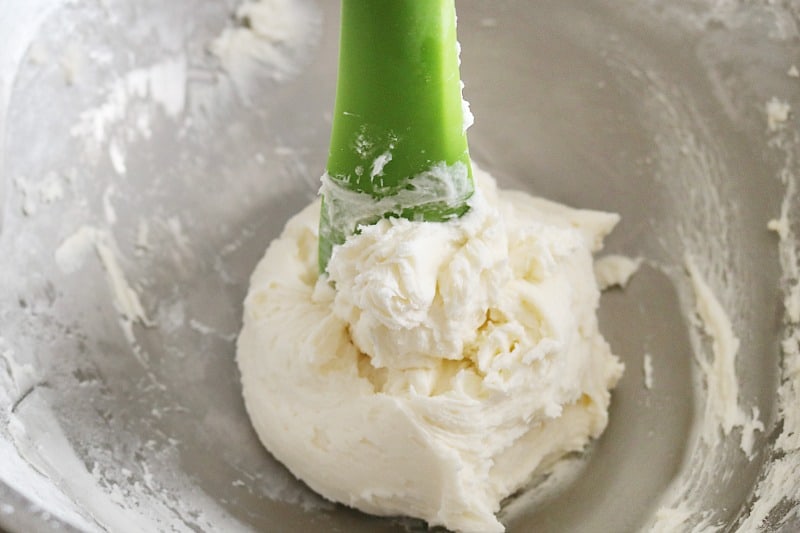 Carefully fold (by hand with a spatula) the blueberries into the buttercream. Take care not to mash the fruit and do not mix completely. Leave the cream looking a bit swirled. Not only is it pretty, but it will avoid your buttercream becoming an odd shade of purple.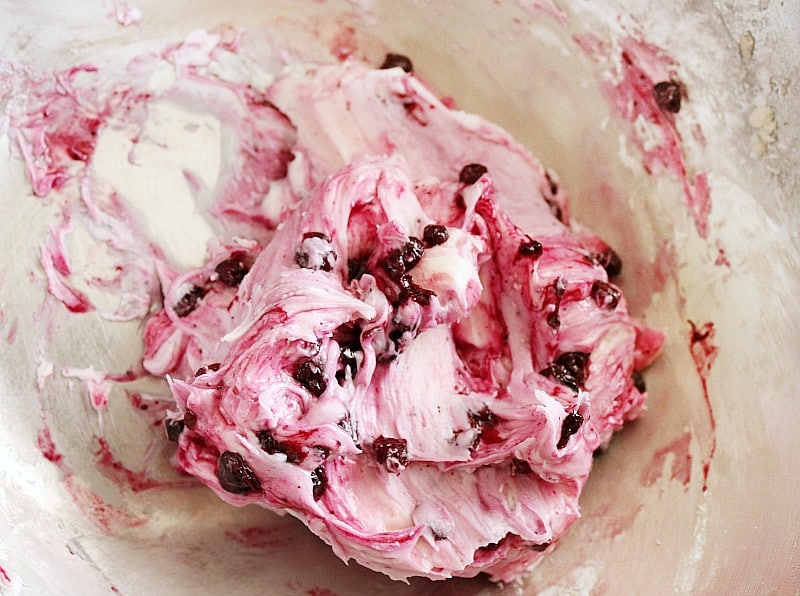 Spoon filling into a pastry bag or zip top bag, snip the end and pipe filling onto cookie bottoms.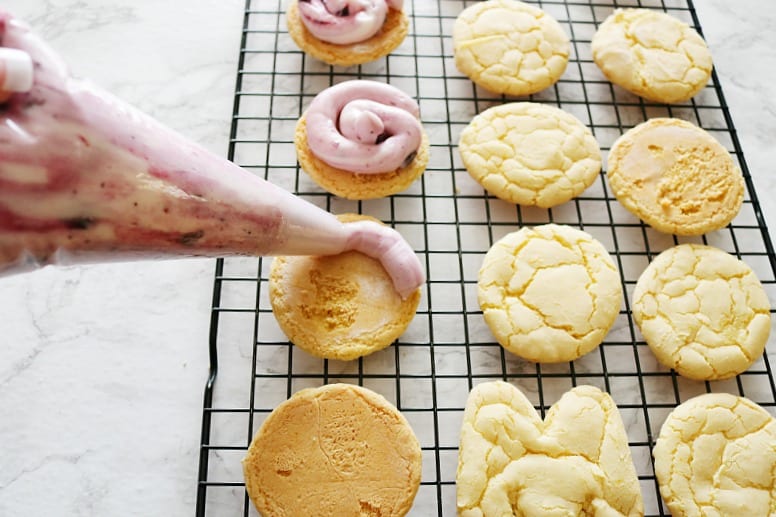 Isn't that filling just beautiful?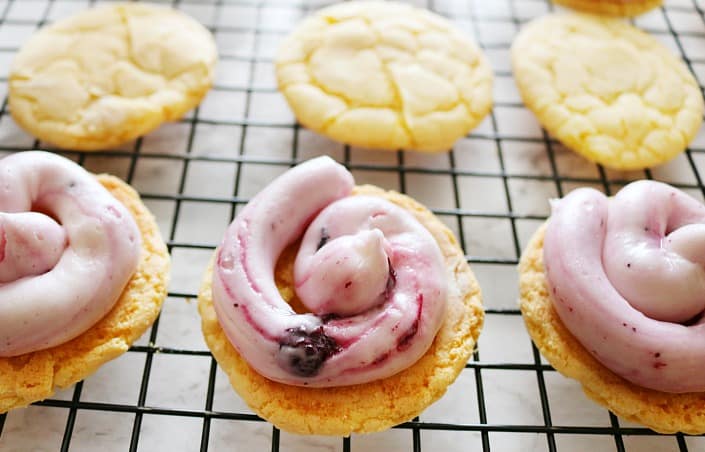 Place the tops on and viola´ , lemon blueberry cream cookies.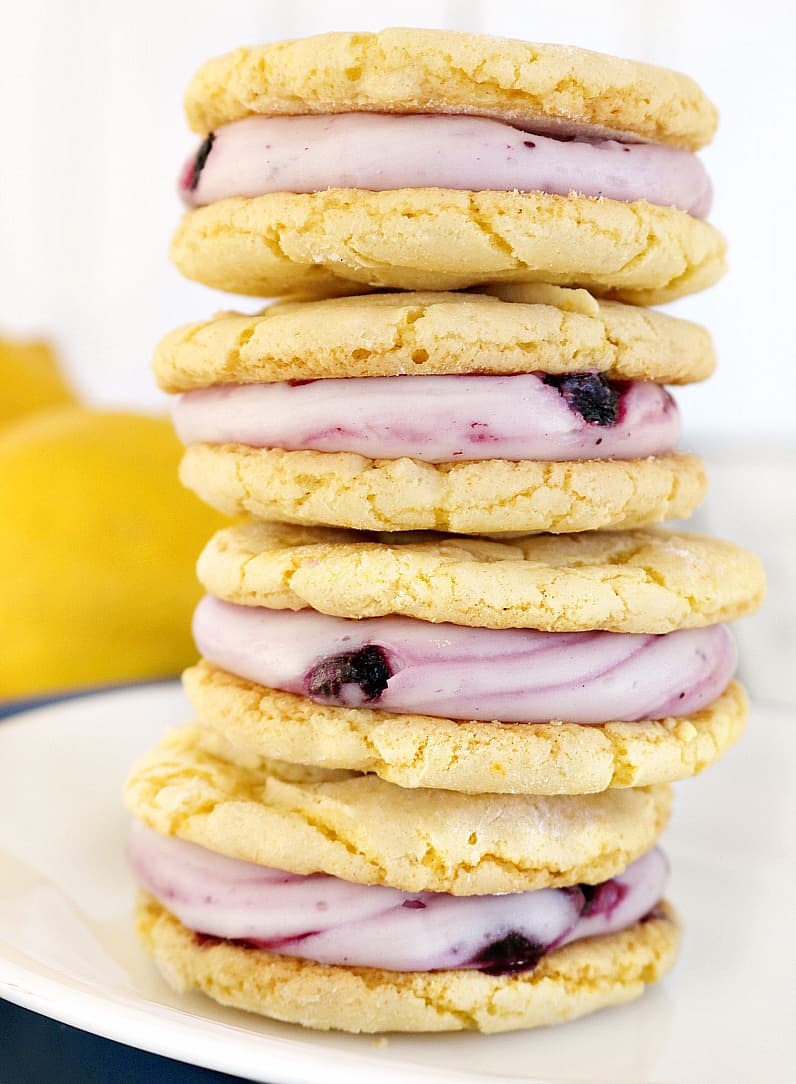 A little taste of Maine sandwiched between a crisp, refreshing lemon cookie!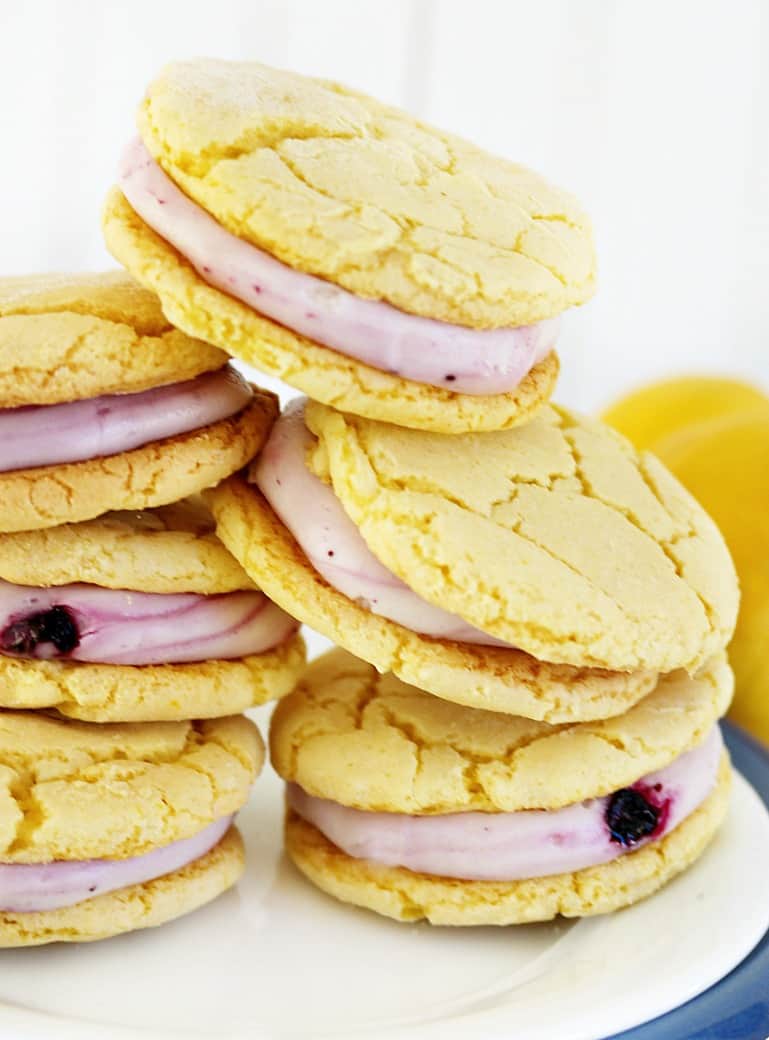 Thanks for visiting and learning a bit about beautiful Maine, be sure to check out the other 49 cookie recipes participating in the "United States of Cookies" feature!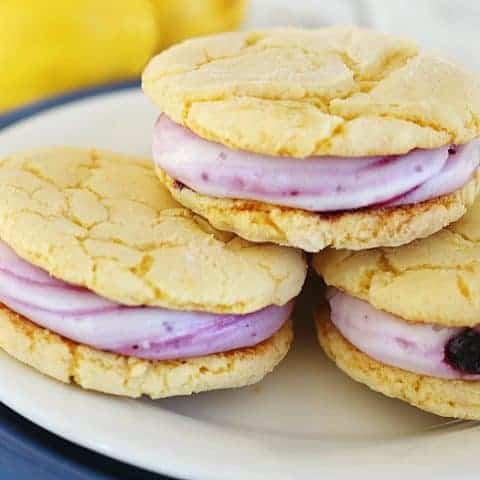 Lemon Blueberry Cream Cookies
Lemon and blueberry is a classic flavor combination that can not be beat. These crispy, chewy lemon cookies are filled with the most amazing blueberry cream!
Ingredients
2 sticks butter, softened
1½ cups white sugar
1 egg
1 teaspoon vanilla
1 teaspoon lemon juice
1 Tablespoon lemon zest
½ teaspoon salt
½ teaspoon baking powder
2¼ + ½ cups Bob's Red Mill all-purpose or Gluten Free flour
Blueberry cream filling:
½ cup frozen blueberries, defrosted
1 stick unsalted butter, softened
1 teaspoon milk
1 teaspoon vanilla extract, or blueberry for more flavor
3 cups powdered sugar + ½ cup
Instructions
Preheat oven to 350.
In a large bowl, cream butter and sugar until smooth.
Add egg, vanilla, lemon juice and zest. Mix until combined.
Add flour evenly distributed over egg mixture.
Sprinkle remaining dry ingredients over flour.
Mix until fully combined.
Lightly dust a solid surface with flour.
Turn dough out and sprinkle with flour.
Roll to about ⅓" thick. Cut with a 2" cookie cutter.
Place on sheet pan.
Bake for about 10 minutes or until edges are lightly golden.
Transfer to wire rack to cool.
The filling:
Cream butter, extract, milk and ½ cup of the powdered sugar until smooth. Gradually add remaining powdered sugar until buttercream is fully combined.
Frosting should be thicker than normal.
Hand fold in blueberries.
Add filling to pastry bag and pipe onto cookie bottoms.
Add cookie tops. Enjoy!
Notes
You will probably have filling leftover.
Nutrition Information:
Yield:

6
Amount Per Serving:
Calories:

200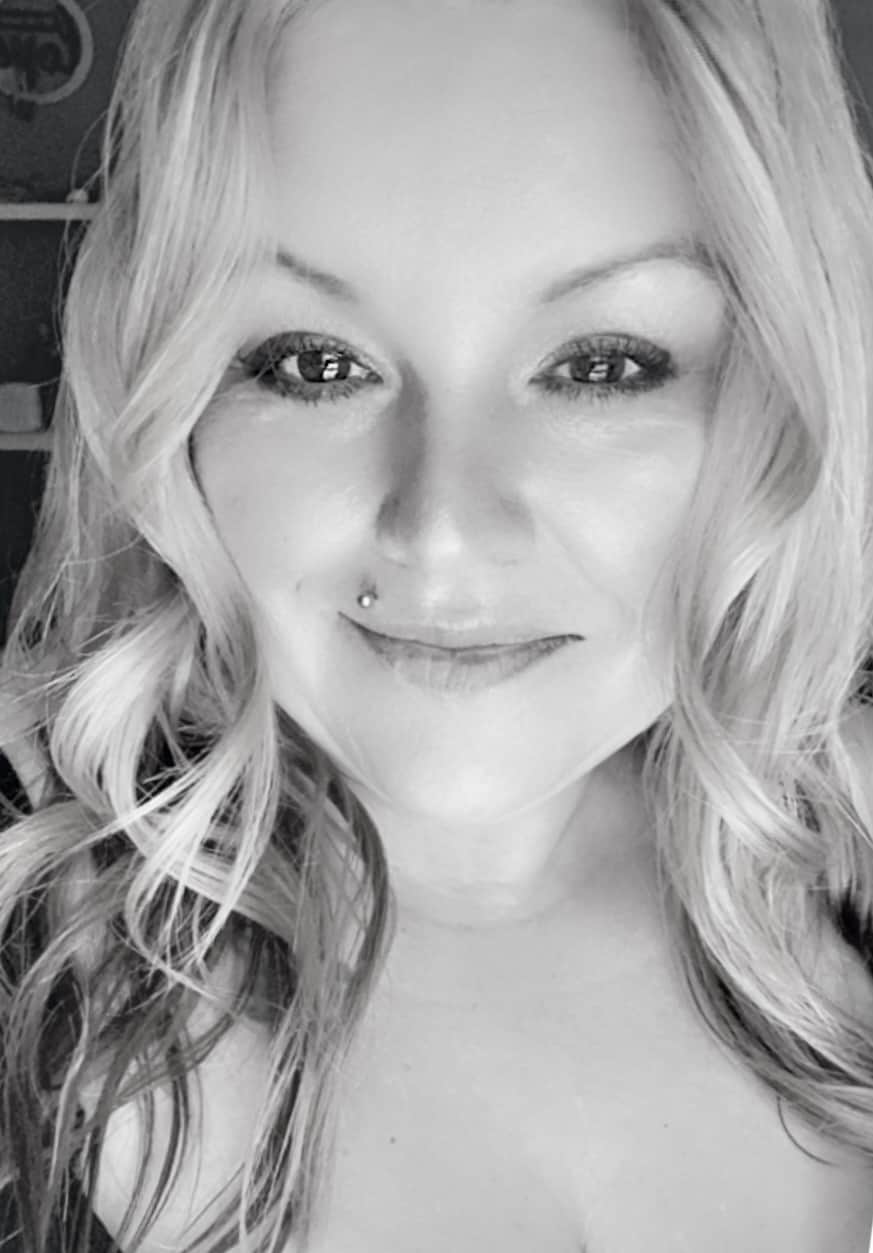 Owner & Lead Recipe Developer for It's Simple! since 2015, where you will find our best Family Favorites & Keto Low Carb Dishes with Helpful Cooking Tips & Hints in each post. Many Thanks for Stopping By, Enjoy!