This homemade turkey soup is so close to grandma's that we had to call it that! Done in less than 30 minutes and tastes like it was simmered all day.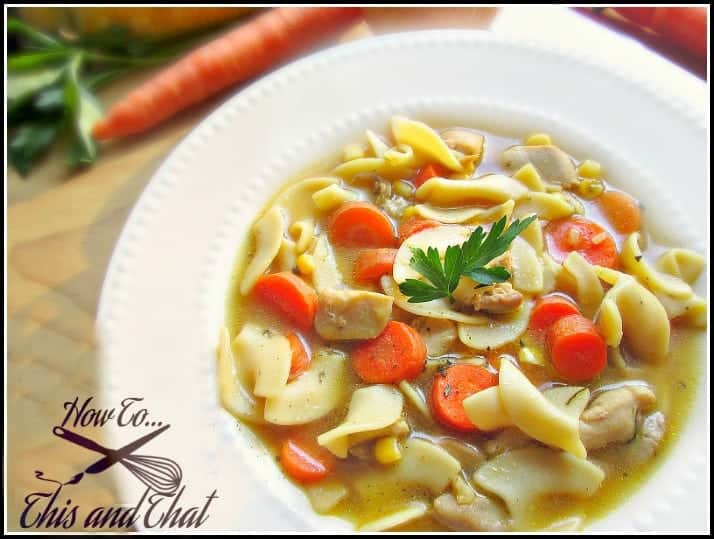 Grandma's Homemade Turkey Soup
Cold weather calls for soup! I love soup, but rarely have time to make it and can not eat most of the canned soups because of the high sodium.  So luckily we have a quick and easy recipe that is perfect for Thanksgiving leftovers.  This recipe can be made in 30 minutes, but taste as though it has been simmering all day. You  can also use chicken if you are not a fan of turkey. Just cook the chicken, chop and add to the pot. The fact that this recipe uses turkey left over from Thanksgiving makes this a quick and easy.


Yield: 6
Grandma's Homemade Turkey Soup #15MinuteSuppers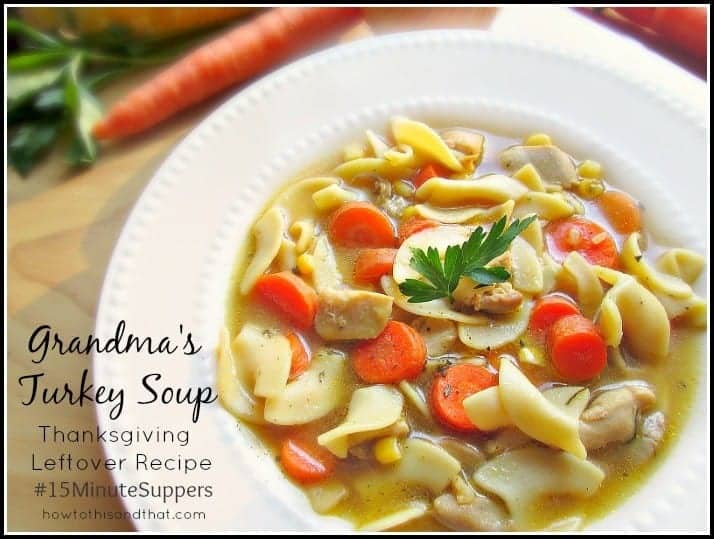 Prep Time 5 minutes

Cook Time 10 minutes

Total Time 15 minutes
Ingredients
2 Cups of diced cooked turkey
Tablespoon Olive Oil
2 Carrots washed & chopped, I personally don't peel my carrots
1 Can of Corn
Half of an Onion diced
1- 32 oz container of Turkey, or chicken Broth ( I had my own homemade already, use that if you have it)
8 oz. of egg noodles
Teaspoon of Italian blend seasonings, rosemary, thyme, basil, parsley. I used my own dried mix from the garden
Pinch of Salt and Pepper
Instructions
Heat the olive oil in a pot on medium
Add the diced onion cook for one minute to soften
Dice carrots while the onion is cooking
Add the turkey and carrots, mix well to coat in olive oil
Slowly pour in broth, turn burner to high
While this is coming to a boil, Add egg noodles and remaining ingredients
Mix well
Let boil for 5 minutes, reduce to medium low for 5-7 more minutes.
Serve!

I hope you had a wonderful Thanksgiving, but I bet you probably have a ton of leftovers. That's why today, these bloggers are bringing you some tasty leftover ideas! Most likely you spent all day cooking yesterday, so take a break today and give one of these a try.
Grandma's Turkey Soup from How To This And That
Turkey-Cranberry Panini from Better in Bulk
Sweet Potato & Turkey Hash from Around My Family Table
Mini Shell Pasta with Minced Meat from Food 4 Little Ones
Cheesy Turkey and Rice from Monzanita's