Ingredients: All natural popped corn. Sunflower oil. Salt.  That is ALL !
Previously featured on Product Review Cafe.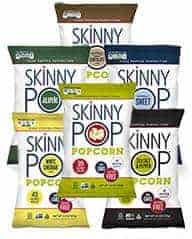 Skinny Pop Popcorn Review
For this Skinny Pop Popcorn Review-
I received a case of Skinny Pop Popcorn free for the purpose of this review, regardless my opinions are always true and I write about my own,  or my family's personal experience with the product.
I love my munchy foods , popcorn especially.  My husband and I go to the movies once a week and it never fails, regardless of what I have had to eat prior ,  I can not resist popcorn.   I usually make sure to order only a small and share it so that I do not end up having too much.  That popcorn is LOADED with butter and salt and well,  that is just not suppose to be a part of my diet.  I always have to laugh when they ask you "Do you want butter on that?"  , after all it is already loaded with butter right? Such a hard decision... not really.    Yes, butter please.
The other problem I find with eating popcorn is that,  it is light, airy and addicting.  I can eat it for hours.  In the end I am sick of popcorn, but not full as if I ate a meal.  Then I end up wanting food to actually fill me up. The next thing I know I may have consumed 1,000 calories in 2 hours.  Horrible.    This is not ok.   Luckily,  I have been on Nutrisystem so I have been proactive about my caloric intake and watching it closer, so the habit I just mentioned has not occurred in months.  I have also been depriving myself of one of my most favorite snacks.   What to do ???
About Skinny Pop
Skinny Pop is the creator of the all natural 39 calorie a cup popcorn!  THANK YOU!   Their popcorn is also free of gluten, cholesterol, trans fats, preservatives, nuts and GMO's.    I was afraid it would taste overly dry and plain, but it does not.  If you are  looking for a healthy snack that tastes great and will satisfy your salt craving, this is for you.   I think there is a perfect balance of salt and butter (flavor, it is actually sunflower oil) on the popcorn, making it just right and guilt free!  Also, the quality of the popcorn is very good.  Sometimes bagged popcorn can taste stale or be chewy, but this tasted fresh popped.  It is pretty fresh and crunchy.
NUTRITION COMPARISON
Skinny Pop
Serving size- 4 cups
Calories- 155   The bowl in the picture above contains a serving , exactly 4 cups of popcorn.
Small Movie Theater Popcorn
Serving size- 2 cups  
Calories -    470- 630 (without the extra butter they ask you if you want)
Where to Buy
For more information on where to buy Skinny Pop Popcorn please visit their website Skinnypop.com   or you can purchase online right from Amazon by using the link below.  If you try it out, let me know by leaving a comment on this blog post about what you thought.
TRY SKINNY POP'S 100 CALORIE BAGS FOR LESS THAN $1 A BAG!