Just the like the traditional holiday dish, these loaded candied sweet potato wedges combine sweet, salty and crunchy into one amazing snack or side dish!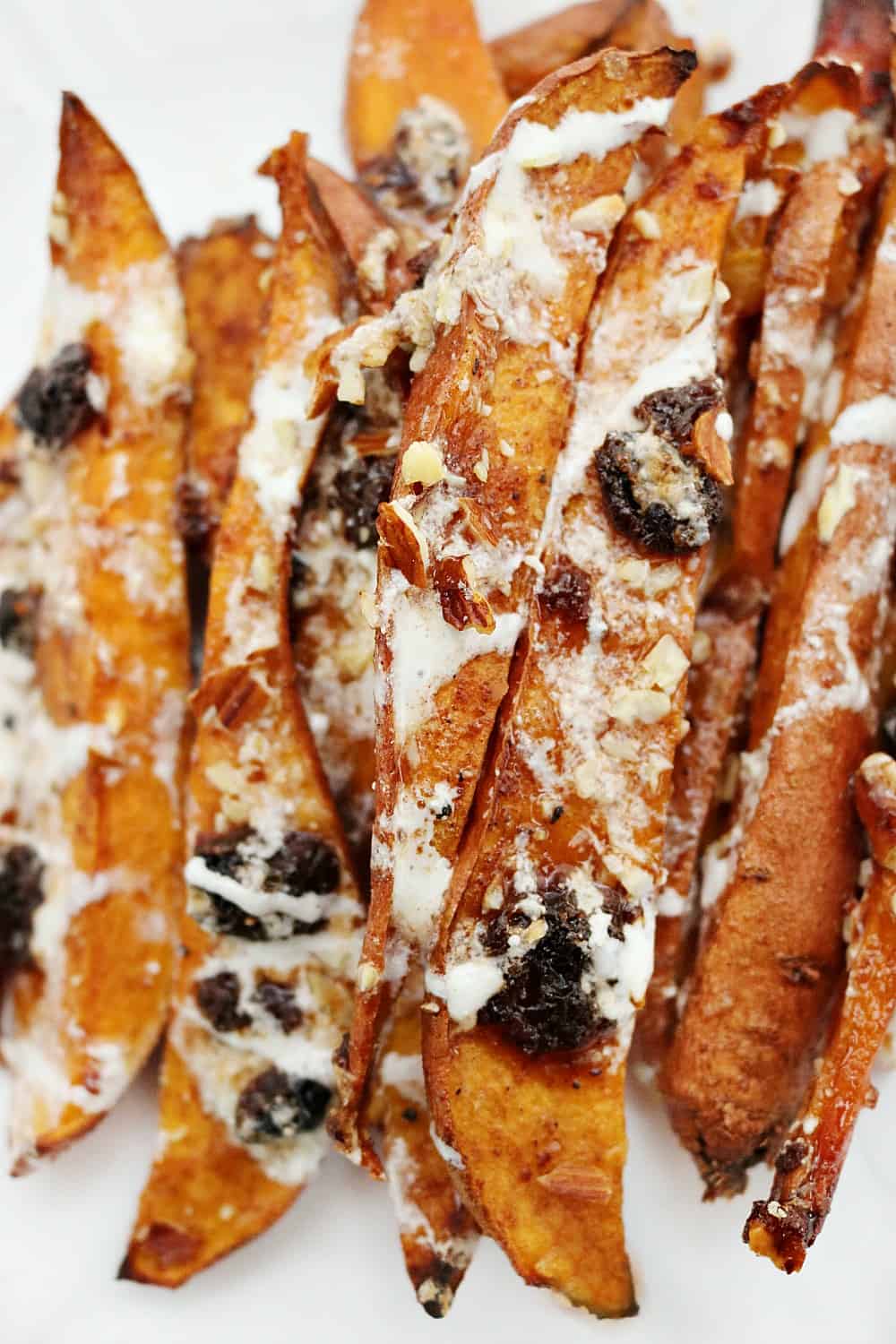 Loaded Candied Sweet Potato Wedges
One of my absolute favorite holiday dishes is candied yams, or sweet potatoes. I love the crunchy nuts with the sweet potatoes, raisins, sauce and of course that toasted marshmallow topping.  Sounds like total and complete "sweet overload", but when you are eating Thanksgiving dinner it is usually full of savory dishes, so it balances out nicely.
We had an unseasonably cool day about 2 weeks ago and it put me in the mood for fall.  It smelled like fall that morning, the grass was wet with dew and the air was crisp. I roasted a chicken and for some reason all of a sudden craved candied sweet potatoes. Instead of making the traditional dish, I decided to make them as potato wedges. I figured it would be something different and fun for my family.  They were a HUGE hit and we have made them twice since.
Here is how to make them:
(Full printable recipe below)
Grab your ingredients
Combine butter, sugars and raisins in a microwave dish, heat until melted.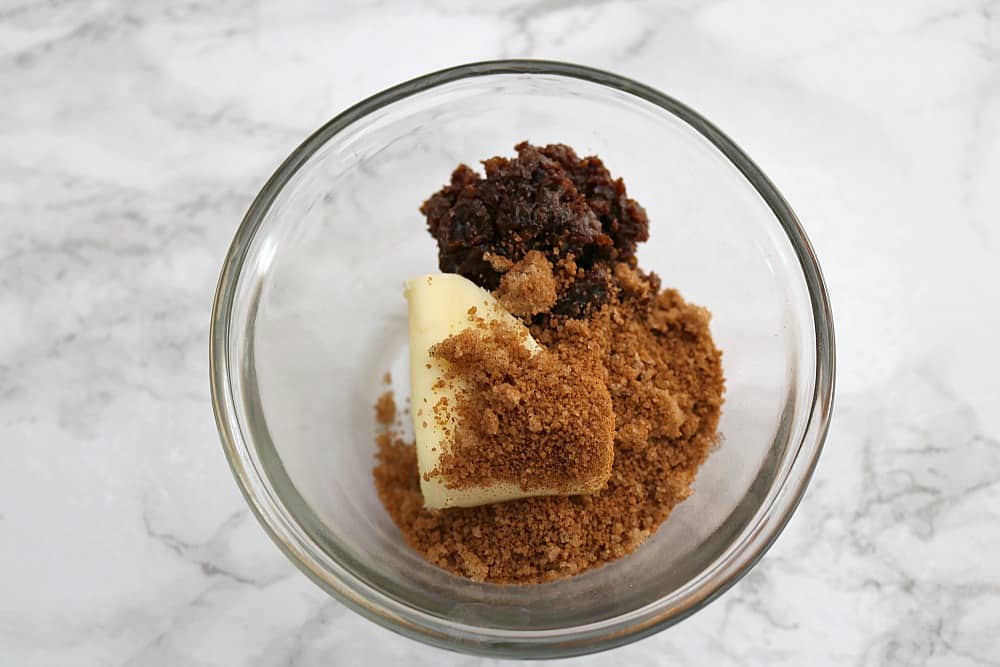 Pour over sweet potato wedges,  toss in a bowl.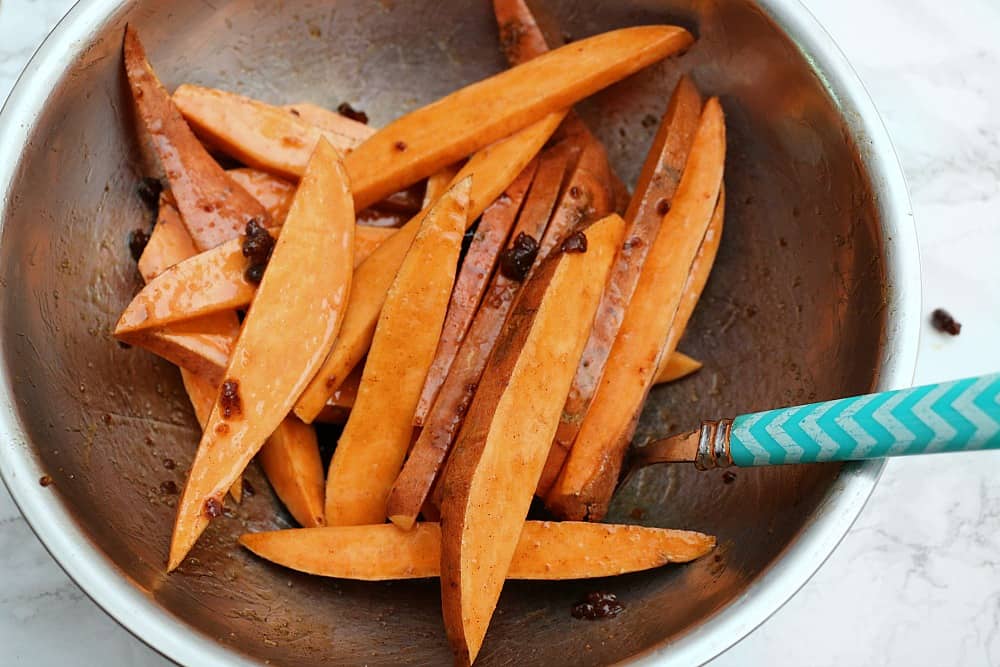 Spread out in a single layer on a sheet pan.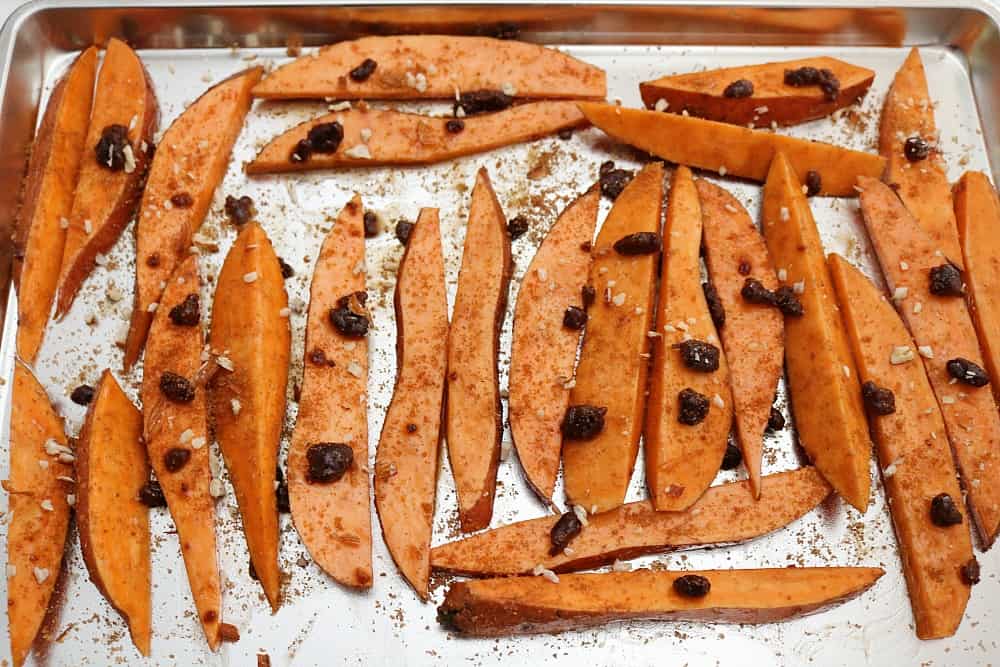 Bake for 15 minutes or until tender.  Top with marshmallow topping, broil for 1 minute.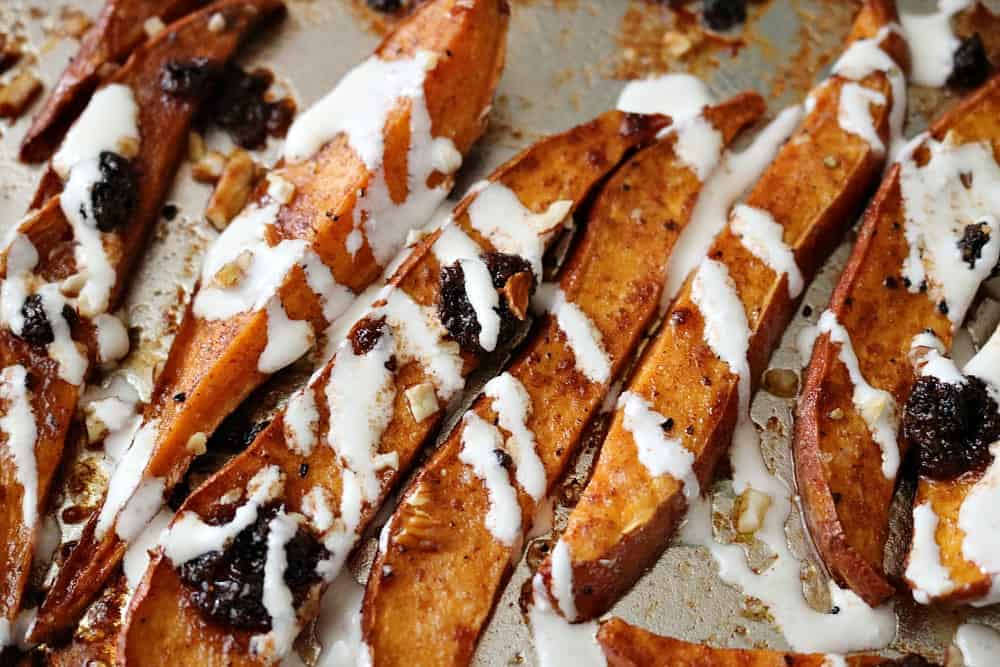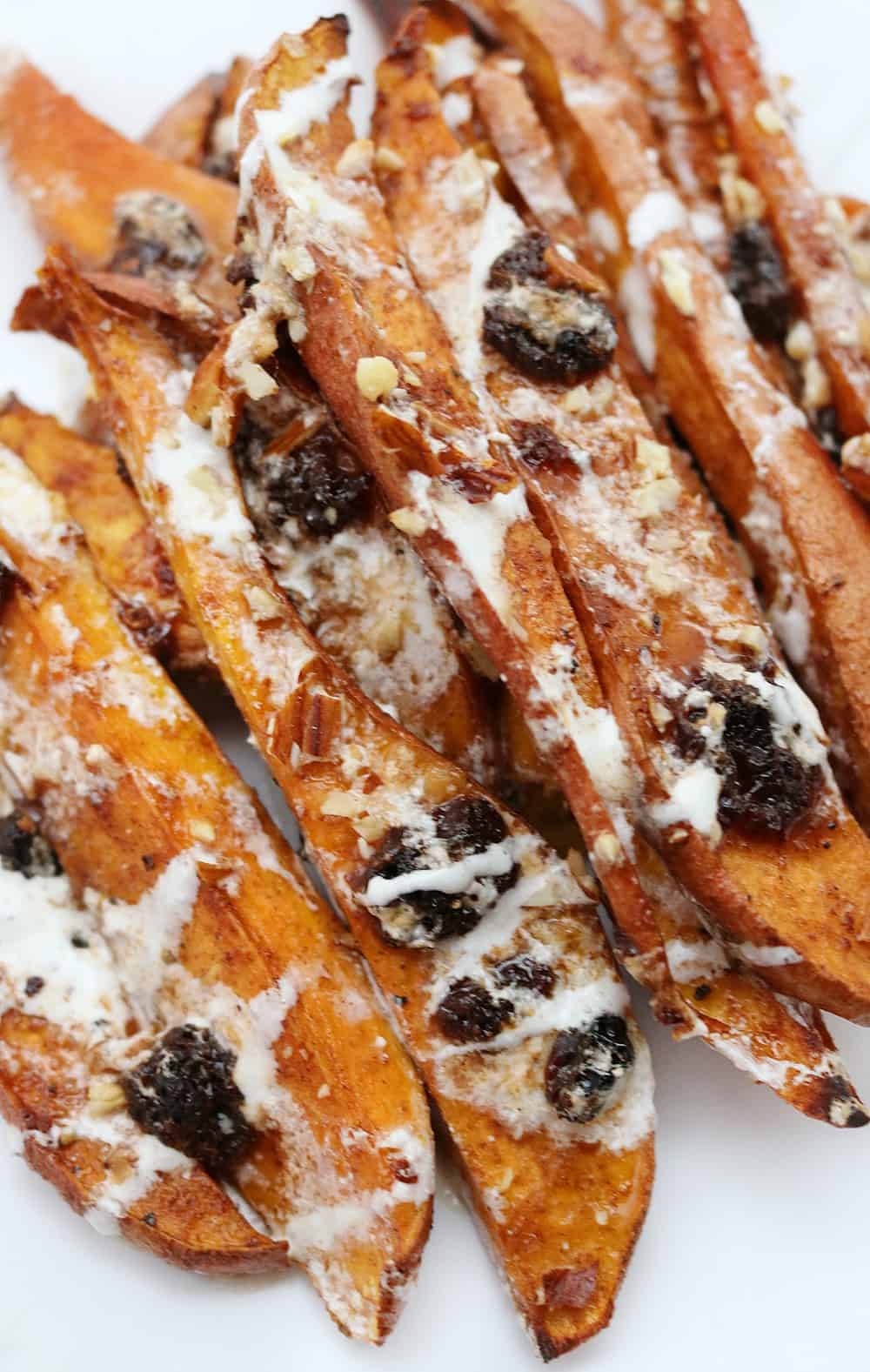 WAIT!  If you love potato wedges don't leave before checking out this recipe :
Buttery Crisp Seasoned Potato Wedges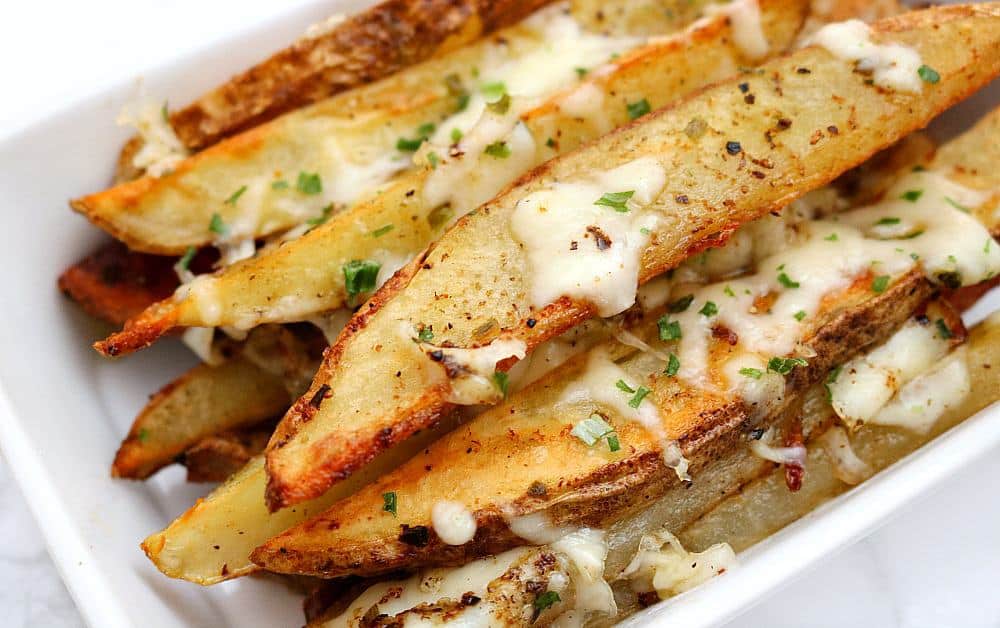 Do you have a super amazing delicious potato wedge recipe? Tell us about it in the comment section below!  We love to hear what our readers make at home in their own kitchens.
NOTE* Don't worry, your email address is always 100% safe here on our site. Entering it in the comment form below does NOT sign you up for anything, it is strictly for security purposes.  To be honest, we don't even really send out a newsletter!  Thank you!
Yield: 4 -5 servings
Loaded Candied Sweet Potato Wedges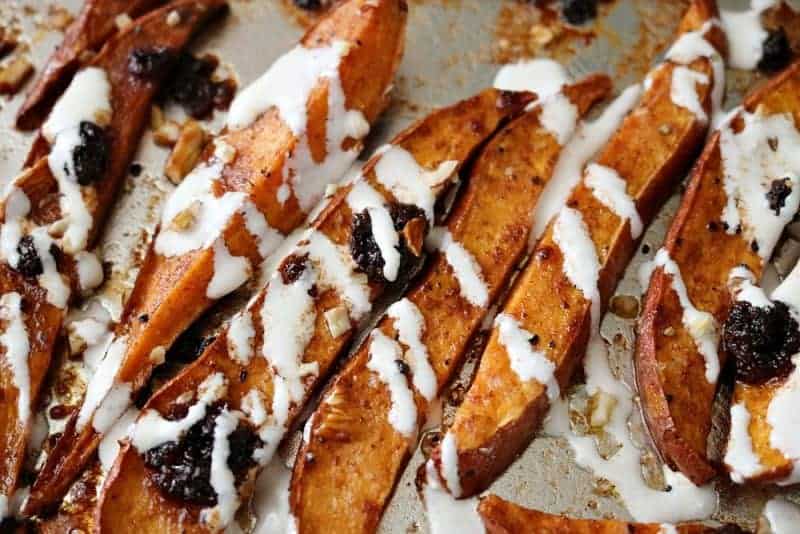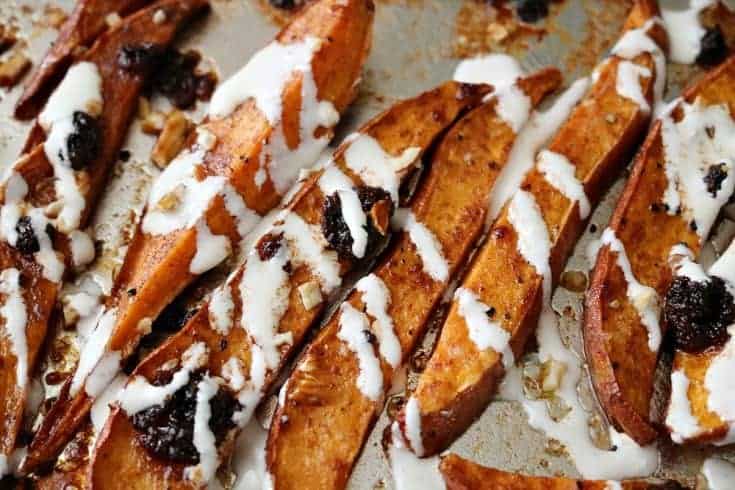 Prep Time 10 minutes

Cook Time 15 minutes

Total Time 25 minutes
Ingredients
2 large sweet potatoes, cut into wedges
2 tablespoons butter
½ cup brown sugar
2 teaspoons cinnamon
¼ cup raisins
⅛ cup almonds, chopped
⅓ cup marshmallow Fluff
Instructions
Preheat the oven to 350
Heat butter, sugar, cinnamon and raisins in a microwave safe dish until melted. Mix.
Add potato wedges to a bowl , cover with melted butter and toss.
Place on a sheet pan in a single layer, top with chopped almonds.
Bake for 15 minutes or until tender.
Place marshmallow Fluff in a zip top bag, snip corner and pipe all over potato wedges.
Broil for 1 minute. DO NOT WALK AWAY. Marshmallow burns fast!