Whole Wheat Ham & Cheese Stromboli #15MinuteSuppers
If you are like me, this time of year has you super bust and struggling to make regular every day meals for your family. We are so buys focusing on the holidays and holiday cooking that when it comes to a normal meal I am at a loss! That is why I am happy to be participating in the #15MinuteSuppers feature.  I know that if I need a quick and easy recipe that is a full meal I can find one in a snap.
Here is our 15 Minute Whole Wheat Ham & Cheese Stromboli recipe, enjoy!
Recipe variations:
Use regular pizza dough
Choose different toppings such as sausage and peppers!
TIP*  Cooking time may vary, we were able to easily get this done in 15 minutes, just to be safe, allow 5 minutes extra.


Yield: 4 -6
Whole Wheat Ham & Cheese Stromboli #15MinuteSuppers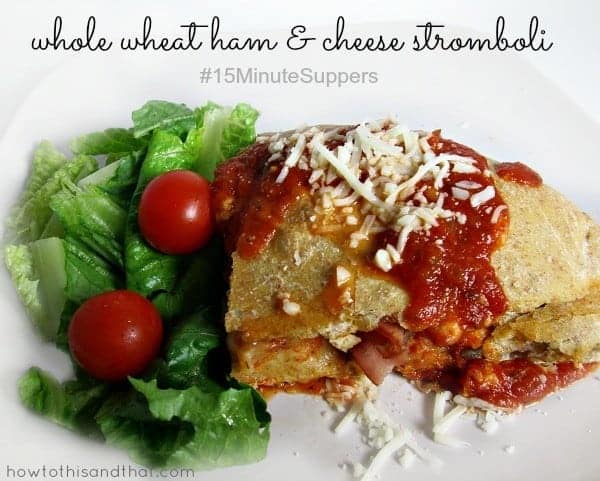 Prep Time 5 minutes

Cook Time 10 minutes

Total Time 15 minutes
Ingredients
1 whole wheat pizza dough- thawed, deli are in most supermarkets
1 small can of pizza sauce
1- 2 cup bag of shredded mozzarella cheese
8 slices of your favorite deli ham
Salad as a side, optional
Instructions
Preheat over to 400
Lightly grease and flour a cookie sheet
Turn your dough in your hands until you can form a large rectangle out of it
Spread a thin layer of sauce down the middle of the rectangle
Sprinkle mozzarella on top of the sauce
Lay your ham slices on the cheese
Top with more cheese
Fold the left side over the middle and the right side over (tri-fold like)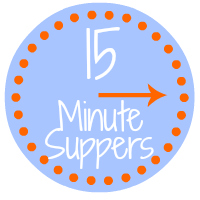 Check out all the wonderful #15MinuteSuppers today!
Follow 15 Minute Suppers on Facebook | Twitter | Instagram | Pinterest
and look for the #15MinuteSuppers hashtag too
You have to check out these delicious 15 Minute Suppers:
Spicy Kielbasa Pasta from Better in Bulk
Whole Wheat Ham & Cheese Stromboli from HowToThisAndThat
Turkey, Cranberry, and Blue Cheese Pizza from Around My Family Table
Turkey Chili from Lizzie Jane Baby
Italian Chicken Pasta from Monzanita's
Chicken Bacon Ranch Pizza from Just 2 Sisters
If you are a blogger and you'd like more info, please check out the
15 Minute Suppers
website or ask to join the
Facebook group
to participate on Fridays…we'd love to have you join us.