Real Cooking Kids Review- A new twist on baking for your kids! A fun, cute line of products, Come see what's cooking!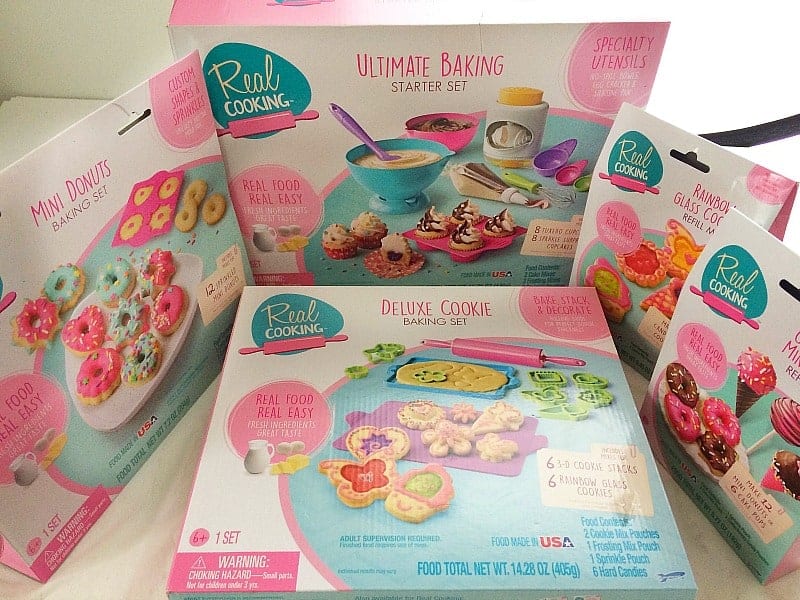 Real Cooking Kids Review
Baking Made Easy & Fun For Kids!
#RealCookingKids
Ever since I can remember I've been had a love for cooking. It probably has everything to do with the countless hours I spent with my Mom and female relatives in the kitchen while I was growing up. My mom was big on cooking homemade meals and goodies for our family and holidays were spent with my aunts and cousins, baking mountains of baked goods to last through November and December. Even after I came of age and moved out on my own, I dedicated a lot of my free time to cooking or baking for not only myself but for my friends as well.
The love of cooking has carried on into my married life and I'm pleased to say that my own kids have inherited the same love of cooking from me that I got from my own mom. They never miss an opportunity to crowd around me while I'm whipping up a new/old recipe and clamor for the opportunity to help throughout the different stages. You should see the look of pride on their faces when I bring the end result to the table and they know they helped take part in the creation of something delicious.
With my kid's love for baking in mind, I recently partnered with a company that dedicates their time to putting together products that not only make baking for little ones easier than ever but ensures they have fun while whipping up new creations. Sky Rocket Toys specializes in a host of different items but their Real Cooking Kids line is the perfect place to start if you have a budding baker in your home. They offer great kits for those just starting out or must-have tools for those who're already in love with baking.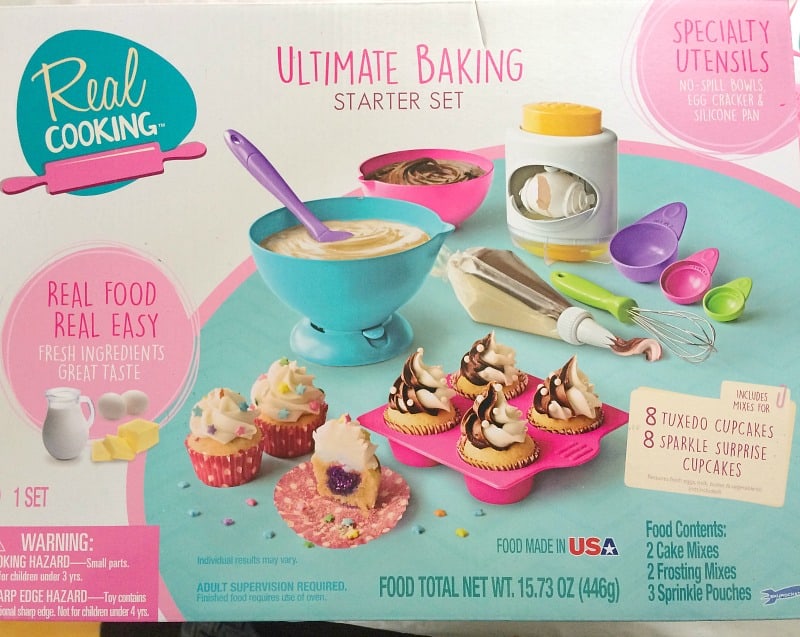 While reviewing the Real Cooking Kids line, I was given the opportunity to test out a few of their kits. Each kit made baking with my kids easier than ever and they loved every second of it. They created a ton of delicious treats while using the kits! Although we received a lot of different kits, I'd like to highlight two that we've gotten the most use out of and that my little ones have enjoyed the most:
The Ultimate Baking Starter Set has been the most useful out of all of the sets we tested. Although the other kits were just as fun, the starter set had a handful of gadgets that made baking with little ones stress free and fun. The Ultimate Baking Starter Set comes with:
Suction Lock Bowls. One source of frustration and our fair share of messes, is when we're mixing and the bowl tries to move all over the counter top. With the Suction Lock Bowls, you don't have to worry about the bowl slipping around or losing your ingredients all over the floor after an accidental spill. These nifty bowls use non-slip, suction lock technology to adhere to the your counter!
Fail-proof Egg Cracker. If you've ever had to fish out bits of shell from your recipe after your little ones have helped, then you'll love the Egg Cracker. The push-button egg cracker keeps egg shells where you want them-outside of your mix!
Fast Cooling Silicone Pan. Say goodbye to accidental burns and long cooling times. Baking is safer than ever thanks to the heat-resistant, fast cooling silicone tray.
Baking Utensils. Spatula, whisk, measuring cups, pastry tips and more, all come included with your kit!
Makes 8 Sparkle Surpise cupcakes with hidden sprinkles inside.
Also comes with everything you need to make 8 Tuxedo Cupcakes.
The Chocolate Pen makes decorating mess-free, fun and easy. Decorating your favorite cookies or cakes has never been simpler! The Chocolate Pen allows you to decorate in a variety of different chocolate colors while also giving you your pick of 50 different mold designs. Not only can you make molds with surprisingly detailed accuracy but you can also decorate more than just cookies and cakes! Fruit, snack bars, cake pops, etc. there really isn't a limit so long as you never give up on your imagination.
They even have refill sets and so much more!
The Real Cooking Kids line by Sky Rocket has so many wonderful kits and products to choose from. Whether you have a seasoned chef at home or a little one who is just starting out, you couldn't find a line of products that were more perfectly suited to letting their creativity flow in the kitchen!
To find out more about the Real Cooking Kids product line you can visit them online or become a fan of their social media sites like Facebook|Twitter|Pinterest|Instagram.
Real Cooking Kids Review