Looking to get a better night's sleep without spending a fortune? You have to try Nolah! Check out our Nolah Mattress Review
 Nolah Mattress Review
A Great Night's Sleep in a Box!
(See my 3 month update below!)
That is correct!  You read that right. Great sleep... in a box.  Nolah's amazing memory foam mattress has made it possible. Convenience (shipped right to your door) and Comfort. I have struggled most of my adult life to find a mattress that helped me sleep through the night and not wake up stiff or sore.
As children we're naturally eager to grow up. We tell ourselves that when we reach adulthood we'll live our lives will be, well in short- better.  Not necessarily! Even though I miss the days of being without much responsibility, one of the things about my childhood that I miss more than anything is the ability to sleep well.
Nolah Mattresses Are Made in the USA
I'd give almost anything to get a decent night sleep again like I did during my childhood. These days the hours designated for sleeping are spent tossing and turning and wishing my back didn't hurt. Over the last few years I've had several family members recommend trying a new mattress to see if my insomnia and sore back resolved themselves but it wasn't until I was given the opportunity to partner with 
Nolah
 that I decided to make the switch from our old mattress to something new.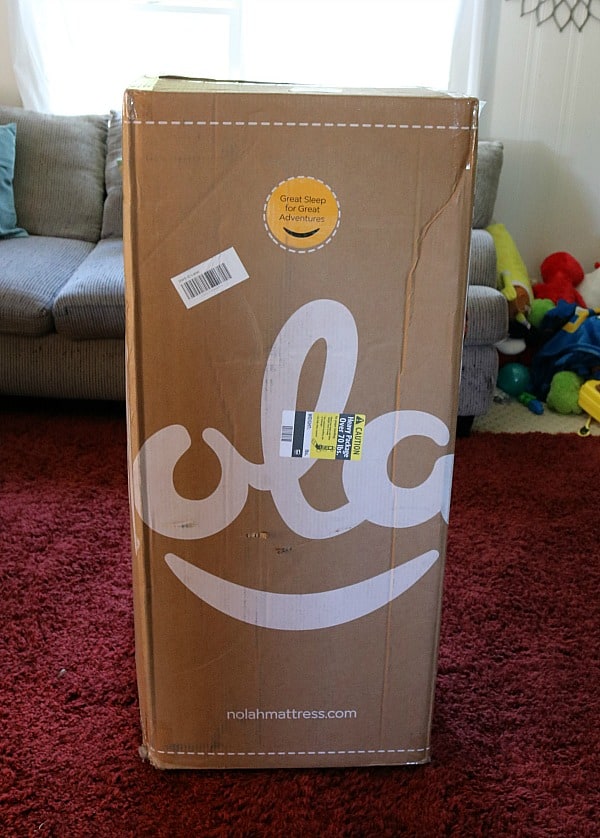 Nolah's Arrival- Nolah Mattress Review
While working with
Nolah
I was sent one of their Queen size beds for review. The mattress came delivered directly to our door in a pretty easy to manage box. Of course the ease will depend on each person, but my husband and I carried it upstairs with no problem at all.  We have a very small stairway and entry to our master at the top of the stairs, so the convenience of having this mattress in a box made things SO EASY. Getting our old traditional mattress up there was difficult.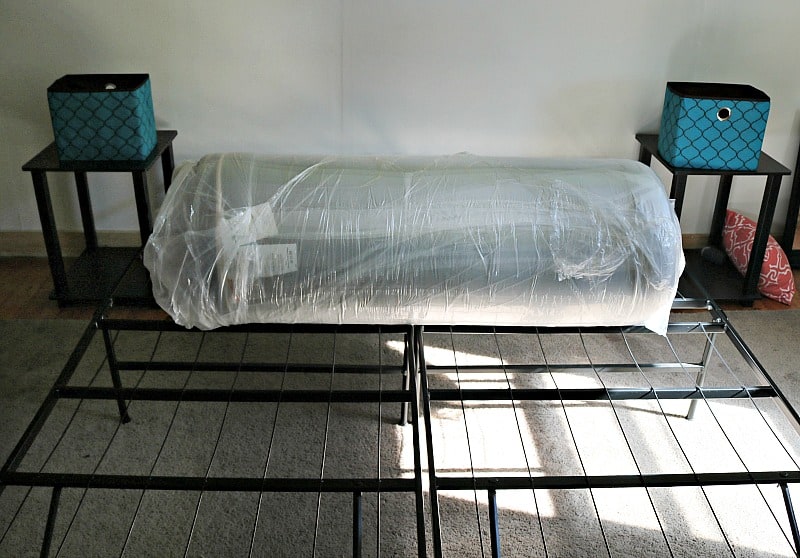 Nolah's Unboxing
Setting up the Nolah mattress was as simple as opening the box, laying the roll on it's side on our frame and taking off the plastic.  Within minutes the mattress was just about up to size.  It can take a bit of time for the foam to bounce to life fully.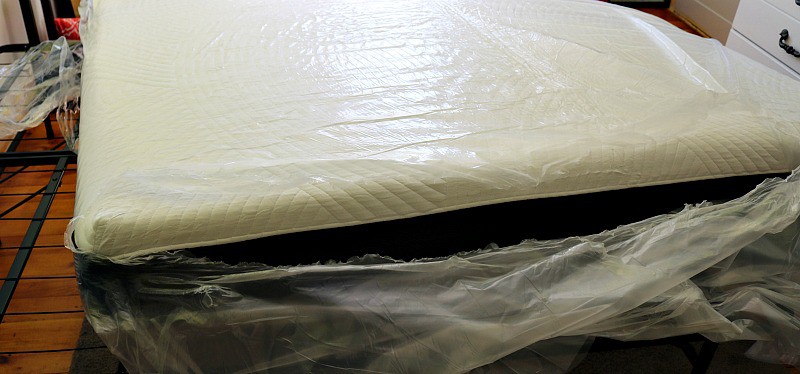 Crafted right here in America
, the
Nolah
mattress is a great choice that combines both cooling comfort and bouncy support, making it ideal for anyone with back trouble. The queen mattress measures 60"x80" and comes with an extended 15 year warranty so you can sleep soundly knowing you're covered in the event you come across a flaw in the mattress while under warranty.
More About Nolah
Thanks to the help of the newest technology available, the
Nolah
mattress is proven to help offer four times less peak pressure on the hip and back area that other leading brand memory foam mattresses. Not only does it protect the vital areas of your body and prevent sore muscles but the
Nolah
mattress is also able to keep your body cooler overnight thanks to the aid of 2 inches of innovative pressure relief
Nolah
Air Foam which makes up the actual sleeping surface of the mattress. Unlike regular memory foam from other brands, which is temperature sensitive, the
Nolah
Air Foam helps you sleep more comfortably and actually contours to the fit of your body to ensure a better nights sleep.
$849 for a Queen Mattress with FREE SHIPPING!
 Another aspect of the
Nolah
mattress that is sure to provide the user with a higher comfort threshold is the use of supportive Avena foam. The Avena foam is a 1 inch layer of the mattress that is made up of a special latex-like foam. It's stronger and more durable than traditional latex which is able to provide a healthy and responsive bounce to help ensure a comfortable nights sleep.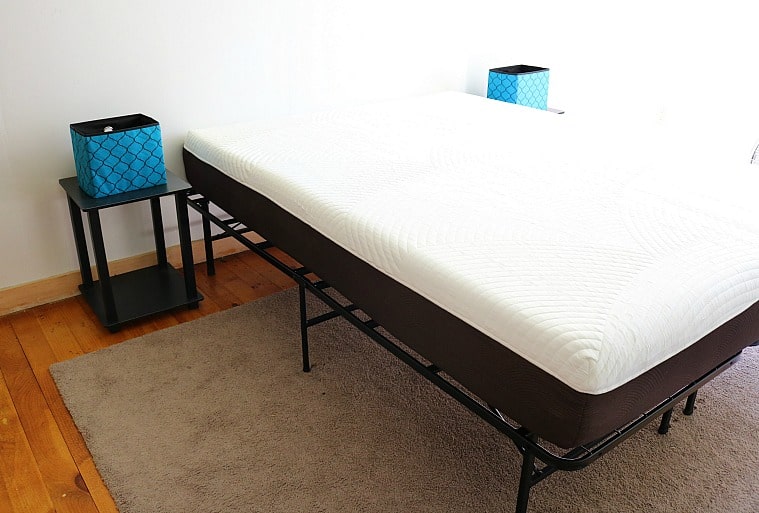 The base of the
Nolah
mattress is comprised of 7 inches of high density base foam. More durable than the foams found in other mattress brands, the high density base foam guarantees that it'll last for years to come rather than breaking down over time and risking discomfort to the user.
Our Thoughts About Nolah- Nolah Mattress Review
I have owned two other types of memory foam mattresses , of which I sold both after about 4-6 months.  The edges would get saggy, the foam was too firm and they held the heat way too much. Nolah has taken all of that into account when creating this mattress.
I instantly like everything about the mattress when we opened it.  The beautiful quilting, two tone color design and even the signature Nolah branding on the edge made me realize they took care in creating each aspect of this mattress.
I slept on this mattress for 3 weeks before writing this review.
Week 1- I felt a bit stiff and sore. My neck was kinked a few mornings.  I assume this was an adjustment period.
Week 2-  I switched out my pillow and got rid of the neck issue.
Week 3-  By week 3 I was feeling amazing. Sleeping all night. Sleeping on MY SIDE, which I hadn't been able to do in so long. The Nolah mattress is not firm like other memory foam, instead it seems sturdy, yet soft. For me, it is the perfect balance.
UPDATE-  3 months later-   I have seen no sign of wear and tear at all , the sides are holding up, the memory foam is still shaped like new and not sagging anywhere and most importantly  I SLEEP ALL NIGHT!  SO in love. And comfy....     🙂
Nolah Cares!
The
Nolah
mattress is made up of so many great aspects that make for a comfortable night sleep but aside from the bed, which is fantastic, one of the things I like most about the
Nolah
company is their
dedication to protecting and aiding the worlds wildlife population
.
For each mattress sold
, the wonderful people behind
Nolah
adopt a wildlife in need. They work on the ground and with the courts to protect a large variety of North American species and the habitats that they call home. While working with
Nolah
we were actually able to choose the species that they'd help and ended up choosing the Black Bear, a species that has recently become a target for mass hunts and the destruction of their homes.
To learn more about

Nolah
, their cause and products you can visit them online or follow them on their social media sites like 
Facebook
.