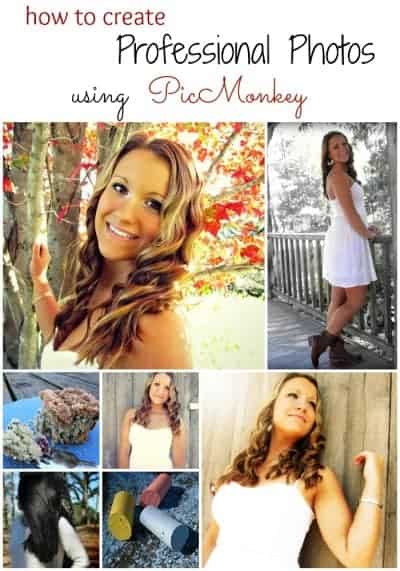 How To Make Pictures Look Professional Using PicMonkey
People are taking pictures now more than ever before. In the midst of a total social media frenzy, pictures are all over the place! All of a sudden everyone is their own personal photographer. I have to admit, I am guilty , when we are out I see things everywhere that would make a great photo and I usually have a Facebook caption played out in my head to go with it.  Between heightened technology in phones and digital cameras it is very easy to snap and upload.  Then with programs like PicMonkey, you can easily edit your photos to take them to the next level.  Here is how I use PicMonkey to make my pictures look professional :
A quick note about PicMonkey -  PicMonkey is a free online photo editor program that is by far the easiest to use that I have encountered.  From the main page, choose to edit a photo or create a collage.  Clicking "edit a photo" will prompt you to choose your photo from your computer and then upload it.  You will then be on the edit screen.
From here I suggest first going through the Basic Edit list start to finish.  Click on every single thing so that you can get familiar with what the edit does and how you can adjust it.  The best thing about PicMonkey is that you have to confirm with "apply" before it will take affect.  You can also use the handy "undo" and "redo" button at the top of your photo.
A quick reference guide:    See  Introduction to PicMonkey Free Online Photo Editing Program 
How I saved $300 on my daughter's senior pictures:
I am well aware of what a professional photographer charges for a package and many of my daughter's friends were not happy with theirs. I have a simple Canon A2500 point and shoot camera with a good amount of settings, but nothing overly fancy.  I decided to test my skills knowing I would have PicMonkey to help me and do her photos myself.
I have to admit that my daughter was very easy to take photos of so the editing was minimal , but here a some before and afters with a bit about what I did.
Before , Left.   After, Right.
Edits used : 
Airbrush to remove the redness/blotchy look on arms
LipTint for her lips, this was the first picture we took and she had forgotten gloss
Intrepid (from the "magic wand" section in edits)- This made the wood look more vintage and dark the shadows, cut down on glare
Text for the tag to make it look like more professional
Edits Used: 
Airbrush ( for the same reason as above)
NipTuck -  we played with the nip tuck option on this photo because she was convinced her arm looked huge
CrossProcess (under the "magic wand") brought out the color in the leaves, hair and skin
Text for the photo tag
PicMonkey for Food Photos 
This photo came out horrible and I did not have the chance to get another shot, so even though the edit isn't perfect, I am thankful for PicMonkey.
I have seen a huge increase in my traffic and interaction from Pinterest (of course) with just a few simple edits of photos.  It makes a big difference!
Also, We have received quite a few compliments on her photos and have even had people ask to me to take theirs. Unfortunately I am too busy and I am in no way a professional photographer, I do however have a great assistant!  Thanks PicMonkey!
Check out how to build an image on a transparent background using PicMonkey!