How To Blog- Beginner's Guide Step 1
Featured in this How To Blog- Beginner's Guide Step 1
Why I am writing this series
Why do you want to blog?
Choosing a name & a niche
How to find out if your name choice is available, Domain Search Tool
Why I am writing this series
I'm often asked questions about how to blog, how I started blogging or the most common "how do I start a blog". I wish the answer was simple, but it isn't. I take that back. If you want a blog for fun, it is that simple.  However, if you want a successful blog you will earn money from, it can be a bit of work. Since I am asked these questions so often, I decided to start a series that will outline the basics (and some advanced, but don't think about that now).
There are a TON of resources out there that will teach you the how to's of blogging. I mean everything. So then, why did I decide to write this series instead of just linking to these other resources?  One main reason- I want to offer a genuine, personal level of help to get you started blogging.  I am not a company offering an expensive book, I am not a multi-million dollar blogger (they exist, believe me) that wants to feed your dreams of becoming a millionaire. I just want to help get you started, give you the facts and not sugar coat anything.  You will appreciate that in the end.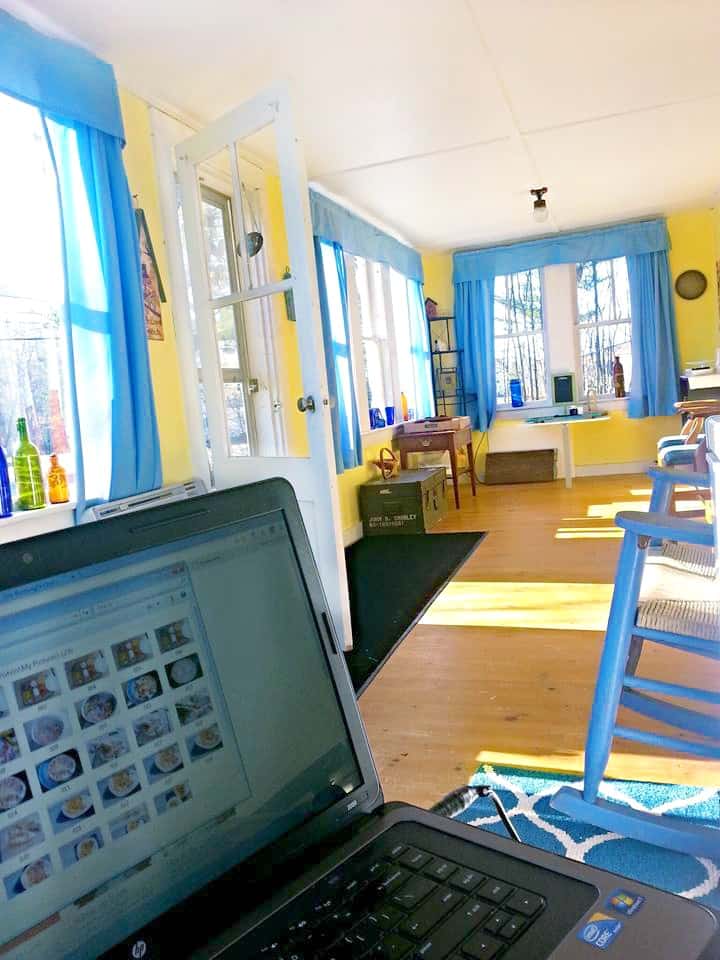 (this bright, sunny 3 season porch is one of my home offices)
The BIG question- Why do you want to blog?
Before you consider starting a blog, ask yourself this question-
 "why do I want to start a blog?"
If your answers are anything like "because it seems cool" ,  " I think it would be fun" or "I just want to make some money", then stop right there. One of the biggest mistakes you can make blogging is (believe it or not) making it about you.  Your answer should be more like "I would love to share what I know with others", "I want to teach readers", "eventually I'd like to earn some extra money". Without your readers, there is no point in your blog. Think of it like a business, without customers you just have a nice store full of stuff.
Choosing a name & niche
Now that you know why you want to start a blog, it is time to think of a name. In addition to thinking about a name, it is important to have a "niche", or theme.  Your niche will be the basic idea behind your blog.  Food, Coupon/Deal, Lifestyle, Mommy and Fashion are a few common blog niche's.
A lot of the experts recommend choosing a niche and sticking to that one topic.  For example,  if you start a food blog, write about food.  Their reasoning makes sense, readers know what they are getting when they come to your site.
There is an exception to the "rule", however, some blogs write about multiple topics.  For example, this website How To This And That writes about many different topics, still the overall niche is "how to". Readers come to the site knowing they will learn "how to" do something.
Choose your blog name wisely.
Do not over think it.  It can be personal, fun, serious, fictional, anything really. I suggest creating a list of multiple names, this way if something is unavailable you have other options. Most importantly you should like the name, a lot, like really like it. You don't want to find yourself wishing you could change it months down the road.
Domains
You may be asking yourself "what does she mean, if it is available?".   A blog needs a name, but you also need a domain name. A domain is basically the web address itself.   Example- How To This And That's domain name is howtothisandthat.com.  Your domain name and blog name do not HAVE to be the same, but it is highly recommended.  Anything else may just confuse readers and make searching for your website difficult.
If you have ideas for your blog name use a domain search tool to see if it is available.
We use Stablehost for all of our domain names , I have been with them for 6 yrs and love the service they provide.
Homework-  think of some names,  click the link below for Stablehost's website and search to see if your domain name choices are available. Bookmark this page,  this is a series, we will be walking you through the process from start to your first check!
To see if your domain name is available,  simply visit Stablehost's website, scroll down to the very bottom of the page.  On the left you will see Domain Names.  
Click  domain names and type your desired name in the search bar, click "search"
If the name you choose is available, the domain name checker will tell you which extensions are available. For example,   .com  .net . org  and others.
GREAT !  Your domain name is available, now what ?   As you can see there is a price and an "add to cart" button.  You simply purchase the domain name the same you would anything else online.  You will be emailed welcome materials and information that you need to get your started.
Even if you are not ready to get started with your blog, BUY your domain name NOW.  They disappear fast.  Big companies will buy domain names just to turn around and sell for a profit.  You do not want to spend all that time finding the perfect name only to lose it.   Domain names are CHEAP, you pay around $15 a YEAR (not monthly).  So just buy it now and save yourself a headache later.
The next thing you need is a company to provide your website a platform, a home of sorts.  These are called hosting companies.
What's next? Read Part 2 :
How To Blog- Web Hosting and Website Set Up 
Once you are up and running we will teach you how to make money with your blog!