This post may contain affiliate or paid links. See our full disclosure at the bottom of this page for more information. ............................................................................................................................................................

Hearty Low Sodium Vegetable Soup
This easy homemade soup is perfect for anyone who usually avoids soup because of the high sodium content. Instead of using a pre-packaged broth or bouillon, the broth base is water. There are enough herbs, vegetables and a little "not so secret" trick of mine to give this a nice flavor without the salt.
The soup can be made a few different ways. This version is pretty hearty, including whole grain rice and great northern beans. You can of course omit them if you are on a low carb diet.
Packed with fiber, iron and lots of vitamins and antioxidants, this is for sure a healthy addition to your menu.  Try it out and let us know what you think!  NOTE*  this can easily be turned into a detox, cleanse soup by omitting the rice, beans & carrots. Then add 1 teaspoon of the following herbs to your tea before steeping:  senna & dandelion. These can be found at your natural food store.
Enjoy!

Hearty Low Sodium Vegetable Soup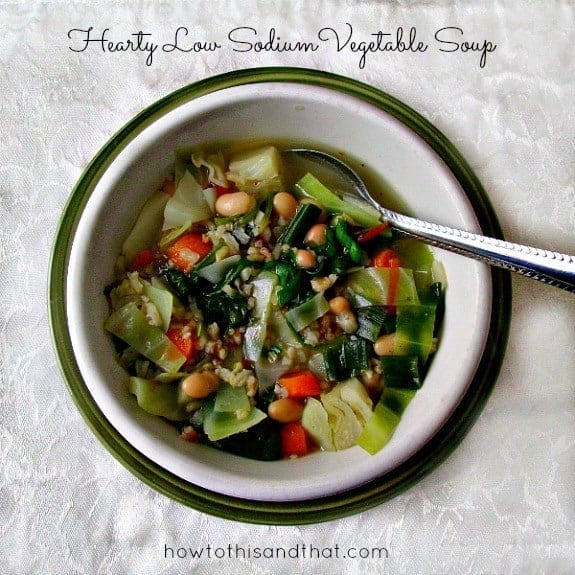 Hearty Low Sodium Vegetable Soup
Ingredients
1 half small diced onion
1 tablespoon of minced garlic, dried granules or fresh
1 tablespoon Olive Oil
2 carrots diced
1 cup of chopped cabbage
1 cup raw baby spinach
4 green onions cut into 2 inch pieces
4 cups of water + 2 Cups of water
1/2 cup of uncooked whole grain rice
1/2 cup of great northern or red kidney beans
2 green tea bags
1 teaspoon of rosemary
1 tablespoon of Italian Blend Seasoning, or 1/4 teaspoon each of basil, sage, thyme
Pepper to taste, salt if you wish
Instructions
For the broth:
In a glass measuring cup or microwave safe container, add the rosemary and green tea bags to 4 cups of water. Microwave on High for 3 minutes or until about boiling. Let stand for 5 minutes to steep.
For the soup:
Saute the garlic and onion in olive oil until onions are slightly soft, add carrots, cook for a minute or two.
Add the rice and brown for 1 minute.
Add 2 cups of water, cabbage, spinach and remaining ingredients.
Slowly pour in the steeped tea, mix well.
Bring to a boil, reduce to simmer
Let cook for at least 30 minutes. The longer it cooks, the more flavors will infuse the broth.
Salt & Pepper to taste.