This post may contain affiliate or paid links. See our full disclosure at the bottom of this page for more information. ............................................................................................................................................................
Easy Take5 Candy Bar Fudge Copy Cat Recipe
One of my favorite candy bars is the Take5  bar,  it is loaded with salty pretzels, caramel , peanut butter and peanuts covered in milk  chocolate. Not a lot of people I speak to have heard of or had this candy bar.  I think it is highly underrated, especially with chocolate and pretzels being such a craze. So, we were shopping the other day and I happen to spot this at the register, of course I grabbed a few!  I hadn't had one in ages so I was glad I spotted them.  Then later that night , my creative side starting doing what it usually does… thinking about food and recipes.  I decided it would be fun to create a cupcake replica of the Take5 candy bar,  then I decided what better? Fudge!
You may notice that  most of my recipes are tagged "Easy" or "Quick" , that is because I try to simplify my recipes best I can. I have 3 websites, 2 kids, a husband and a dog. Need I say more?  So , even if you think the recipe may not be easy, try it !  If you follow my steps and tips it will be quick and easy.  This recipe isn't exactly quick, but it is easy and really doesn't take too much time.   Don't be afraid of the combination of ingredients, it works trust me !

Easy Take5 Candy Bar Fudge Copy Cat Recipe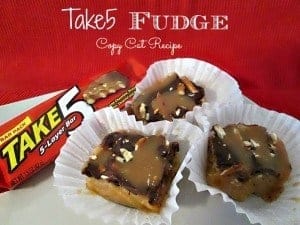 Ingredients
Fudge-
2 Cups of Sugar - 1 white, 1 brown
1/2 Cup of Milk
1 teaspoon vanilla
1 Cup of Peanut Butter
Topping
1 Cup coarsely crushed pretzels
1 Chocolate Bar, large, whichever is your favorite. To fully replicate this I would use a milk chocolate, I only had dark on hand. Shucks!
15 unwrapped caramels,  or caramel sundae topping
Instructions
Bring the milk and sugars to a slow boil mixing well to ensure it completely dissolves, if you do not your fudge will be gritty, for about 3 minutes. Reduce the heat to low and let it simmer down to a syrup like texture. About 2-3 more minutes,  shut heat off. Add the peanut butter and vanilla, mix until completely combined.  Pour into a greased 8x8 pan, cool in fridge while moving on to the next steps.
Break up one chocolate bar  in a glass measuring cup with 1 tablespoon of milk in the microwave to melt.  Start on 40 seconds,then every 25 seconds after. Mixing well each time.  To make sure that my chocolate doesn't "cook"  I always add a half cup full of water and sit it next to the measuring cup in the microwave. This creates steam and moisture in the air inside the microwave.
While the chocolate is melting you can use your smallest pot to melt the few caramels. Do this on low, add 1 teaspoon each of water and milk.  Stir until melted.
Remove the fudge from the fridge after at least 15 minutes.  Drizzle the chocolate in thick lines back and forth across the top, add the pretzels, lightly push down with a flat palm of your hand.   Then drizzle the caramel.   Let completely cool on the counter over night.
TIP-
Once the pretzels are added do not cool in the fridge,  this will make them stale.