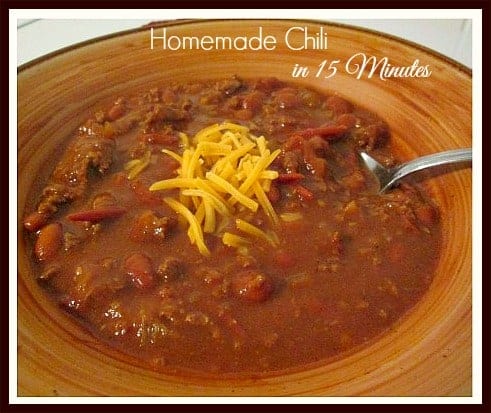 15 Minute Suppers - Homemade Beef & Bean Chili
As part of the 15 Minute Suppers feature, we are bringing you my quick and easy homemade beef & bean chili!  It is getting really cold here very fast and meals like this are coming back to our dinner table.  This chili recipe is thick, hearty and full of protein with a little spice.  Everything you need to keep you warm on those cold nights.  This recipe provides a "simmered all day"  taste in as little as 15 minutes.  Try it out and let us know what you think!
15 Minute Suppers - Homemade Beef & Bean Chili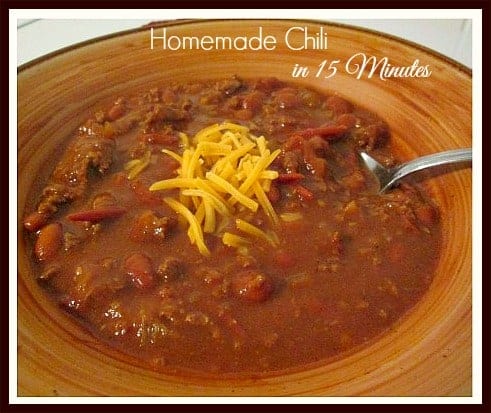 Ingredients
1 lb ground beef
1 can of diced tomatoes with green chiles - do not drain
1 can of chili beans, in the seasoning sauce
Tip-
to add flavor where ever you can
1 teaspoon red pepper flakes, optional
1 Packet of Chili seasoning OR use the following -
1 teaspoon garlic powder, onion powder, ground cumin, paprika
2 tablespoons of chili powder
1 cup of shredded sharp cheddar, optional
Serves 4, if you want a larger batch use 2lbs of ground beef and 2 cans of each above
Instructions
In a small pot brown the ground beef, breaking it up while it cooks , drain.
Add the chili packet (or seasonings) with 1 cup of water , mix well
Add the can of chiles and the can of beans, mix well
Bring to a boil, quickly reduce the heat to medium low and simmer for a few minutes.
Spoon into bowls, top with shredded cheese , enjoy !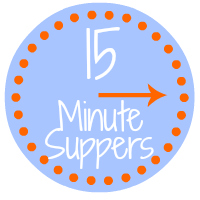 I'm so excited to be joining with a great group of bloggers every week to share 15 Minute Suppers with you. 15 Minute Suppers is all about getting supper on the table quickly with a homemade meal. All of the recipe shared are super easy take only 15 minutes or less to get on the table. Our lives are so busy that sometimes it's hard to find time to sit down together at the table for supper. Well, say bye bye to the 30 minute suppers and HELLO 15 Minute Suppers!
Follow 15 Minute Suppers on Facebook | Twitter | Instagram | Pinterest
and look for the #15MinuteSuppers hashtag too
You have to check out these 7 fabulous 15 Minute Suppers:
Easy Taco Burgers from Around My Family Table
Cajun Chicken Alfredo from Monzanita's
Sesame Chicken Salad from Better in Bulk
Homemade Beef & Bean Chili from How To This And That
Italian Couscous with Sausage from Suburbia Unwrapped
Paleo Shrimp Salad Recipe from Confessions of an Overworked Mom
Healthy Pesto "Spaghetti" from Mindfully Frugal Mom
If you are a blogger and you'd like more info, please check out the 15 Minute Suppers website or ask to join the Facebook group to participate on Fridays...we'd love to have you join us.